Liverpool 0 Tottenham Hotspur 2
Club captain Ledley King was in fine form this afternoon and looked as though he had never been away from the game since October. Successfully keeping the attacking quintet of Carroll, Suarez, Kuyt and Maxi Rodriguez, fans saw today that the real King of Anfield certainly wasn't Dalglish.
It was a result most Spurs fans wouldn't have expected and would have bitten your hand off in a heartbeat had it been offered to any Tottenham fan at four o'clock earlier today. With most fans just hoping to keep the score down against a Liverpool side that had scored thirteen goals in the last three games, a 2-0 victory over Kenny Dalglish's in form side was a great result no matter how you look at it.
A superb defensive display at the back, with the return of Ledley King keeping the likes of Andy Carroll, Luis Suarez and Dirk Kuyt subdued all game, meant goals from Rafael Van der Vaart and Luka Modric saw Spurs return to North London with all three points and their first win at Anfield in almost thirteen years.
Not following the script
The scene was set for a great day for the fans at Anfield. Dalglish had signed a three year-deal just days before and a win, thus solidifying European football for the club, would have been the icing on the cake. Spurs, however, failed to read the script and made a bright to the game against a Liverpool side still licking their wounds after having the title record snatched away from them by rivals Manchester United the day before.
The North London outfit broke the deadlock just nine minutes after Liverpool failed to clear Modric's corner before it fell to Van der Vaart who expertly controlled and lofted a half-volley, with help from a Glen Johnson deflection, into Pepe Reina's far top corner. Having hit an earlier effort wide, the Dutchman made no mistake the second time round and silenced the home crowd who were in high spirits prior to kick off.
Injury to Raul Meireles in Liverpool's 5-2 win over Fulham on Monday meant Dalglish was forced to break up the partnership of Kuyt and Suarez which had proved so effective in recent games. The lack of energy in the centre of the park was clear for all to see with Spurs taking full advantage of the extra time on the ball.
Liverpool wasted a series of chances after Van der Vaart's opener as Carroll, Suarez and Jay Spearing all missed excellent opportunities to level the scores going into the break.
Controversy in another Premier League game
When Van der Vaart limped off five minutes into the second half, replaced by Jermain Defoe, looked to have quelled the Spurs attack but in the 55th minutes, one decision turned the game on its head. Stephen Pienaar, on the receiving end of boos from the home support following his time at Everton, made a darting run into the box and was adjudged to have been fouled inside the box by referee Howard Webb.
Replays showed the challenge was innocuous and, potentially, outside the box as well however, the Spurs fans wouldn't have minded when Modric buried the spot-kick to make the score 2-0. Liverpool surged forward for the goal that would bring them back into the game but chances were few and far between as Carroll, John Flanagan and Jonjo Shelvey came closest to getting the goal that the club craved.
Spurs held on for the win that took them into fifth place and left them in the driving seat for European football heading into the final game of the season.
Man of the match
Club captain Ledley King was in fine form this afternoon and looked as though he had never been away from the game since October. Successfully keeping the attacking quintet of Carroll, Suarez, Kuyt and Maxi Rodriguez, fans saw today that the real King of Anfield certainly wasn't Dalglish.
What Redknapp said
"We want to finish as high as we can. We want to finish fifth if we can and that would be great.
"We've had a great season. We had a great run in the Champions League and to finish fifth would be a great achievement from the players."
On King, Redknapp added "I took a real gamble today with Ledley, he was a little bit apprehensive about playing and I think wanted to leave it to the beginning of next season.
"But I thought we needed to know sooner or later whether he was going to come back and play, and we pushed him into it a bit.
"But he is an amazing footballer when you think about it.
"He doesn't train and then comes out and produces a performance like that, it's amazing really."
Tottenham U19s beat Club Brugge at the end of a gruelling campaign at the Terborg Tournament
According to a report by Tottenham Hotspur's official website, the heroics of our U19 midfielder Paris Maghoma helped secure a much-needed 1-0 win against Brugge in the Terborg tournament in Holland.
We endured a challenging time in the group stages and it is great that we somehow managed to clinch a 5th-place finish at the end of it. This does come as great news for our younger players and from here on, they can only go forward.
In general, our U19 side has been quite promising in recent times and the display against Brugge was certainly yet another encouraging sign. Our defence was quite commendable and Brooklyn Lyons-Foster made quite a mark after returning from an injury he had sustained in March.
The likes of Troy Parrott and midfielder Elliot Thorpe came close to scoring but they failed to convert the chances. However, the U19s were lucky enough to have Maghoma in the mix since his goal ultimately proved to make all the difference.
All in all, it goes without saying that this was a good learning experience for the youngsters. They managed to sandwich a victory against Heerenveen between losses to Midtjylland and Atletico Paranaense but the win against Brugge is certainly a brilliant way to end the academy season.
Scott Parker's men will now brace themselves for the new season and some of the players will be pushing for greater opportunities as well. However, given the way they have performed, it looks like the future is bright for the lot.
Chelsea U18 0-3 Tottenham U18 – Blues handed first home defeat in three years as Spurs youngsters impress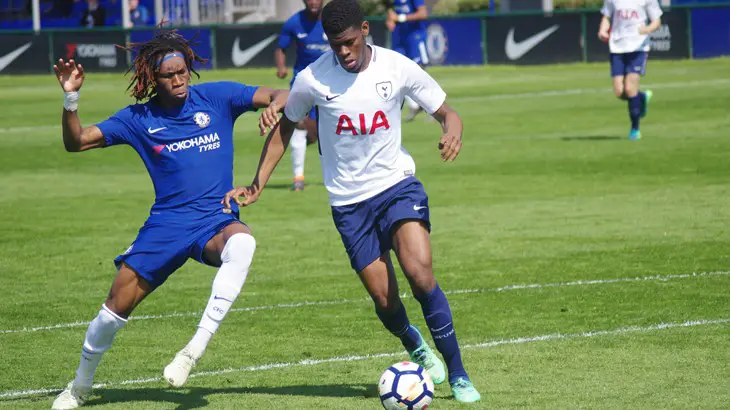 Tottenham U18 caused a nasty upset against our London rivals Chelsea, as our youngsters beat the Blues at Cobham in an exciting 0-3 victory. To have notched up such a huge victory against a side that has been exemplary in all aspects of the game is truly commendable.
Reo Griffiths, Rodel Richards and Dilan Markanday scored some stunning goals to put us in the driving seat and it is safe to say that we deserved that win. As if beating Chelsea was not enough, this win marks the Blues' first home defeat at Cobham in the last 3 years.
A win is definitely important for us at this stage but more than anything else, the calmness and maturity displayed by our U18 side deserves praise. Our defenders did a brilliant job at the back and our attackers left no stone unturned to threaten and dominate the home side's backline.
Griffiths scored a screamer of an opening goal to put us in the lead. Although we were the better team in the first-half, Chelsea were awarded a penalty right after the break. A few nervy moments followed but De Bie made a brilliant save to deny the hosts.
The save proved to be a turning point in the game since Chelsea could not come back into the game despite fighting hard. Eventually, Rodel Richards chipped in with the second goal in the 74th minute which was followed by Dilan Markanday converting Tariq Hinds' cross to smash the third and final goal of the match.
Markanday was truly a standout performer for the side and he was a constant threat to Chelsea. He was aided by a flurry of crosses and ample support from right-back Maxi Tainio and the duo linked up quite well to deliver stunning results on the field.
As a Tottenham fan, it is heart-warming to see our youngsters perform like this and here's to hoping they continue their fine form.
"We do things the hard way", "Sell Llorente and Sissoko please" Tottenham fans vent out anger after shock 2-2 draw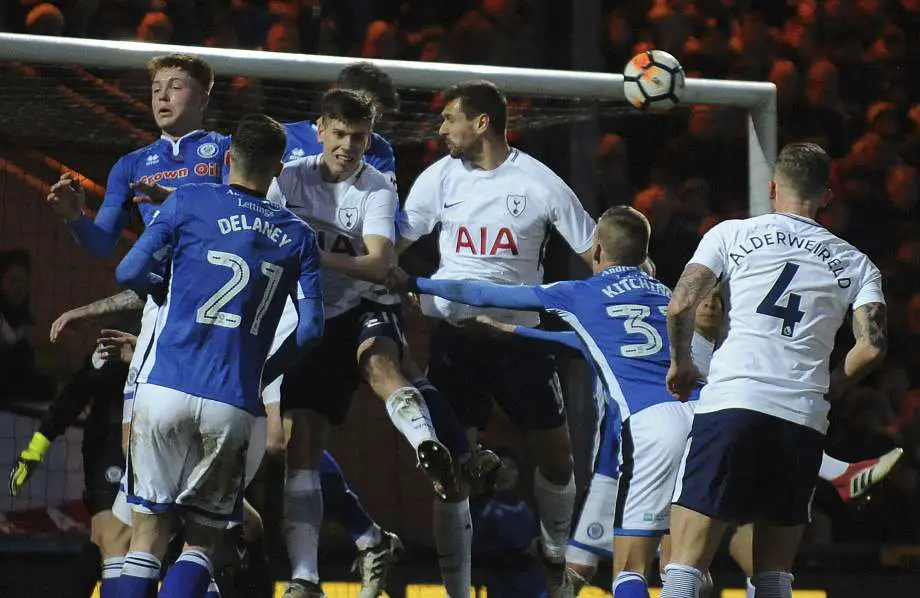 Rochdale scored an extra-time equaliser as they earned an FA Cup fifth-round replay against Tottenham Hotspur at Wembley following a 2-2 draw at Spotland.
Tottenham thought they had won the game when Dele Alli had controversially earned a penalty and Harry Kane made no mistake, stepping up and firing past the goalkeeper. But 30-year-old Steve Davies sent the home crowd into ecstasy by netting the leveller two minutes into stoppage time.
The game didn't start in our favour as Rochdale made the most of the relaid pitch to score a fantastically worked opener through Ian Henderson. It was Henderson's 6th FA Cup goal of the season and interestingly, no player has scored more.
Fernando Llorente had Spurs' best chance of the opening 45 minutes but spurned it from inside the area when he should have at least hit the target.
However, Lucas Moura, starting his first game for Spurs since making a winter transfer deadline day move from Paris Saint-Germain, equalised after the break. Moussa Sissoko found Moura in space and the Brazilian took a touch before hammering home his first goal for the club.
In the 88th minute, Alli was fouled in the box by Harrison McGahey and Kane stepped up to smash home to give Spurs the lead. But minutes later, Davies set Spotland bouncing again when he calmly found the bottom corner in the injury time to send Dale to Wembley for the replay.
After a fantastic 2-2 draw at Juventus in the Champions League, this wasn't exactly the performance Spurs fans had hoped for.
Hugely disappointed with the performance when we could have won at Rochdale and moved into the quarterfinals. Here is how our fans reacted after the blow of the final whistle.
POCH GET THE FUCK OUT OF OUR CLUB YOU ARE RUINING TOTTENHAM YOU FUCKWIT! TAKE SON, SISSOKO, FOYTH, VORM AND LLORENTE WITH YOU! #POCHOUT #NOW

— POCH OUT (@GETPOCHOUT) February 18, 2018
— E❄️ (@KaneFlair) February 18, 2018
Son was absolutely shocking. Needs a few weeks on the bench in place of Moura.

— Tom Cheeseman (@TomCheese8) February 18, 2018
One week ago we bossed Juventus and today can't even team beat a team sitting 24th in the League 1 wtf we do things the hard way

— Devansh (@DevanshTHFC) February 18, 2018
Sell Llorente and Sissoko please

— 🅿️AUL (@PaulChippy01) February 18, 2018
— Dan (@ElCapitain82) February 18, 2018
Rochdales combined starting 11 today dont make as much as Llorente makes in a week!

Thats how embarrasing a performance today was!

Shameful!

Half that starting 11 for us need binning.Not good enough to beat a bottom of League 1 side shows just how good they really are

— C (@SpursArtist) February 18, 2018
Oh well… We'll smashed them at Wembley #COYS #THFC #ROCTOT #FACup

— Gaby Braca (@GabbyBraca) February 18, 2018
— Harry C (@HazSpur92) February 18, 2018
Worrying to see Toby play that poor. Stupid subs. Sonny was poor. Should have left moura on. Ohh well, credit to Rochdale. Still in it. #COYS

— shane (@ShaneeUK) February 18, 2018
Ugh. An extra fixture is the last thing this squad needs right now.

— Chris Dunham Jr. (@ChrisDunhamJr) February 18, 2018
Good 2nd half performance vs good @officiallydale team & then fell asleep! @LucasMoura7 a big positive #MOTM & @SpursOfficial need to find a decent back-up striker to @HKane as @R9Soldado @vincentjanssen @llorentefer19 have not worked. #THFC #COYS #EmiratesFACup

— Rocky Gill (@CllrRockyGill) February 18, 2018
Fair play to @officiallydale, they did play Really Well 👏👏👏
How are they Bottom of League One, I do not know.. Least they get to play at Wembley.. Onwards and Upwards! #COYS #FACup

— Smiley ッ (@DazSmiles91) February 18, 2018