AVB is feeling fresh with life at Spurs
Andre Villas-Boas' reputation as Europe's hottest young coach took quite a battering at Chelsea, lasting the increasingly standard nine months at Stamford Bridge. AsTottenham's weekend 3-1 win over Man City confirmed, that protege status was indeed no joke.
Andre Villas-Boas' reputation as Europe's hottest young coach took quite a battering at Chelsea, lasting the increasingly standard nine months at Stamford Bridge. AsTottenham's weekend 3-1 win over Man City confirmed, that protege status was indeed no joke.
Chelsea's lack of forward planning has been evident since sacking the Portugal tactician. Even his appointment had shades of a mid-life crisis as Abramovich yearned for a younger sexier version of Mourinho. Now it is their London rivals who are feeling the benefits of Villas-Boas' maturity.
Just over a year on from his sacking, the 35 year-old threatens to keep his former club out of the Champions League they won after his sacking. He would doubtless see that as vindication of his managerial abilities, and with some justification.
While Chelsea have sparkled in fits and starts this season, both Di Matteo and Benitez have continued the managerial suicide policy of rotating John Terry and Frank Lampard. Villas-Boas will also bemoan the fact that he never got to work with the likes of Eden Hazard and Oscar, although Gareth Bale probably more than makes up for it.
It could quite easily be argued that Gareth Bale deserves most of the credit for Tottenham's Champions League charge. At the same time, Villas-Boas seems to have allowed the Welsh wizard to take his game to a new level, with admittedly lofty comparisons with Lionel Messi and Cristiano Ronaldo only rearing their head since he took charge.
Another feather in Villas-Boas' cap could be the fact that Tottenham have not faded after Christmas as many predicted, and indeed grew accustomed to under Redknapp. The victory over Man City was a triumph of substitutions and tactics, and is a testament to the fighting spirit of a club that was only two weeks ago knocked out of the Europa League in the most heartbreaking of circumstances.
QPR's almost certain relegation will be causing even more Spurs supporters to ask 'Harry who?'. While the England speculation could have been largely to blame for last season's dramatic loss of form, there was an undeniable feeling that Redknapp's reign had gone stale, and that he could have done more to commit himself to the club. With Luka Modric leaving, it took time for Villas-Boas to stamp his own mark at White Hart Lane, but he seems to have done just that, leaving plenty of optimism for the future.
Once Terry and Lampard are finally put out to pasture at Stamford Bridge, there may be a case for Villas-Boas to be the one to make a return to Chelsea over Mourinho. The Special One is seen as some kind of magic bullet, when in reality this is based on admittedly large past glories. Villas-Boas' own career may yet prove even more fruitful.
How Football Stars Influence Success of Their Teams
Football and marketing are closely intertwined, that's why so many stars are tidbits not only because of their sports skills, but also thanks to their popularity among fans.It is enough to have a look at how the transfer of Cristiano Ronaldo changed the position of Turin Juventus in social media. The number of subscribers and views increased by several million. It is obvious that the Portuguese's personal fans continue to follow him now, when he is the member of the Old Lady. It is also confirmed by the fact that the first home game of Madrid Real set an anti-record in terms of attendance — the stadium was packed with less than 50% audience.
Juventus has received notable profits not only due to the increase in the number of subscribers, but also thanks to selling T-shirts with Ronaldo name on them. They were sold out in a blink of an eye. However, this is a good example of how the team won from such a transfer. We are not taking into consideration that during the first games Cristiano did not realize his full potential. However, it can be clearly seen that he is doing his best, and results will definitely follow.
Soccer stars have become a real goal for the giants who aspire not only to add a strong player to their lineup, but also to get a media person whose T-shirts are well sold. Such situation in the team sport is unlikely to lead to anything good, because it is not tennis or any other individual discipline. In football, mutual understanding on the field is important, not the number of stars playing on it.
Marketing Success of Clubs
When it comes to the marketing success of clubs, Manchester United comes to mind instantly. Here, we can give an example of Angel Di Maria, who was introduced to much fanfare, and fans had high hopes for him. On the field, the Argentinean showed himself extremely unconvincingly, but quickly redeemed his transfer thanks to T-shirts selling. MU had the similar situation with Alexis Sanchez, who can not find his game yet, but his merchandise is very popular.
It seems that the management of the Red Devils is quite satisfied with this development of events, while the results on the football field leave much to be desired. However, there are a lot of examples of how the player's transfer was successful for both the media and the sport. Among the latter we can name the following transfers:
They fully justified the money spent and helped their teams to make profit on the related merchandise. However, the destructive influence of the market is becoming more and more noticeable, therefore we run the risk of facing a situation where clubs will not buy players, but stars for the media.
"Shocker", "Bin Vorm" – Some Tottenham fans want goalkeeper to be sacked after Liverpool loss
Tottenham lost their second match of the season as Liverpool ran out 2-1 winners at Wembley. The Reds were the better side as goals from Georginio Wijnaldum and Roberto Firmino gave them a conformable lead.
Spur barely got an attack going but Erik Lamela scored in time added on. Michel Vorm could be blamed for both goals and Son Heung-min should have had a penalty in the last minute of the game.
Tottenham were flat throughout the tie and it is a bit of a concern that we are losing our steam at such an early stage of the season.
Mauricio Pochettino has to work on the side as our next game is a Champions League clash against Inter Milan on Tuesday.
Vorm wasn't the only poor player in the team and some of our fans were really upset with the result.
Cheers Vorm

— Kezzy (@HonkMyHonda) September 15, 2018
Vorms needs to go

— Anthony Plesmer (@Plesmer_) September 15, 2018
Stop lying to the fans! pic.twitter.com/VTMdCPALC9

— Harvey🏴󠁧󠁢󠁥󠁮󠁧󠁿 (@RocheHarvey) September 15, 2018
Why are you the way you are

— Salomon Olembé (@szechuancereal1) September 15, 2018
League title contender they said pic.twitter.com/SUaYQsYLNL

— Aga (@gal_akbar) September 15, 2018
Sell vorm now

— Cal (@thfccal) September 15, 2018
Bin Vorm

— Ř (@ClintonNJiesus) September 15, 2018
Yeah, that wasn't pk..my ass pic.twitter.com/ZQM3wPquld

— YoojinJung (@3POR2D2) September 15, 2018
Spurs always play two styles of football. Beautiful and shit. Today was shit's turn.

— yusuf khalil (@cn_yk) September 15, 2018
Disappointing? I would say a pathetic performance from the whole team is more accurate.

— Timmy Helley (@timhelley) September 15, 2018
— UFC Frenzy🔥 (@UFC_Frenzy) September 15, 2018
Harry Kane has lost his Vorm in front of Goal.

— Aaron Flynn (@Flynnzer89) September 15, 2018
Shocker.

— Brian Ellison (@brian_ellison) September 15, 2018
Read more: Tottenham lead race for Fulham star as club prepares new deal to retain him
Tottenham could inaugurate new stadium with high-voltage match against Chelsea in November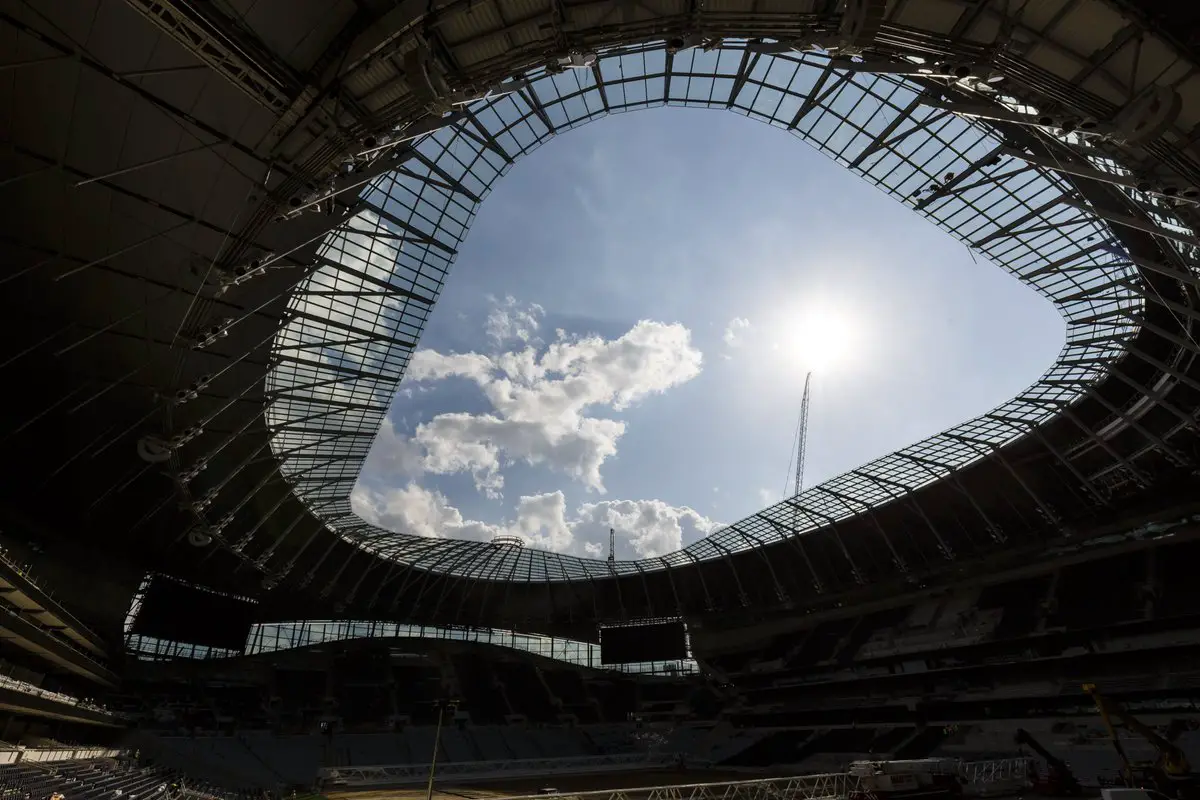 The Sun reports that Tottenham's new stadium could be ready for the clash against Chelsea on 24th November.
Tottenham released a statement confirming that the game against Manchester City would be pushed to 29th October but added that the stadium could be ready in time.
However, the match against the Cityzens will take place at Wembley while the home matches in the Champions League would also be played at the same stadium.
The report from the Sun further claims that even if our stadium is ready for the knockout phase of the competition, we might have to stick to playing at Wembley due to an article in the competition rules which states:
"In principle, a club must play all its matches in the competition at one and the same venue."
Chelsea clash would be difficult for the police and clubs
The Sun claims that Tottenham are set to inaugurate their new home with an explosive tie against London rivals Chelsea.
Tottenham expected to host Liverpool at their new ground on 15th September but issues with safety systems shelved those plans.
The clash against City had to be moved by a day too as Wembley will host an NFL game on 28th October, as per the Sun.
The report adds that opening the stadium with a clash against the Blues would not be ideal for the police or the clubs.
Read more: "You need to compete much, much better" – Pochettino unhappy with Tottenham side after 2-1 defeat to Watford
There have been clashes between the fans in previous encounters and the report adds that it would have been better to open the stadium against either Southampton or Burnley in December, as those are seen as "low-key" affairs.