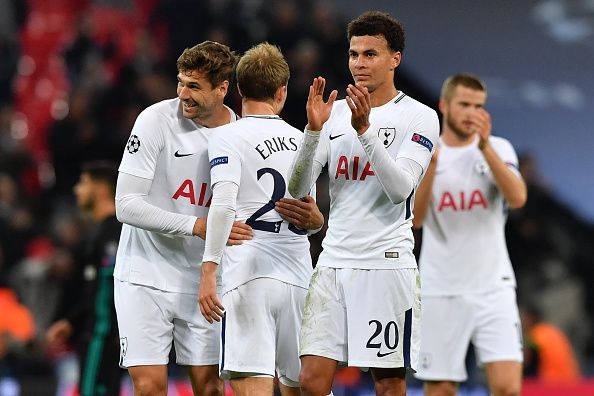 Tottenham barged their way into the knockout stage of the Champions League after a convincing 3-1 win over champions Real Madrid. A brace from Dele Alli and one goal from Christian Eriksen was enough to send the side into the last 16 even though Cristiano Ronaldo score a consolation.
We were the better side against the Spanish giants and continued our re-found form at Wembley. Not only that, this was also Real's first loss in the group stages of the competition since 2012.
Even though the talk was about Harry Kane starting, Dele Alli took the plaudits and he could have had a hat-trick but he missed an easy header. The win certainly was incredible for Tottenham and our fans, given that we have had to deal with a lot over the years. This also proved that Mauricio Pochettino is one of the best managers in the world.
Twitter was lit up with a lot of happy fans and here are some of the best reactions from the social networking site.
https://twitter.com/Spurs_US/status/925842655661248512?ref_src=twsrc%5Etfw
I'll take every humiliation I've ever felt as a Spurs fan over the years and multiply them all by a thousand to see what I've seen tonight. I Love you Spurs. #COYS

— Nihal Arthanayake (@TherealNihal) November 1, 2017
Levels 😜 … #COYS#THFC pic.twitter.com/y3z7TCWGH5

— Last Word On Spurs🎙 (@LastWordOnSpurs) November 1, 2017
Only Spurs could fail spectacularly against Monaco, Leverkusen and CSKA but then stroll a group containing Real Madrid & Dortmund. #UCL

— Andrew Gaffney (@GaffneyVLC) November 1, 2017
FT – SPURS 3 – 1 REAL MADRID

He's magic you know 🙂#COYS #THFC #TOTRMA

(2nd attempt 🙂 pic.twitter.com/c9BAzvkqkU

— Tottenham LIVE! (@TottenhamLIVE) November 1, 2017
Dele Alli and his Spurs guys turned Hala Madrid to Haha Madrid 😁

— Osas Cruz (@OsasCruz) November 1, 2017
Before this evening Real Madrid were unbeaten in their last 30 Champions League group games (W22, D8). pic.twitter.com/RXDhJCB5Bi

— Spurs Stat Man (@SpursStatMan) November 1, 2017
WHAT A PERFORMANCE FROM SPURS AGAINST REAL MADRID 👏🏼👏🏼👏🏼 #COYS pic.twitter.com/NXNkxSVyQH

— The F2 (@TheF2) November 1, 2017
1-1 and 3-1: Spurs have been brilliant against Europe's champions. Resilient in Spain, fluent at Wembley. Now they know they belong.

— Paul Hayward (@_PaulHayward) November 1, 2017
What a performance from #Spurs. Love how Deli Alli is already thinking about building on that result in his post-match interview.

— Dan Walker (@mrdanwalker) November 1, 2017
Harry Winks technically outwitted and outplayed Luka Modric tonight, a Spurs boy playing far beyond his years, immensely proud! #COYS#THFC pic.twitter.com/qFOzPT5Kku

— Ricky Sacks 🎙 (@RickSpur) November 1, 2017
Spurs and PSG favourites for the UCL surely? 😏

— Craig Mitch (@CraigxMitch) November 1, 2017
Spurs were so, so good tonight. Yes, Madrid are cartoonishly dodgy at the back, but they still demolish most teams. What a night! #coys

— Greg Jenner (@greg_jenner) November 1, 2017
https://youtu.be/uUnXezmpCjw
Incidents of alcohol and drug abuse surface among workers at Tottenham's new stadium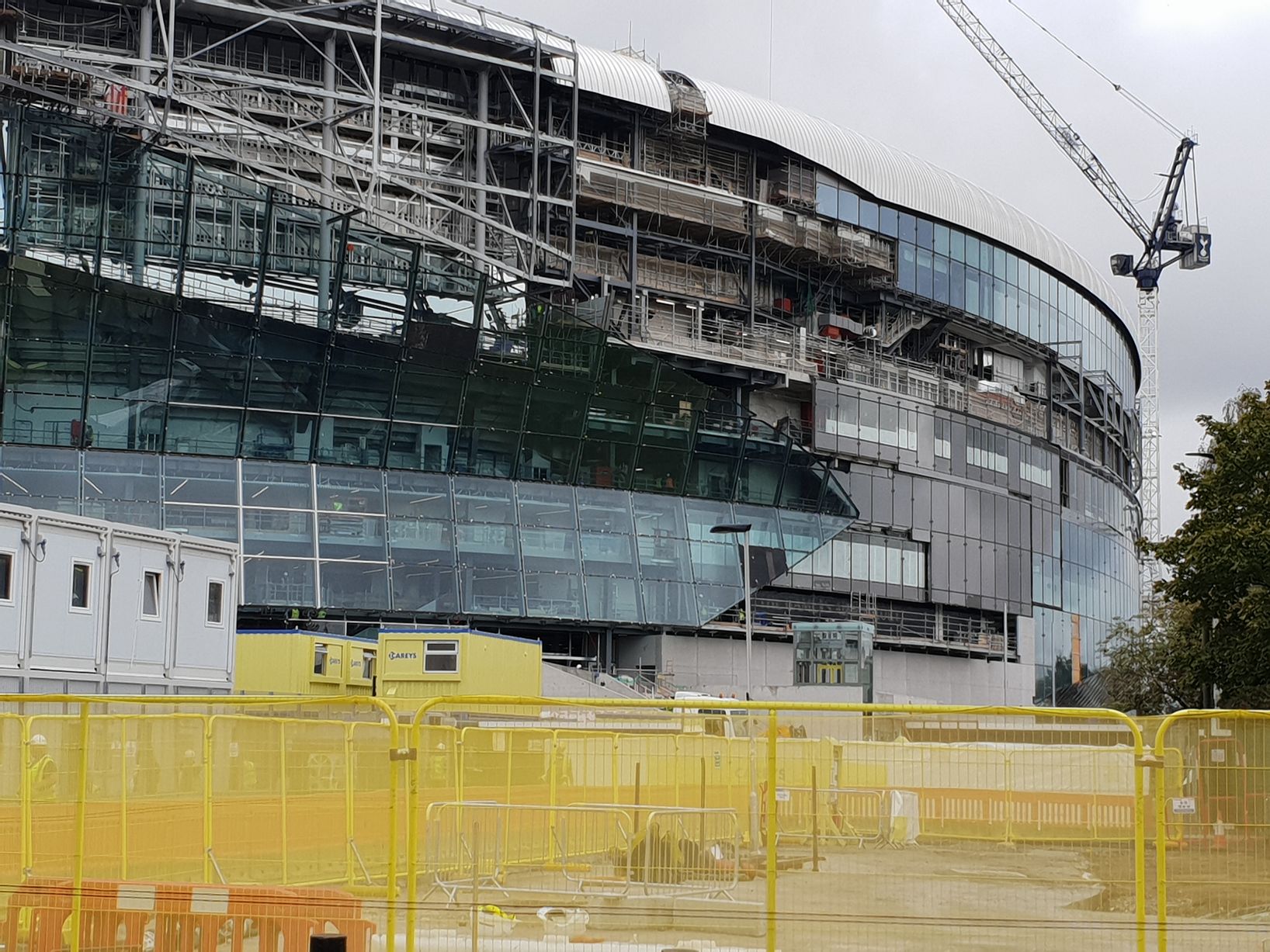 Construction News (h/t Independent) claims to have first-hand accounts of workers under the influence of alcohol and drugs at our new stadium.
Tottenham's £850m new home has been hit by numerous delays and the club haven't shared a final date for the launch of the stadium.
A source speaking to Construction News (h/t Independent) said:
"I've not worked on a site like that in a long, long time.

"There were people off their heads, drinking cans first thing in the morning before going on to site and snorting coke in the toilets."
However, Mace have denied such claims and a company spokesperson claimed that tests were carried out regularly to ensure the safety of the staff.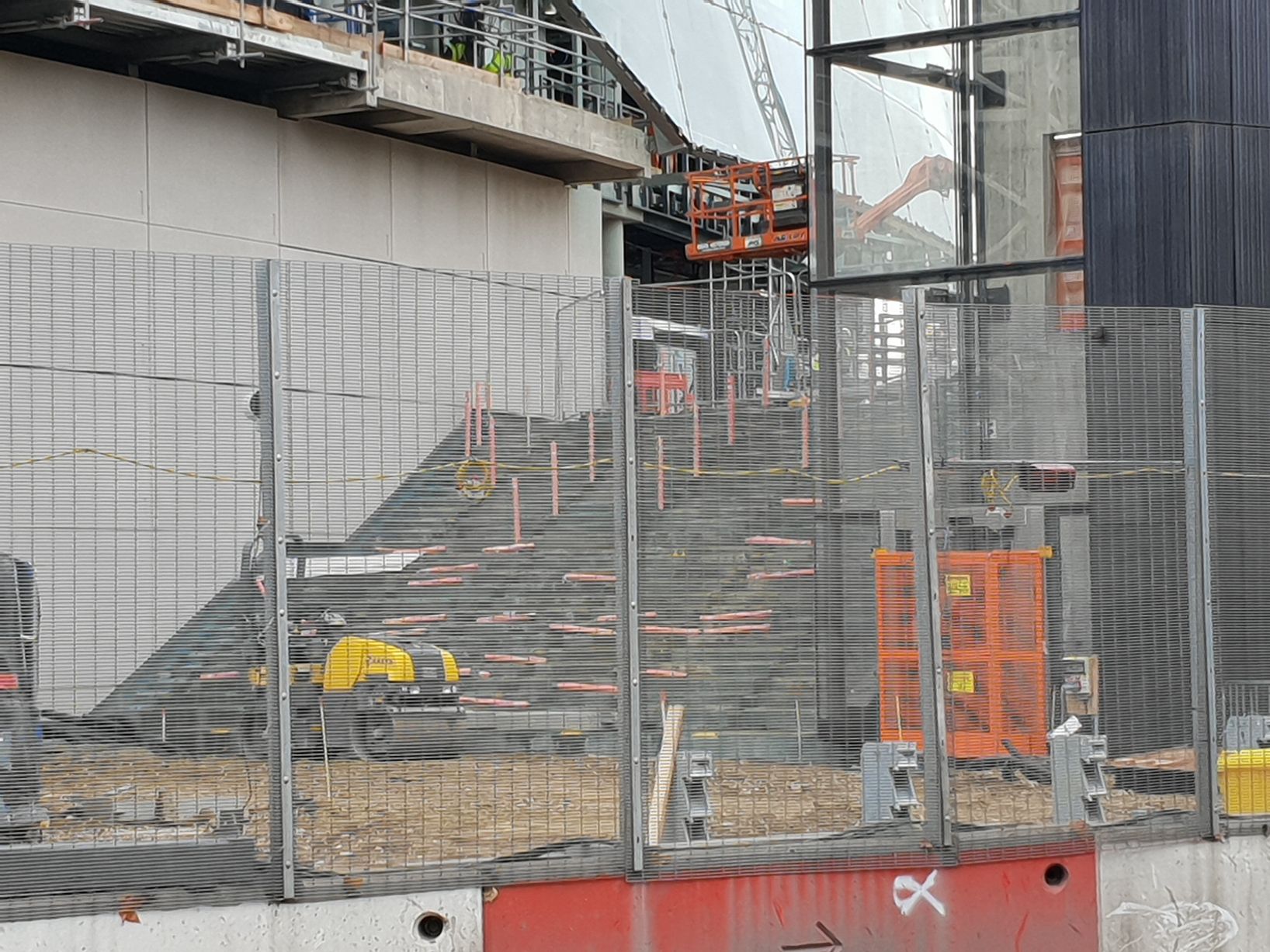 The personnel was quoted by the Independent saying:
"We carry out regular random drugs and alcohol testing to ensure that our rules are enforced throughout our supply chain. Any concerns about specific health and safety risks should have been flagged to Mace health and safety staff on the project."
Our new stadium was expected to be completed for the game against Liverpool on 15th September but Tottenham will continue playing their home games at Wembley.
Read more: "We need this man in our team" – Some Spurs fans want 21-year-old Lyon midfield tank to join club
This latest report will be a further blow to Tottenham as the stadium is behind schedule and we had reported that the home might not be ready before 2019.
"The season is saved", "This is the signing you make?" – Some Spurs fans unhappy with latest deal by club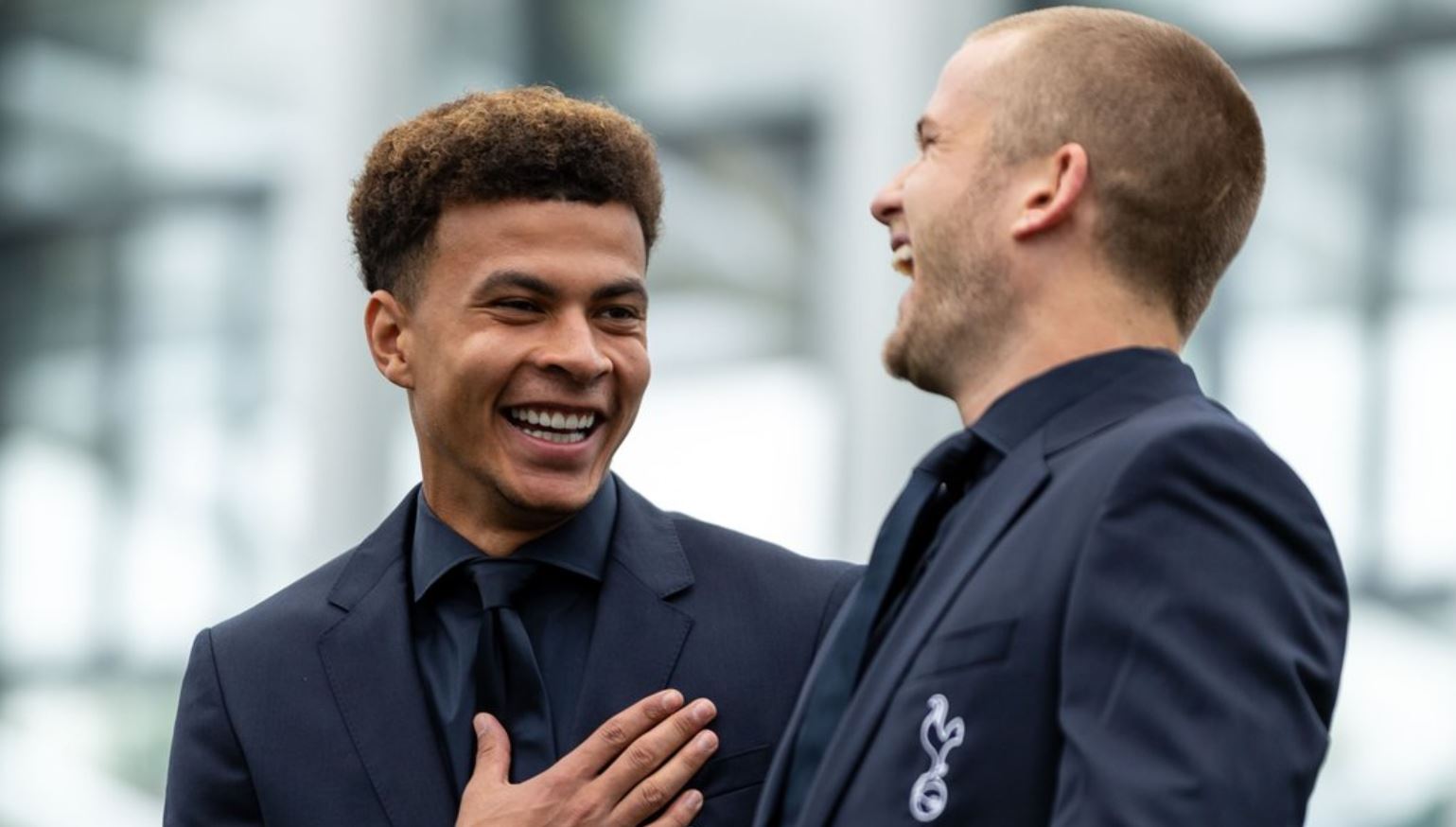 Tottenham haven't done all that well in recent games with three losses on the spin. The Premier League loss against Liverpool was tough to take but the 2-1 defeat at Inter Milan was even worse.
We were leading till the 85th minute before Mauro Icardi and Matias Vecino got the goals at San Siro.
Tottenham bounced back with a win against Brighton & Hove Albion but prior to that, the team had time to pose for a new range of apparel from Hugo Boss.
A post from the Spurs Twitter account revealed that our first-team squad would be sporting suits from the company from the 'Create Your Look' line.
Our first-team squad and manager will wear @HUGOBOSS suits from the special 'Create Your Look' line during the 2018/19 season. #BOSSsports #SuitedByBOSS pic.twitter.com/F8Flfud2ym

— Tottenham Hotspur (@SpursOfficial) September 21, 2018
Eric Dier, Dele Alli, Jan Vertonghen, Harry Kane, Christian Eriksen and a host of other players and staff were pictured in the dapper suits.
It isn't a surprise that teams are being sponsored by brands but this deal does come a little late, given that our season is well over a month in.
Some fans, however, were upset with the deal and here are some of those reactions from Twitter.
Couldn't make it up. Shambles.

— Geoff Humphrey (@grhumphrey) September 21, 2018
This paints an interesting picture pic.twitter.com/1XOLsfRxPT

— Dizzle Chizzle (@dylanchups) September 21, 2018
If it doesn't make them play better, not interested

— Dean Haig (@haiger14) September 21, 2018
double cuteeeeee pic.twitter.com/QMhSSqMOXu

— 코잉 (@sonnyshine_s) September 21, 2018
I can't think of anything more uninteresting you could tell us. What next? Calvin Klein sponsoring their underwear!! All free for them of course so now waiting for all the posts trying to get us to pay loads on EVERY post.

— Paul Smith (@PaulSmith800) September 21, 2018
Announce Tottenham For Sale

— Zayne (@Zayne55748341) September 21, 2018
Perhaps they could take more interest in playing than dressing!

— Ian Coles (@IanC1959) September 21, 2018
This is the signing you make? pic.twitter.com/ofM35fulPF

— Mpho Kekana (@Afro_Scot) September 21, 2018
The season is saved! Because Spurs wear HUGO BOSS! WOOHOO! 😂

— HereForTmrw (@Twelve30Fo93) September 21, 2018
Read more: Tottenham deny reports claiming stadium will be ready only by 2019
Lamela stars: Player ratings from Tottenham's 2-1 win over Brighton & Hove Albion
Tottenham got back to winning ways after three successive defeats, thanks to goals from Harry Kane and Erik Lamela.
Glenn Murray handled the ball late in the first half which allowed Kane to score from the spot. The home team came at us with all they had in the second half and Paulo Gazzaniga pulled off a great save before Danny Rose crossed in for Lamela to slot in our second.
Anthony Knockaert pulled one back in stoppage time to make it a nervous last minute or so but we held on for all three points.
There were a few heroes on the pitch today and here are the player ratings from the game.
Paulo Gazzaniga – 6.5/10
The youngster did pretty well and made one good save to deny Knockaert. He couldn't do much regarding the goal he conceded.
Kieran Trippier – 6/10
Trippier didn't have the greatest time as he struggled a bit and even got a yellow card for a needless foul.
Toby Alderweireld – 7.5/10
The Belgian had a great chance to score early on and did a great job at keeping things tight for Spurs.
Jan Vertonghen – 7/10
Vertonghen didn't have a lot to do at the back but he helped us to an important win in the final few minutes of the game.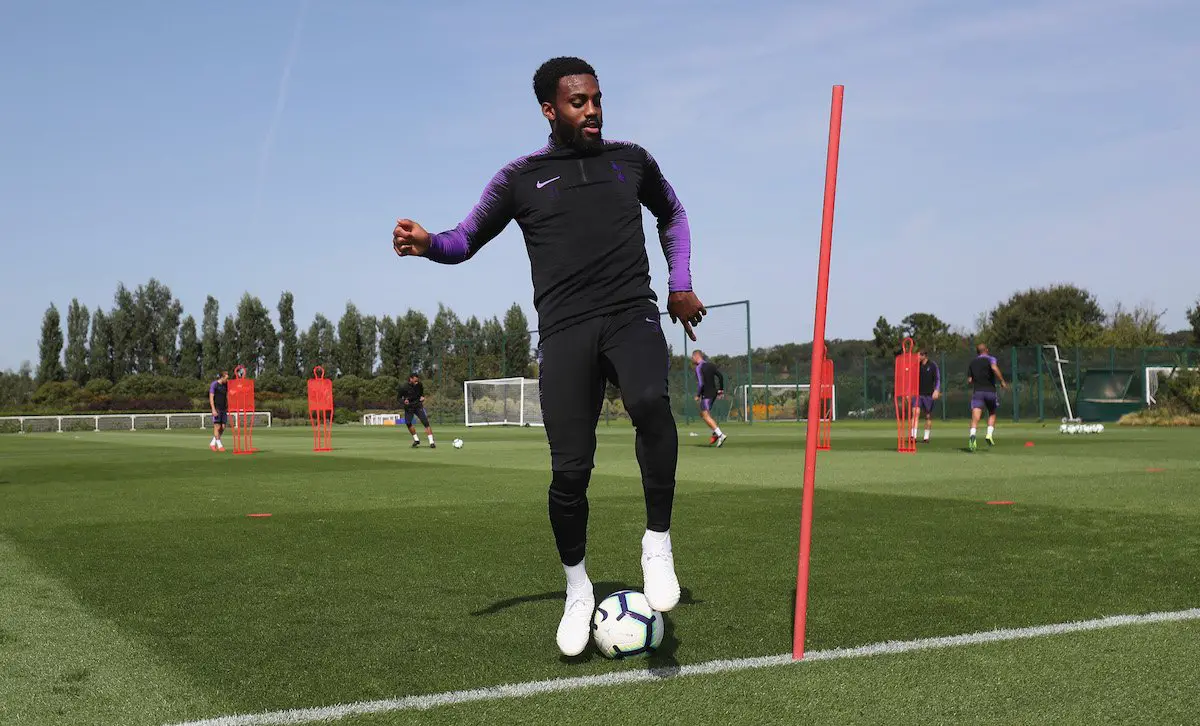 Danny Rose – 7/10
Rose got the assist for the second goal but didn't have the greatest of games for us. The Englishman should have done better for the goal we conceded.
Eric Dier – 5.5/10
This was another poor performance from the Englishman as he kept on making the wrong passes and losing possession.
Mousa Dembele – 7/10
The Belgian had a decent outing as his passing was good and kept things ticking for Spurs in the middle of the park.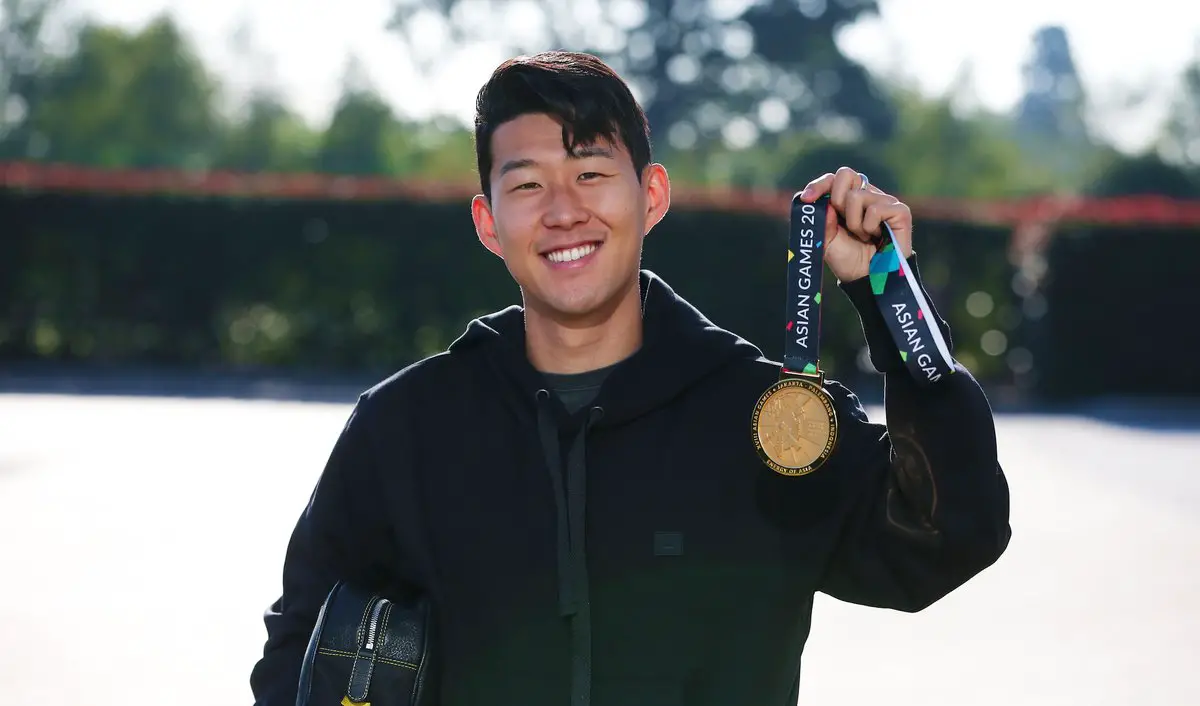 Son Heung-min – 6/10
This was a quiet outing for the South Korean and he should have done more to help Spurs get all three points.
Christian Eriksen – 6/10
Another player who seemed to be out of touch was Eriksen. He must do a lot more if he is to keep his place in the team.
Lucas Moura – 6.5/10
The Brazilian tried to do things but they weren't coming off. He did have a role in the second goal and was later subbed by Dele Alli.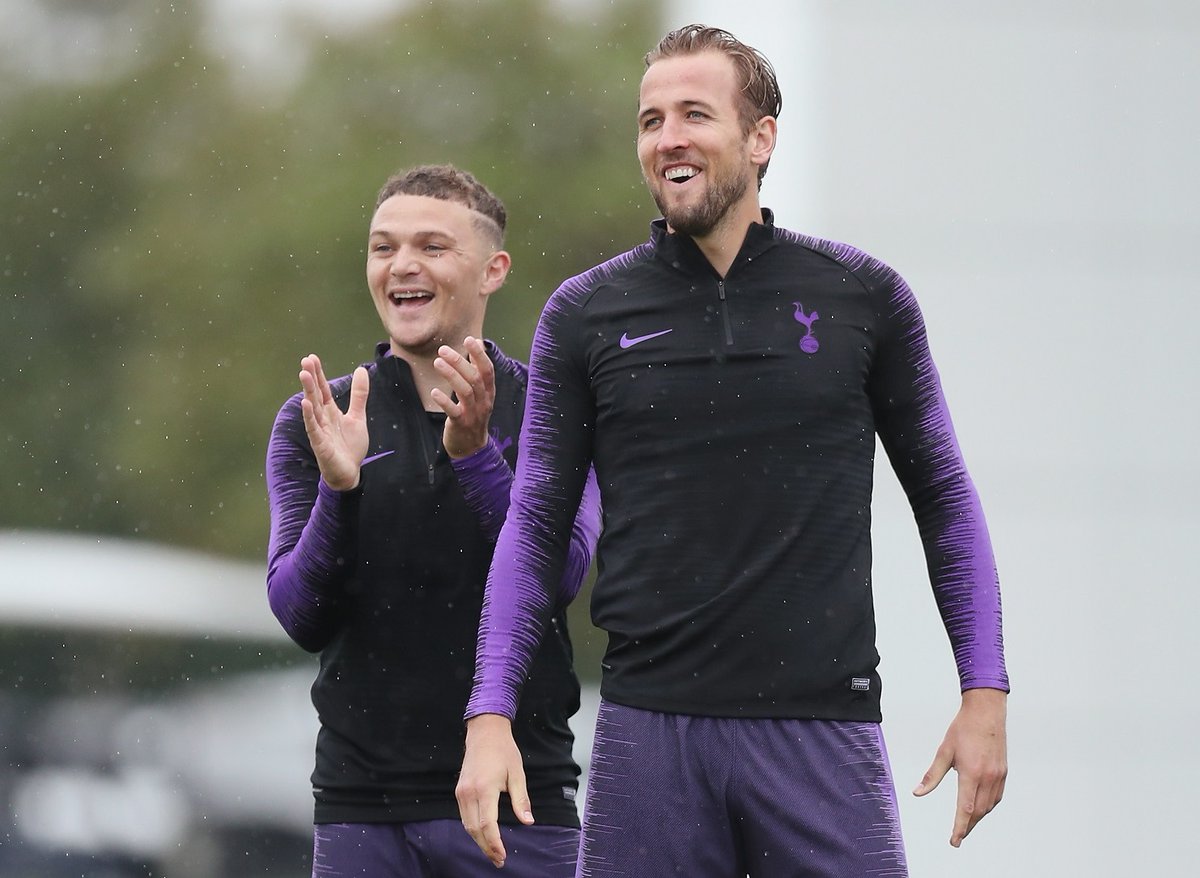 Harry Kane – 6.5/10
Kane scored the penalty but couldn't get another shot away as Brighton did well at keeping him quiet.
Substitutes
Erik Lamela – 7.5/10
The Argentine changed things as he provided an attacking outlet. He did well for the goal and maybe should start more games.
Read more: Tottenham deny reports claiming stadium will be ready only by 2019
Dele Alli – N/A
The Englishman didn't have a lot of time to make a difference to the game.