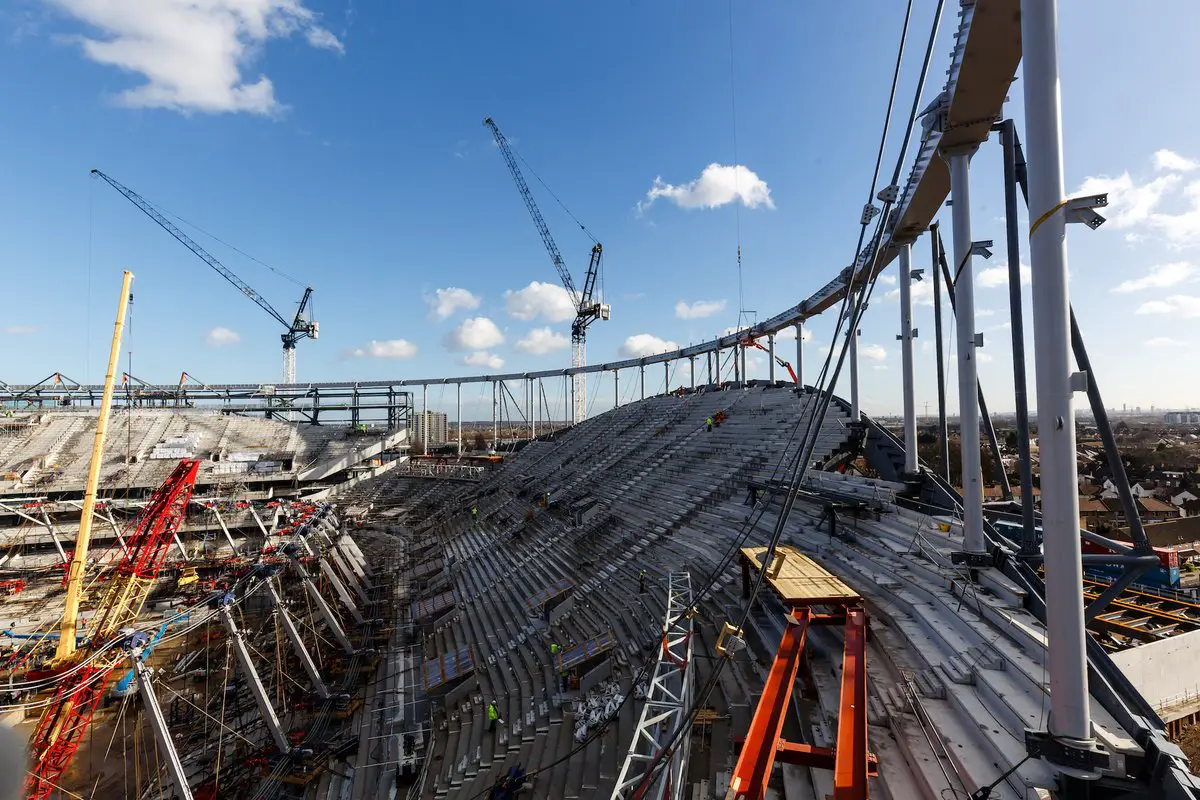 Tottenham's social media team are doing one hell of a job, to say the least. With a big project, as big as building a new stadium, in progress, the Tottenham hierarchy is well aware of the fact that their fans would need regular updates, as almost everyone is eagerly waiting for the grand venue to reach its conclusion.
So as per Football.London, more than 1,600 people are working on the project in shifts and every day is bringing some major changes in the site. Although some part of the construction is off the schedule, everything is going as per the blueprint and the venue will be ready to get going by the start of the 2018/19 Premier League season.
So up next is the installation of the roof; something that requires favourable weather conditions and a keen eye for minor details. Hence, it now remains to be seen how much time it takes for all these installations and whether everything will be done on schedule or not. So as things stand, the club uploaded another video which showcased the west stand entrance and an entire look of the project as a whole.
As seen in the video, it seems that the outer ring of the structure is all but done and it is certainly a massive step given that the roof is all set to be installed in the coming weeks. As quoted by the aforementioned source, the roof will weigh 600 tonnes when completed and once it is done, as many as 324 LED sports lights will be positioned, with six attached to each column.
As a part of a ten-year agreement, the £850m stadium will be hosting the NFL games as well and the venue needs to be up before October 14 as Seattle Seahawks play the Oakland Raiders.
Take a look at the video that Tottenham posted:
🏟️ Join us for our latest trip around #SpursNewStadium… 👌 😍 pic.twitter.com/kNjhFB4M6u

— Tottenham Hotspur (@SpursOfficial) February 22, 2018
Ready in 6months? pic.twitter.com/oUz76s3V8o

— bad monkey (@smudgemonkey81) February 22, 2018
No don't worry I'll see it on the first day of the 18-19 season, O wait no I won't as you've lied to us and it won't be ready 🙄🙄

— steveCOYS (@harwood_steve) February 22, 2018
Looking good cannot wait until I visit hopefully will see there first game !!!

— Barry towner (@barry_towner) February 23, 2018
Hope this is enough to pay our players well.

If these players want to leave this summer we must extort our rivals
Toby<——>Christensen+10M
Wanyama<——>Alexander Arnold+25M
Rose<——>Rashford+10M

— Anirudh Ramprasad (@Aniroodh2107) February 23, 2018
Can't wait <|

— Stewart Alexander Sm (@StewartAlexan19) February 23, 2018
Looks huge

— Samuel Carr (@scarr93) February 23, 2018
hoping to come and see a match with my old man soon… he just doesn't know it yet😉

— jodie (@jodieisbored) February 23, 2018
Wow. Looks massive from the street level. 👍

— Dave (@EnglishSpurs) February 22, 2018
@Artzzee gotta say it's starting to look so sick

— Ben Hart (@BenHart07) February 22, 2018
[Video] Amazing new time-lapse footage showcases pitch and seating areas of Tottenham's new stadium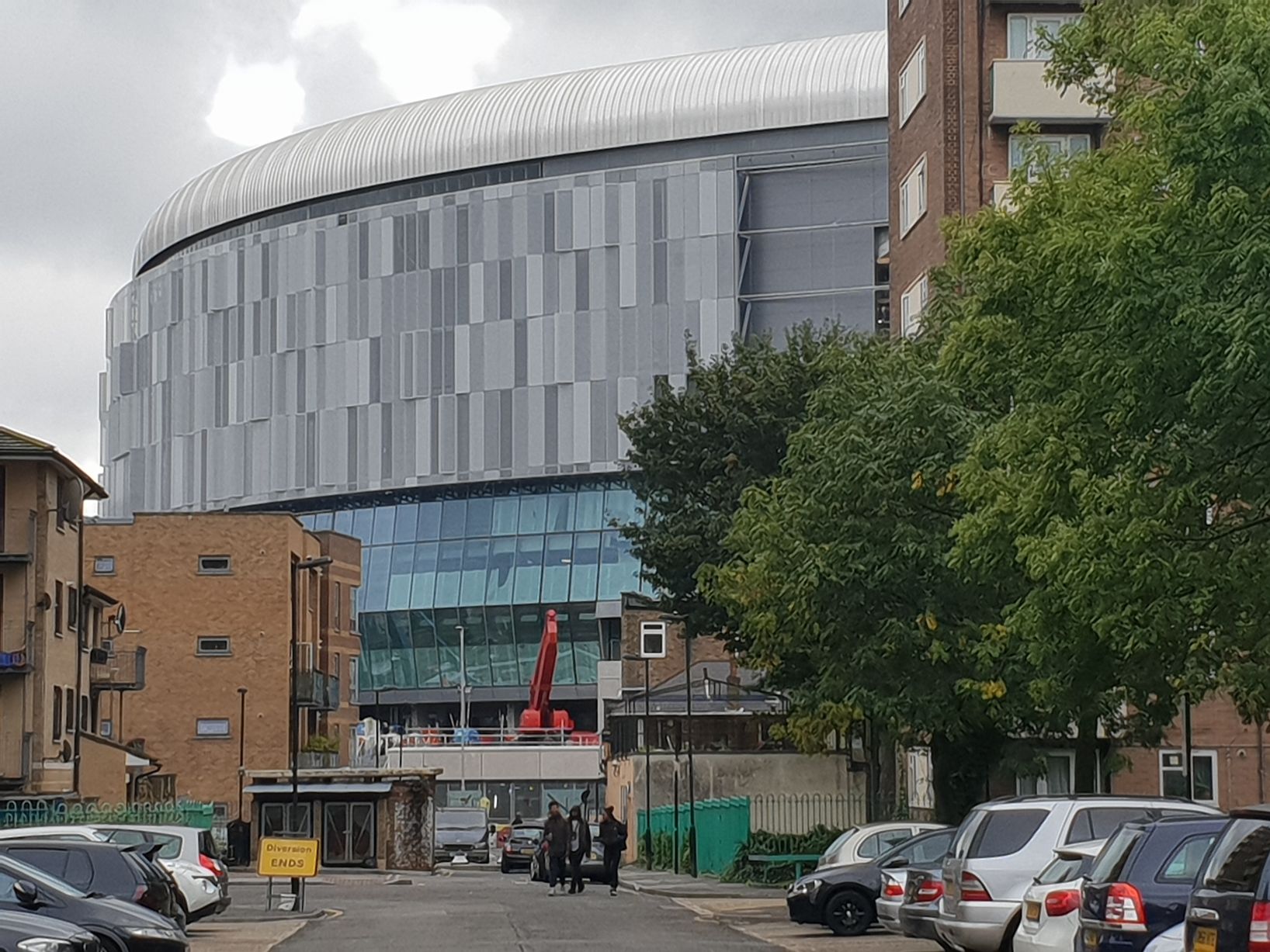 Tottenham's new stadium is towards completion and a new time-lapse video from last week has been shared which highlights the final stages of work being done.
The video begins with a view of the exterior where cranes are working on one section of the structure. The next part features an aerial view of the entire stadium. The video shows construction being done throughout the night to get the venue ready as quickly as possible.
A clip from the video showcases a section where numerous glass panes are yet to be installed, however, a number of cranes and workers are on the job.
The pitch was installed a week ago and an interior shot displays the grass and the artificial pitch lighting. It is great to see that most of the seats are installed and the LED hoardings across the seating area of the stadium.
Read more: "We keep on going", "Important victory" – Tottenham players celebrate West Ham win on Twitter
Hopefully, the venue will be completed quickly. Tottenham have spent a lot of time away from home with Wembley being used as a temporary ground. We even played a Carabao Cup game against Watford at Stadium MK.
"Star on and off the pitch" – Some Tottenham fans react to Spurs star's hilarious dance
Lucas Moura seems to be enjoying his season with Tottenham. The Brazilian had a fantastic performance against Manchester United a few weeks ago and was even recalled to the Brazil squad during the recent international break.
The former PSG man has become a starter for Spurs and a recent video was shared by Moussa Sissoko of the Brazilian dancing.
🕺 #MondayMotivation, courtesy of @LucasMoura7 ⚡🤣

📱 @MoussaSissoko #COYS pic.twitter.com/H9IBjhpYtw

— Tottenham Hotspur (@SpursOfficial) October 22, 2018
Some Tottenham fans reacted to the Moura dance and loved every second of it.
AMAZING CHEERFUL SAMBA SPURS TALENT

— Enjoy your life (@english4alu) October 22, 2018
Star on and off the pitch.

— ⁴ (@Alderrweireld) October 22, 2018
Happy to be leaving London Stadium dressing room I imagine #WestHam

— Jeremy Palmer (@JeremyPalmer7) October 22, 2018
Who put Mambo No. 5 on? Winks?

— Enter the VAR (@thedarkpav) October 22, 2018
— Alex (@highpressmess) October 22, 2018
He certainly danced his way through Westham on Saturday 😁

— Marc R (@marcrozier1) October 22, 2018
hahaha love you 😁😘

— WanboSports万博体育 (@wanbosports) October 22, 2018
Loved it – putting your name in for Dancing with the Stars 😀

— LadyCP1851 (@LadyCP1851) October 22, 2018
Lucas is Crazy, hahaha

— Ramon Dos Santos (@nomarmsn) October 22, 2018
Thankfully he plays much better than he dances!!!😳

— Des Bennett (@DesBennett5) October 22, 2018
Spurs beat West Ham in a tough London derby on Saturday and will need another quality performance against PSV Eindhoven in midweek.
Read more: "We keep on going", "Important victory" – Tottenham players celebrate West Ham win on Twitter
Tottenham have lost their two Champions League group games this season, and we need to defeat the Dutch team to have any chance of making it into the next round.
Tottenham downplay interest in signing 25-year-old Colombian star
Tottenham have no plans of signing Wilmar Barrios from Boca Junior, sources have told ESPN. The Colombian international had a decent World Cup with the national side and was linked with a move to Spurs, according to the report.
Reports (h/t ESPN) suggested that we had agreed on personal terms with the 25-year-old's representatives and were preparing a bid for the midfielder.
However, sources have told ESPN that there were no discussions in the summer and he isn't a target for Mauricio Pochettino in the winter window.
Spurs were the only club to not sign a player in the summer but the manager was open to signings in January.
The manager was quoted by ESPN as saying:
"In football you always need to think you can improve, and you need to try to improve your squad.

"We couldn't sign [in the summer] for different circumstances, but we wanted to sign.

"Now January will come and we're going to try to sign. I think it's not only us — all the clubs and managers want to sign players, must refresh the squad.

"We need to try again in January or the summer if we want to move on the team and the club."
Spurs are in a great position in the Premier League as we are just a couple of points behind the league leaders.
Read more: "You ran that game", "Great performance today" – Several Tottenham fans praise star's performance against West Ham
Hopefully, the right signings can help us push on this season and lead us to our first ever Premier League title.