Tottenham star admits spending time with national team provides some relief from club season
Toby Alderweireld admits spending time with Belgium provides a "nice" change in scenery
Toby Alderweireld has been one of the starts that has struggled this season at Tottenham.
The Belgian is a free agent at the end of the season, but just hasn't been at his best for Spurs.
The 30-year-old has had two woeful performances over the past week but is still part of the Belgium national side.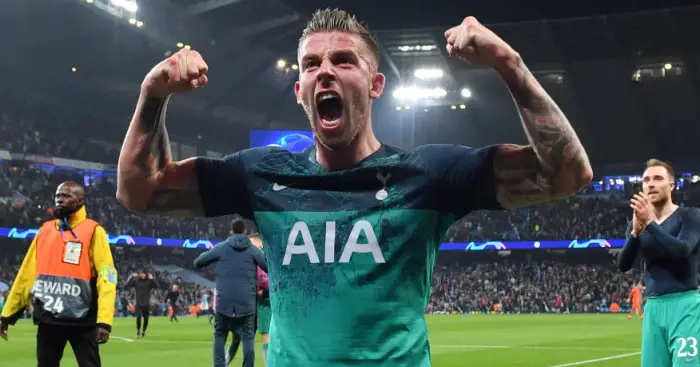 Alderweireld couldn't keep Bayern Munich from scoring seven past us and Brighton also beat us 3-0.
Spurs have been in a rut since the start of the campaign but will have a couple of weeks to get the house in order.
Alderweireld spoke about Tottenham's current plight and believed things would work out. The Belgian was quoted by DH as saying (h/t Football.london):
"A career is made of ups and downs. A few months ago, we were playing in the Champions League finals. It's proof that everything can change very quickly, whether it's good or bad."
The 30-year-old added that the team didn't need to "panic" but added that the national side provided a welcome relief away from Spurs:
"All we need to do is win a few games to get back on track, but I'm not hiding that being with the national team is a nice change of scenery."
Belgian pair to return early
Jan Vertonghen has also struggled alongside Alderweireld this season, but the pair should return from their trip early.
Football.london reports that Belgium's final game of this break is on Sunday, and the pair should be back at Hotspur War earlier than the other players.
The experience of the Belgian pair should have helped us during this tough time, and it will be interesting to see how they perform in the next game.
More Tottenham News
Alderweireld is correct in suggesting that things can change quickly in football, and hopefully, we go on a string of wins after the international break.
"I have dreams to fulfil" – Tottenham target open to transfer but won't force exit from current club
Bruno Fernandes open to transfer from Sporting but won't force move
Tottenham were linked with Portuguese star Bruno Fernandes in the summer, according to the Daily Mail.
The 25-year-old helped Portugal win the Nations League and was in great goal-scoring form for Sporting Lisbon too.
Manchester United were also linked with the midfielder, but a move away from Sporting failed to take place (h/t Daily Mail).
Fernandes has scored eight goals and provided six assists for Sporting this season. The 25-year-old also featured for the national team in their 6-0 win over Lithuania recently.
The midfielder was speaking about his future and claimed he has dreams to fulfil but won't force a move away (h/t Daily Mail):
"I'm well, doing my job and doing the best I can. I have dreams to fulfil but I have no need to force my departure.

"I feel the love here and if I have to leave, I hope I leave good memories."
Fernandes also claimed that he wasn't worried about the transfer rumours, and it will be interesting to see if he is on the move later on.
Spurs to move in the winter window?
Fernandes was excellent in the previous campaign too as he racked up 20 goals and 13 assists in the league alone.
Tottenham made some big moves in the summer and have seen Tanguy Ndombele do well since joining.
Giovani Lo Celso, another midfielder who joined in the summer, has also started our last two games.
It will be interesting to see if we make a move for Fernandes in the winter window.
More Tottenham News
Christian Eriksen is a free agent at the end of the season and hasn't been at his best either. We could do with more goals from the midfield, and Fernandes has a record of scoring regularly from that position.