Food For Thought: Three Reasons Why Tottenham Should Try And Sign This Liverpool Superstar
On Monday night where two of the biggest giants of English football clashed in the Blood Red Rivalry, one particular striker was having a really bad game where he proved to be largely ineffective and where Manchester United's system smothered any chances of him getting a spotlight in the North West Derby. Who am I talking about? Daniel Sturridge of course.
Concrete rumours have emerged over recent times that Liverpool boss Jurgen Klopp might seek to sell Daniel Sturridge in the upcoming windows and that might probably be because of Klopp's liking towards Belgium striker Origi and what he brings to the team and also because of the ineffectiveness of Sturridge so far in his system this year where the striker hasn't scored a goal in 7 appearances .
Daniel Sturridge's statistics, however, speak for himself. On his day he is one of the best English Strikers at the moment having scored 35 goals in 69 appearances till last year for Liverpool. Tottenham Hotspurs meanwhile have emerged as a likely candidate to price away the striker and it might just benefit the Lilywhites massively if they manage to get the signature of the striker. Here are three reasons why Tottenham should try and rope in Daniel Sturridge :-
1) Depth
One of the main objectives heading into  the season for Mauricio Pochettino was increasing the squad depth as well as quality for a particular position and Spurs tried to do just that with the signings of Vincent Janssen or Victor Wanyama for instance. Sturridge will not only add to the depth but also he'll bring in massive quality. There's always a question over his fitness but Tottenham will have three strikers in the role if he does arrive and Pochettino's proper rotation considering that Spurs have Champions League, FA Cup as well as Capital One Cup will not only give Sturridge game time but it will also give him time to recover after every match which will of course be a boost for Spurs.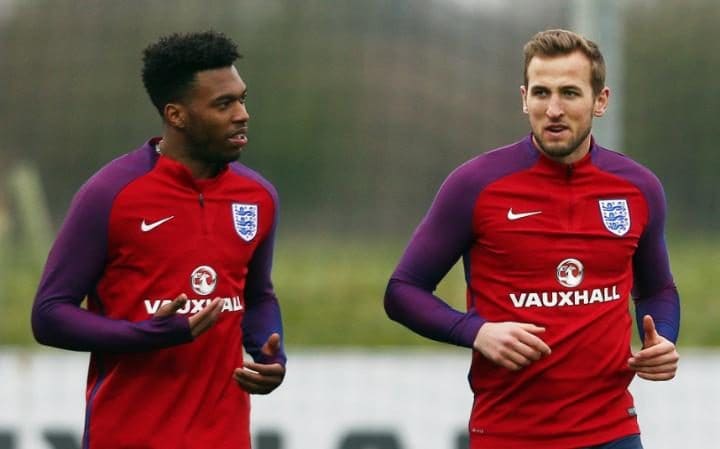 2) Potential partnership with Harry Kane
One of the major reasons as to why Liverpool under Brendan Rodgers came so close to winning the Premier League title was the excellent partnership of Luis Suarez and Daniel Sturridge setting fire to the Premier League that season where the Sturridge scored 21 goals in 29 appearances with some sublime link up play at times.  He has already excelled in a role of being the second striker and a potential partnership with Harry Kane is too intriguing and can reap massive rewards for the London team.  Harry Kane is a fantastic poacher who can make something out of nothing while Sturridge, on the other hand, is a free roaming centre forward with terrific dribbling ability and his link up play at times with thoughtful movement is delightful and that's why I say Spurs can benefit immensely if they combine the qualities of Kane and Sturridge to get the best out of them up front.
3) Strategic and Tactical reasons
The third reason I want to focus upon is how Sturridge's involvement will put an end to the ineffectiveness of Vincent Janssen because Sturridge with far more premier league experience will bring an added quality to the Tottenham ranks. Apart from this, he brings another dimension as well because he can be hugely effective if Tottenham play from the centre which has been quite common for them but even a high-intensity run from the fullbacks of the Lilywhites can find Sturridge in the box and the Englishmen does possess that poaching ability and finesse to slot balls in. As much as strategic and tactical reasons depend on the manager, I am assured that the execution requires every bit of the player and Sturridge has it in him.