Tottenham Ready To Double Striker's Contract To £100,000/week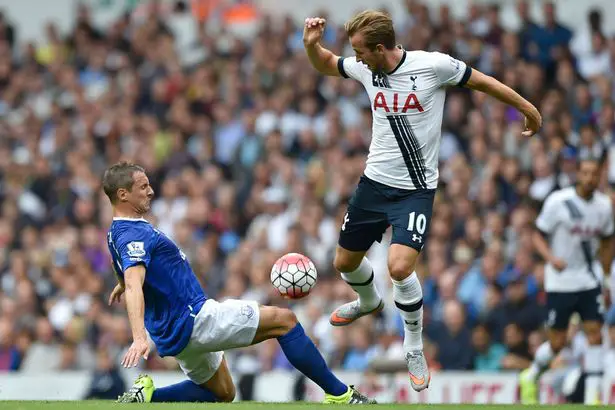 Tottenham were able to seal a place in the Champions League group stages this season even without spending truckloads of money largely because of Harry Kane and Dele Alli. The English duo were sensational last season with the former scoring 25 goals in the league. Kane ended up being the top scorer in the Premier League last season despite a slow start. At just 23 years of age, Kane is a great prospect for Tottenham and England national team. A player like Kane brings a lot of quality to the team, but it also keeps a club on the edge when it comes to contracts.
Earning around £50,000 per week, Kane is nowhere near enough to the Premier League stars like Paul Pogba, who make more than four times as much, in terms of wages. Kane would be highly loyal after having come through the ranks at Spurs, but there is every possibility that other clubs would tempt the striker with a far better pay packet. Concerned with this situation, chairman Daniel Levy is ready to give the striker a new deal which would double his wages, according to the reports from Evening Standard. Even then, it may not match the offer from other clubs but it should keep the striker happy for the time being.
The pay rise comes even though the striker still has four years left on his deal. Spurs have managed to enter into the top four without a huge investment in the transfer window. Now, though, the club must invest in terms of wages if they are to keep the existing squad together.
There were reports of Spurs offering the striker a new contract in the summer, but the offer did not materialize and Kane is still receiving wages as per his old contract.
The striker has had a disappointing start to the season. Just like last season, he had a slow start but just when things start to hit the sweet spot, he suffered a major knee injury that has kept him out of action for the last eight games. Even though he is now close to a return, it may take him another couple of weeks before he is back to full speed.
Manager Mauricio Pochettino will at least be thankful that the player is going to be available for the crucial festive fixture list. The return of Kane could also coincide with the club's upturn in terms of form. In the lack of the England international, Spurs have failed to win the last four games in all competitions. The team are up against champions Leicester City in the league this weekend while they face teams like Chelsea in the coming weeks.