Tottenham Turn Thier Attention Towards Real Madrid Star Along With A Host Of Premier League And Italian Clubs
Spanish website OK Dario reports that Tottenham Hotspur are one of the many clubs eyeing a move for Real Madrid defender Pepe.
The 33-year-old has been a household name with the Spanish giants since joining from Porto in 2007 for a massive fee of £25.5 million. However, he no longer is a key ingredient in the recipe as Raphael Varane has robbed his starting position and impressed alongside Sergio Ramos. Pepe has only bagged 11 appearances so far under Zinedine Zidane's first campaign as a manager for the Bernabeu side.
Since settling for a spot on the bench, the Portuguese international has long been linked with a move away. However, Madrid are keen to extend his stay and have offered him a new one-year deal yet Pepe yearns a year extra.
The fans will be more than happy if this rumour turns real as Pepe can add quality to any team. Nearing the midway point of the campaign, Spurs sit one spot outside the top four and are gradually picking up their previous season form, where they finished third in the league.
In Pepe, Mauricio Pochettino will get a defender with two Champions League medals and 327 appearances for one of the best clubs in the world. Despite facing limited playing minutes at club level, he did quash doubts by helping his country to clinch the Euro 2016 trophy. He may not be the quickest option available but the 33-year-old had never relied much on speed as his clever positioning, aerial prowess and strong physique have earned him ample of merits. What's more, the centre-back has a knack for scoring goals in set pieces.
This season, Spurs have had a hard time to juggle between domestic and European matches. Which is why a player like Pepe would be a real asset. He has that winning mentality to lift the team up when needed and most importantly, offer reliable squad depth for Pochettino. Known for his grit and aggression, he won't be a rookie in the Premier League and would use his experience to hit the ground running.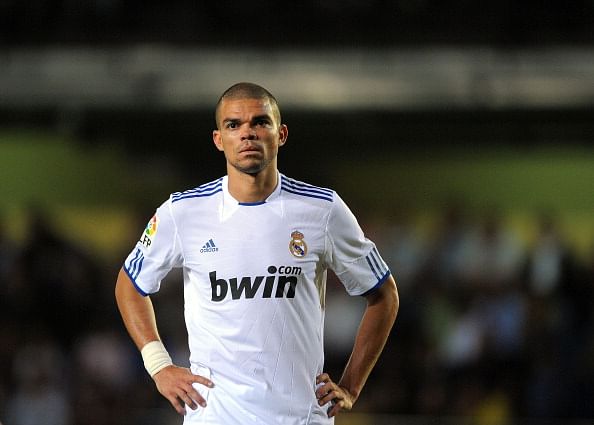 On the other hand, Pepe will never be keen to trade for another bench role and Tottenham Hotspur are no greener pasture compared to his current club.
Usurping the current first choice centre-backs, Jan Vertonghen and Toby Alderweireld is an uphill task. The latter missed a huge chunk of the current campaign through injury while Vertonghen will not be available for the next match against Watford away from home. Here and then, Eric Dier has filled the void and Tottenham have managed to cope up considerably well, being the second best defence in the league so far.
Unless, the Spurs boss opts for a 3-5-2 formation. Deploying a three-man wall with Vertonghen-Pepe-Alderweireld and allowing Danny Rose and Kyle Walker to operate with more freedom along the channels would be exceptional. It does not only fortify the defensive stability, yet offers another attacking dimension.
Apart from the Premier League clubs Tottenham, Man United, Man City and Arsenal, a host of Serie A Giants are interested in the EURO winner as well. Gazzetta dello Sport reports that AC Milan, Inter, Juventus, Roma and Napoli are also looking in the race to sign the defender.