Tottenham Linked With A Move To Sign Midfielder From Premier League Once Again – London Rivals In The Race As Well
Transfer rumours have constantly mentioned Everton midfielder Ross Barkley as a target for a number of Premier League clubs. These rumours have been growing in recent weeks, as it is becoming apparent that manager Ronald Koeman does not rate the 23-year-old much. Barkley has been criticized on numerous occasions by the former Southampton manager. Even though Koeman has not been getting many positive results, it is expected that he will remain at the club longer than Barkley. The growing transfer interest surrounding Barkley is likely to result in the transfer even as early as in January.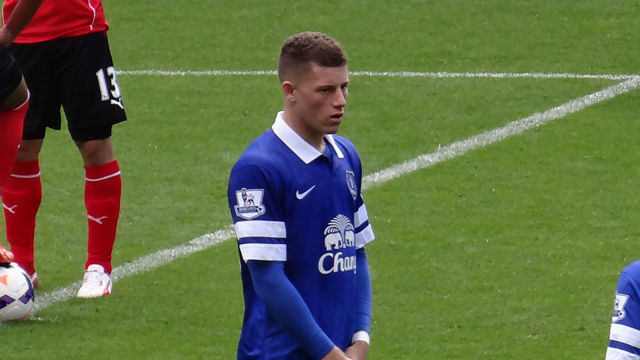 Spurs are the latest club to be linked with a move for the 23-year-old. Once again, there is competition for the title chasers with Arsenal and Chelsea being reported as the competition (via a report from Telegraph). Yet, they would not be able to compete with the attractive element of first-team football, which is most likely to be certain for Barkley at White Hart Lane other than these clubs. Even though it is highly likely that Barkley will make a big decision on his future only until the end of the campaign, it has not prevented Spurs from making a move on the player and judging his interest levels.
A bigger case for Everton to consider selling the player is that his contract runs out in the summer of 2018. His transfer value will plummet even in the upcoming summer, as clubs will prepare to sign him for a fraction of his transfer value in January 2018. Everton will be able to claim at least around £15-£20 million if they sell the midfielder now. There is also the possibility to reinvest this money into the squad so as to make it more in tune with Koeman's taste.
Yannick Bolasie and Ashley Williams have been the major changes made to the squad in the summer. However, both these players have had much less impact than Koeman would have liked. Spending just €55 million in the transfer market after the recent mega money TV deal for Premier league clubs seems far less than ideal. Most of this money was recouped from the sale of John Stones to Manchester City. Everton can certainly afford a higher quality of players thanks to the arrival of an Iranian billionaire owner.
Barkley would consider extremely unlikely to face a lot of criticism from the manager considering that he has contributed four goals in 16 appearances this season. He has been decent, but Koeman says that a player with his talent should be performing at a far bigger level. It remains to be seen if a new manager, probably at White Hart Lane, may be able to get the best out of the 23-year-old.