Tottenham Are Ready To Break The Bank To keep Star Midfielder Happy At White Hart Lane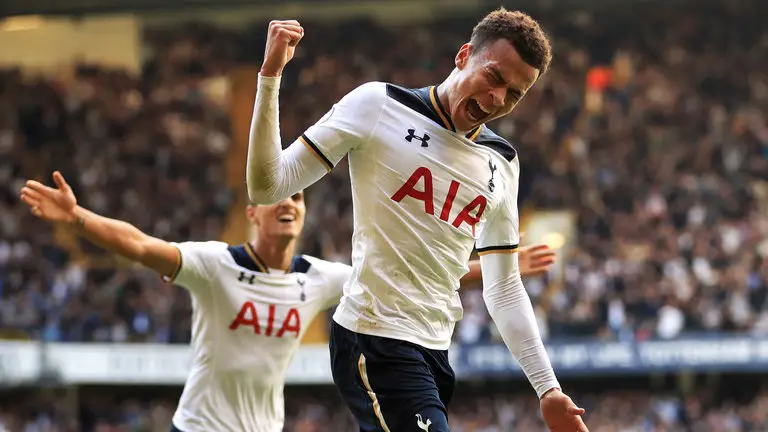 Tottenham Hotspur are keen to reward Dele Alli a mammoth package to fend off interests from European big boys, Real Madrid and Barcelona.
The England international has vastly improved this season, being a crucial figure in the north London club's impressive run of form. He has bagged 3 consecutive braces with the last one ending Chelsea's winning streak in a 2-0 victory at White Hart Lane. Despite the tender age of 20, with every passing week, he resembles a seasoned veteran.
Since arriving from MK Dons in 2015, the prodigious midfielder has already racked up 20 goals out of 52 appearances.
Alli did sign a new six-year contract extension in September 2016, but Daily Mail reports that club chairman Daniel Levy is looking to offer him a three figure weekly wages. After a hike recently, he has been earning £55,000 per week. While his England compatriot Raheem Sterling earns £180,000 per week at Manchester City, more than triple.
Alli has 10 goals and a single assist to his name already while Sterling, who did start the season impressively, has half the amount of goals only. One does not need a UEFA coaching certificate to agree that Alli is being underpaid, especially when his stock is hitting the roof at the moment.
If the mentioned deal is penned, the midfielder would become the third player in the current team to earn more than £100,000 per week, after Hugo Lloris and Harry Kane, two other blue chips who have extended their stay at White Hart Lane.
With playing minutes guaranteed and warm relationship with the club's hierarchy, the only route other clubs can lure him away is immense cash, and if Barcelona and Real Madrid end up in a bidding war, they could even surpass £200,000 per week. Under Mauricio Pochettino's reign, the team isn't only delivering remarkably well on the pitch, as off the pitch, they are fully focused to ricochet off the financial clout of European giants. Certainly, an attribute that differentiates a top four challenger and title contender.
In previous seasons, the Lilywhites have been flag bearers of selling top stars like Gareth Bale and Luka Modric for mouth-watering money to Real Madrid. The load of cash dried off the coffer with a number of signings but none of them managed to pick up the slack. The fans are sweating such scenario could happen once again but as it stands, they are going on the right path to keep hold of their best talents.
With dramas ripping in the backstage, the club will be hoping that Dele Alli does not get carried away and continue his sizzling form to help his side surge to the summit of the league. Tottenham will square off against West Brom at White Hart Lane this weekend.