Frustrated Fan Urges Mauricio Pochettino To Take Over At Arsenal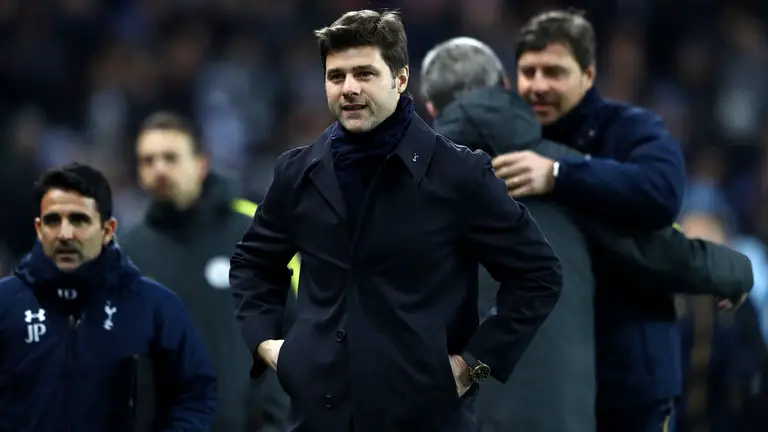 'Managers out' rallies seem to be the thing in the Premier League at the moment. And one can never deny that Arsene Wenger has been the heralded victim of such chants in recent years where it's pretty common to see and hear the "Wenger Out" mantras. Not long ago, a Liverpool fan named Dave spoke on BBC Radio 5 Live and made endless criticisms about Jurgen Klopp after their EFL cup exit against Southampton. If that got the Merseyside supporters fuming, an Arsenal fan had gone a level up by suggesting a replacement no Gooners would like to hear.
The similar scenario took place amidst the north London club when Nick called 606 to express a managerial change is much-needed following the dreadful 3-1 defeat to table-toppers Chelsea on Saturday. In the heat of the moment, the fuming fan stated that Tottenham Hotspur's boss Mauricio Pochettino would be the ideal candidate to replace Wenger, who is no longer in the title race.
Pochettino has been nothing short of a revelation for the Lilywhites. Since his arrival at White Hart Lane from Southampton in 2014, the Argentinean has turned the club from top four challengers to genuine title contenders. Besides the high-tempo style of play, he is also praised for unearthing talents like Dele Alli and Harry Kane, who are arguably their best players from the well-oiled side.
During the weekend, Tottenham edged past Middlesbrough 1-0 at home, courtesy of Kane's well-taken penalty strike. For the most part of the match, the visitors were playing with their backs to the wall and happy to sacrifice possession to the home side. Meanwhile, Arsenal failed to have a footing against Antonio Conte's men, who could have scored more, only for some poor decision making from Diego Costa. On the papers, both sides were equally strong but on the pitch, Wenger's men were easily outmuscled. Despite pulling one back in the stoppage time from Oliver Giroud, it was far too late to surge a comeback.
Here is a short and comical video to summarise the game:
Spurs sit second in the league with 50 points while arch rivals Arsenal hold the final Champions League spot with 3 points gap between the both. With 14 games remaining, the course of the top four is far from a finished article, excluding the peak which should be going Chelsea's way.
Coming Saturday, Tottenham take on Liverpool away from home and the Gunners welcome relegation candidate Hull City. If both Jurgen Klopp and Arsene Wenger successfully upturn their poor run of form with victories, the top four race is thrown open once again.
However, Nick's suggestion to bring Pochettino to the Emirates Stadium is a clearly fantastical figment.
What do you think of the Arsenal fan's mystifying statement?