Tottenham Could Receive A £80 million Bid From Jose Mourinho In The Summer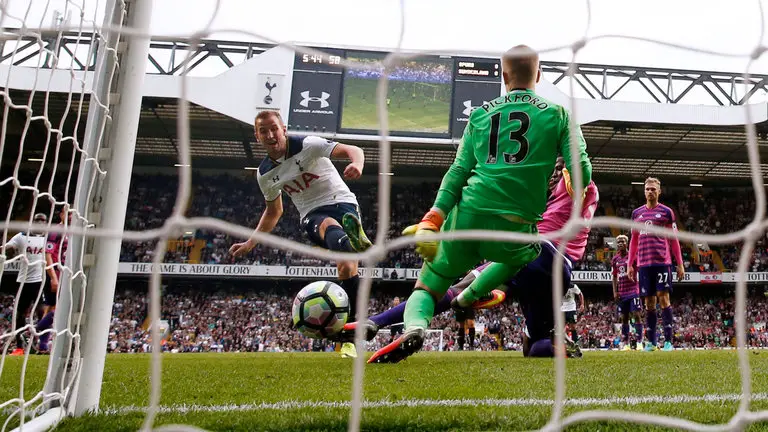 Tottenham's Harry Kane could be a major target for Manchester United in the summer should they fail to sign Atletico Madrid's Antoine Griezmann. The Spaniard has been linked with a move to United but the Daily Star claims that the Red Devils are willing to bid £80 million to bring the Englishman to Old Trafford.
Kane has been linked a number of times to other clubs, such as Real Madrid and it isn't a surprise that he is being linked with the Red Devils. United do have a history of signing some of the best Tottenham players and recent history is witness to the likes of Michael Carrick and Dimitar Berbatov joining the Manchester club.
Griezmann, however, is the number one transfer target for the Red Devils and they do have a bit of an upper hand thanks to Paul Pogba being in their side. The two French players would be able to link up regularly and that could prove exciting to United fans.
Reports suggest that the French striker and United already have a verbal deal agreed but Griezmann doesn't seem to like the English weather. The former Real Sociedad striker also added that he wants to create history with Atletico and the La Liga side would want a mammoth amount if United are to sign him up.
This is partly the reason why Mourinho is looking to sign Kane, who has scored 17 goals in the Premier League this season and yet again has shown that he can lead the line for the London club.
Another reason why Mourinho might need a new striker is the fact that there is no guarantee of a new contract for Zlatan Ibrahimovic, even after the amazing performances put in by the Swede in his first season in England.
United would probably have to pay a huge amount to sign the 23-year-old Englishman. The striker did sign a new deal with the club which keeps him till 2022 and he seems to be enjoying his football with the team.
Should the London club keep performing in the same manner this season, they could end up with some silverware too as they have a great chance of winning the FA Cup.
The Champions League qualification also seems to be a certainty as they do have an easier run of fixtures till the end of the season. Kane to United does look a little unbelievable at the moment but we have seen stranger things happen in the world of football.