It's NOT a football stadium – Tottenham Fans Engage In Some Quality Banter With West Ham's David Gold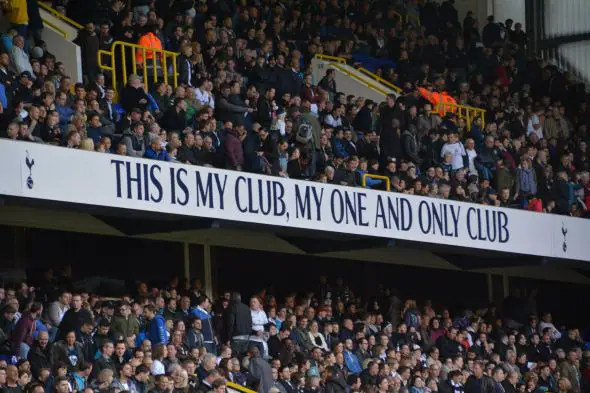 Football or any sport for that matter, is nothing without some good old fashioned banter. Rivalries, friendship and more are put to the test across sports but sometimes you just have to take the mickey out of a person, especially when they end up sprouting some nonsense.
David Gold, the West Ham co-owner has had his fair share of issues with players and managers and is always willing to give his two cents on an issue but a recent tweet led to a number of people have a pop at him.
Gold tweeted that the London Stadium where the Hammers play is the biggest in London but forgot that Wembley and Twickenham are larger.
Having the biggest stadium in London and second in the PL is a meaningful and valid point and we should be proud of it. dg. I am pic.twitter.com/VNgS1vmrgI

— David Gold (@davidgold) March 9, 2017
That was enough fuel on social media and West Ham fans and even Spurs fans had a go at Gold. Here are some rib-tickling gems from the Twitteratti:
@davidgold We sit in 11th position with our best striker is injury prone, we don't have a RB and our board fucked us over. I am not "proud"

— West Ham Transfers (@westhamtransfer) March 9, 2017
@davidgold lol I hope you stay in charge David West Ham have no chance of progressing with delusional owners

— Harry houdini (@BenJSpelling) March 9, 2017
@davidgold See you soon. pic.twitter.com/0zb1TKlf16

— TottenhamJohn (@Johnofspurs) March 9, 2017
@davidgold but it's not ours though

— Billy ⚒ (@Adrian_SMDC) March 9, 2017
@davidgold Renting a 6 bedroom house when you have just sold the 3 bedroom you owned?

— Martin Gales (@GalesMartin) March 9, 2017
@davidgold Biggest stadium in London?

— Wembley Stadium (@wembleystadium) March 9, 2017
@davidgold Twickenham 82,000 pic.twitter.com/BaF5kLSKR1

— ⚒Steve O'Sullivan⚒ (@TheSullis) March 9, 2017
@davidgold Why are u proud of it? U didn't earn it, pay for it and rarely fill it. You can't even see the players when you sit in it. #shit

— The Milky Bar Yid (@TheMilkyBarYid) March 9, 2017
@hop_spur @davidgold DG's tweets are always a pleasure to read. Sooooo funny ! Best East End comedian since Mike Read !

— The boys from WHL (@thegloryboys) March 9, 2017
@davidgold it's NOT a football stadium. It's a 'multi event' stadium. Square peg in a round hole. West Ham always do things on the cheap.

— Paul Skinback (@paulskinbak) March 9, 2017
@westhamtransfer @davidgold at least we have the "Biggest stadium in London award" for the trophy cabinet

— Alexander (@SuperSofiane7) March 9, 2017
Hi @davidgold surely you rent the stadium for 20 days per year? Does this constitute "having" …???!! https://t.co/DgxUBkiywE

— Ongar Spurs (@OngarSpurs) March 9, 2017