Good News: Tottenham Close To Securing £350 Million Required To Complete New Stadium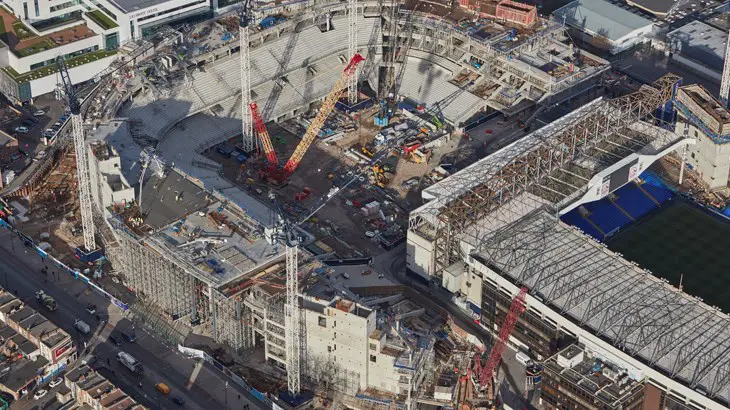 Tottenham are reportedly close to securing the funding for the new stadium. Spurs will be making a massive investment on the project, which will provide the second-biggest club stadium in London. The existing White Hart Lane has not been able to support the club's ambitions. At just 35,000 seater capacity, it is also one of the smallest grounds for a top club. The brand-new stadium will take the capacity to 61,000 fans. However, it is also expected to come with the huge bill of £750 million.
Arsenal also invested heavily in the Emirates stadium during its construction, but most of the finances were contributed by sponsorship arrangements and the sale of the land surrounding Highbury. It appears that Tottenham are also heading down the same route, but requirements for additional funds are expected to come from investment banks.
Chairman Daniel Levy has reportedly agreed a deal with Merrill Lynch, HSBC, and Goldman Sachs in order to provide half of the £750 million requirement. It will be as a loan for the next five years at a fixed interest per year. It is believed that the loan will be refinanced at the end of this term.
The remaining £325 million is expected to come from three major sources – advanced ticket sales, naming rights, and a potential deal with NFL that will last for around 10 years.
Spurs are expected to sell the naming rights for around £20 million per year. Hence, this would bring in £200 million – or rather the bulk of the requirement – should the work progress as expected. The advanced ticket sales should begin in several millions with the club planning for extravagant fees for the tunnel seating positions. The deal with NFL should also bring in closer to £100 million for the 10-year period.
The club are expected to announce the departure from White Hart Lane at the end of the campaign. The club has already played its European games at the Wembley stadium this season. Wembley appears to be the top destination for the club in the year that it would take to complete the construction process.
However, Spurs are involved in a fight with Chelsea in order to secure this ground. Chelsea are also in the process of revamping the ground to increase stadium capacity. The Blues will take the existing Stamford Bridge from a 42,000 seater stadium into a 60,000 seater stadium at a cost of around £500 million. Unlike Tottenham, however, much of this figure will be bankrolled by owner Roman Abramovich.
Tottenham recently announced healthy financial results for the year. The club has made a £33 million profit after tax on revenues of close to £210 million.