Twitter: Tottenham Fans Troll/Thank Former Arsenal Star After Securing Brilliant Come Back Victory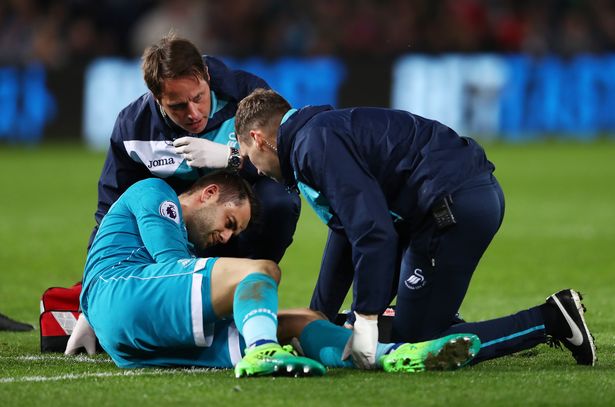 Tottenham displayed their title-winning credentials with a great and late display against Swansea. Mauricio Pochettino's men were trailing by a single goal with barely any time left in the game but scored three quick goals to stun the Welsh side.
One of the talking points from the game was the seven minutes of added time in the second half and that was due to Lukasz Fabianski refusing to come off after colliding with Vincent Janssen.
The paramedics event sent out a stretcher but the former Arsenal keeper waved it off but that didn't really help the Polish star as Dele Alli, Son Heung-min and Christian Eriksen got the goals for Spurs.
Tottenham fans were initially upset when Fabianski apparently faked an injury in the 81st minute as they seemed destined for a loss. But that despair and anger turned to jubilation when the London side ended up winning the game.
The win also brought out the fans on Twitter as they had a right old go at the former Arsenal keeper with some of them even thanking him for the extra time provided at the end of the game.
I just can't get over last night. What a night, I would like to thank Fabianski for making it all possible

— Kate Coggins (@KateCoggins11) April 6, 2017
Fabianski faking an injury then conceding 3 in his own injury time. #banter

— Becci x' (@bekkers91) April 6, 2017
Fabianski! When you fake an injury to time waste. You deserve to concede three goals in the added time your fake injury gave us! KARMA!!!

— Andrew Liu (@AndrewLiu5) April 5, 2017
Sorry #Swansea but you spent the second half time wasting. Fabianski's antics were appalling. Deserved defeat just for that!

— DavidC (@DavidCunn82) April 5, 2017
Please. Spare a thought for Fabianski. Play acted his injury, wasting time. 3 mins of lying down, jumps up. Conceded 3. #exGoon

— Erlend André Nordmo (@eanN17) April 5, 2017
Big thanks to Fabianski for arguing with the coaching staff and wanting to be the hero…… love it! #COYS #SWATOT

— Stu (@stu_evans) April 5, 2017
Big shout out to #Fabianski as well for staying on like a true hero and shipping 3 goals what a star #coys #thfc #SWATOT

— Jonathan Rose (@jrrose82) April 5, 2017
Incredible game at Swansea. Imagine how pleased Nordfeldt is that he didn't come on for Fabianski and concede 3 in 5 mins. #SWATOT

— Steve Wilson (@Wilsonfooty) April 5, 2017