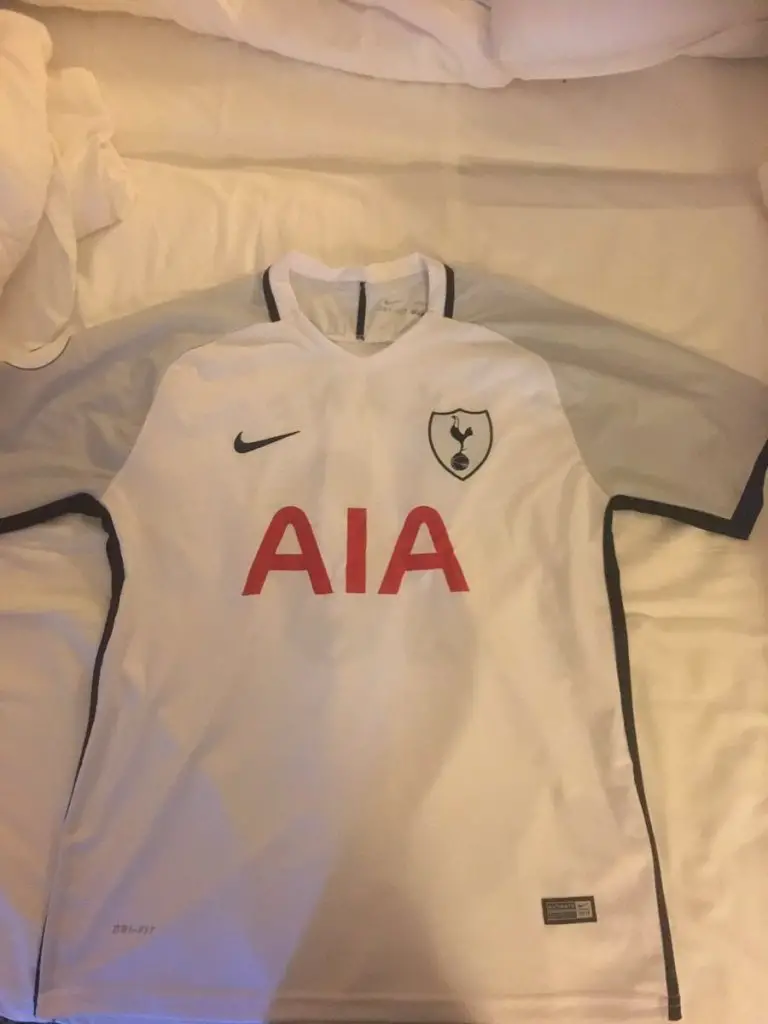 Images of Tottenham Hotspur's home kit for the 2017/18 season have been leaked online and one certain Twitter user has claimed that he's managed to see the Spurs' design for the first strip, which has been designed by Nike.
Nike will be the new kit supplier for Spurs next season after the club finalised a deal with the U.S based sports brand to succeed Under Armour, whose five-year association with the club will come to an end at the end of the season.
A Twitter user named Dann Tomkins released an image of what he claims to be the new home kit of Tottenham for the 2017/18 season, report football.london. The authenticity of this is not known but it is certainly not possible to get to know about the new kit this easily as a lot of work goes behind the screens to protect the work being done.
The key features to next season's possible kit are the light blue sleeves, with navy blue detailing added to the white shirt, with Spurs' kit sponsor AIA displayed prominently on the front.
It was earlier reported that Tottenham would be joining rivals Chelsea in wearing Nike jerseys from the start of the 2017-18 season. However, the deal is still short of the Blues' record-breaking 15-year contract with the sportswear giant, worth £60m annually.
It was also said that the deal would bring Spurs in line with rivals Arsenal, who earn £30m a year from Puma. But they are all behind Manchester United, who have a deal with Adidas said to be worth £75m per year. Manchester City reportedly earn around £12m annually from Nike although that deal is up for renewal in 2019.
With the news well-known, here's what Dann Tomkins tweeted:
@SpursInTheBlood possible new Spurs kit, found it over in turkey. Normally bob on pic.twitter.com/J5QKn6R6FX

— Dann Tomkins (@DannnnnT) April 18, 2017

The kit isn't as appealing as the previous ones and the reputation that Nike have, it is hard to see them come up with something so unattractive. Surely, this guy must have spent a lot of time trying to design this kit and post it online. We must give him credits for that, while we continue waiting for the club to make an official announcement of the new home kit for next season.