£800M Stadium Update – Tottenham Trying To Get A Time Capsule Built By The Company That Tried To Block The New Stadium Move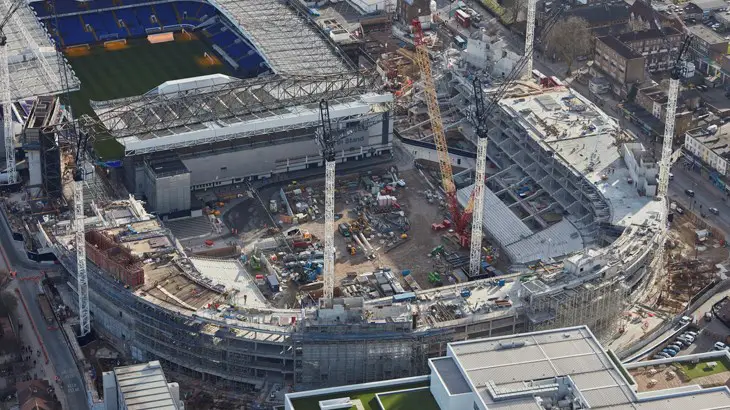 Tottenham Hotspur have asked the company that blocked their £800million new stadium move to build a time capsule that is set to be buried at a point of overlap between White Hart Lane and the new stadium. As Tottehnam prepare to move to the new stadium for the 2018/19 season, preparations seem to be going on in full flow and it looks like plans are being made to immortalise White Hart Lane.
The new stadium will have 61,000 seats, which just slightly overtakes Arsenal's Emirates stadium and will have the single-tier stand just 5 metres away from the goal line. It has also been said that the single-tier stand will be the largest in the country with 17,000 seats. The numbers are eye-popping and it surely is a massive step taken in by the club in their long and illustrious history. The stadium will also have 9 floors, with a lot of unbelievable facilities and it is surely expected to set the mark for a modern football stadium. And to mark the club's history at the Lane, a time capsule will be placed reflecting the club's time at White Hart Lane.
It is still not known as to what would be put in the capsule but have asked Archway Steel to design and make the capsule. The company was involved in a long court battle with Tottenham over the decision to confirm a compulsory purchase order for their premises which stood on the land Spurs are building their new stadium on. The row delayed the start of the building work and Archway's property was damaged by fire in November 2014 before the company, owned by Spurs fan Josif, finally reached an agreement with Tottenham in March 2015.
Archway have since relocated and reopened in Brunswick Industrial Park, and now have the chance to build the time capsule and – in doing so – make sure their company has a place in the history of White Hart Lane.
Tottenham will be playing their home games next season at the Wembley before making a move to the new stadium at the start of the 2018/19 campaign. Spurs face West Ham United this weekend at the London stadium, followed by a home game against Manchester United, which will be the last ever game that will be played at the White Hart Lane. The final two games of Tottenham's season will be away from home against Leicester City and Hull City.
The game against Manchester United will be historic in many ways as it looks like the Red Devils are the only difficult team standing in the way of Tottenham's wild title push late in the season.
Hopefully, Spurs win the title and finish off the White Hart Lane episode on a high.