"Officially Classed As A BIG Club Now"- Tottenham Fans React On Announcement Of The New Nike Kit Deal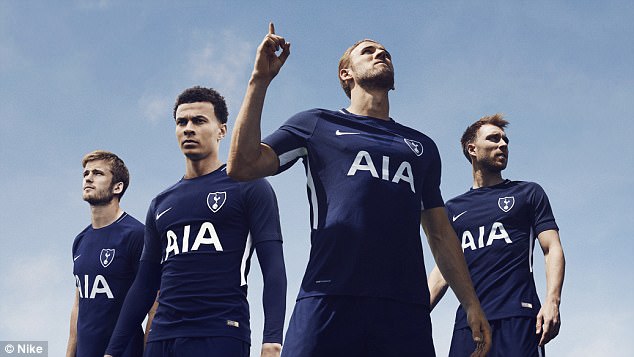 Tottenham announced a new kit manufacturer with Nike taking over from next season on. Daniel Levy seems to be doing a great job regarding these deals as we already are going ahead with our new stadium which should be completed in a year's time.
The deal is reported to be around £25million-a-year and will provide kits to a number of teams within the Spurs hierarchy along with the coaching staff and the Tottenham Hotspur Foundation representatives.
Levy too was extremely happy with the deal and was quoted by the Standard as saying:
"We are delighted to be partnering with Nike, one of the world's leading brands.

"Nike is committed to partnering with us both at home, at a time when our new stadium scheme is the catalyst for the regenration of Tottenham, and globally, with our growing fan base mirrored by Nike's worldwide reach."
Obviously, our fans were excited with the deal and here are some of the best reactions from Twitter.
We are pleased to announce the start of a multi-year agreement with @Nike / @NikeFootball as our new kit provider from 2017/18. #COYS pic.twitter.com/5pOLKps2Tt

— Tottenham Hotspur (@SpursOfficial) June 30, 2017
#WatchUsRise #COYS
Check out the new @NikeUK kits: https://t.co/RiYRelZgCN pic.twitter.com/EA9BhYgAJf

— Tottenham Hotspur (@SpursOfficial) June 30, 2017
2007/08: Arsenal wear Nike, Spurs wear Puma.
2017/18: Arsenal wear Puma, Spurs wear Nike.
Eerie stuff.

— E️ay (@ErayKurtoglu98) June 30, 2017
Beyond excited to get a Spurs Nike Harry Kane jersey #COYS

— Trent Siedenburg (@TrentSiedenburg) June 30, 2017
"Welcome to the Nike Arena the world famous home of the spurs" https://t.co/ocjuRnN9mp

— Stu (@stu_evans) June 30, 2017
Look what the Spurs deal has done to Nike's stock price pic.twitter.com/jccdi1cWIM

— Guy Brinkley (@GSPCECOYS) June 30, 2017
Gutted I'm missing this Spurs x Nike launch. Waited a lifetime for this #COYS

— Craig Mitch (@CraigxMitch) June 30, 2017
Spurs getting a new stadium and Nike sponsor. Shanta Arsenal

— (@LeKingCoq) June 30, 2017
Spurs signing a Nike Kit deal and building a new stadium. If they manage to keep hold of key players they good make a good transition.

— Micah Fanimo ⚽️ (@MixahFanimo) June 30, 2017
Having Nike at work now…well this is only gonna go one way #trainers #loveit #spurs

— Titch Kendle (@Titchhhh) June 30, 2017
Why has spurs changed from Under Armour to Nike?? I love Under Armour

— tanz (@tanya_t18) June 30, 2017
Can Spurs start spending the Nike money now? Hernandez would be a great signing #coys

— Andrew Cashmore (@ozzievaldo) June 30, 2017
Thank goodness the Nike deal has been announced. I'm not sure how much longer I could've kept it a secret!

— Spurs Fanatic (@spurs_fanatical) June 30, 2017
Spurs are officially classed as a BIG club now as Nike are the kit sponsors.

— Max (@xDuoMax) June 30, 2017