Daniel Levy Agree To A World Record Fee For Defender As Medical Is Set To Be Completed On Friday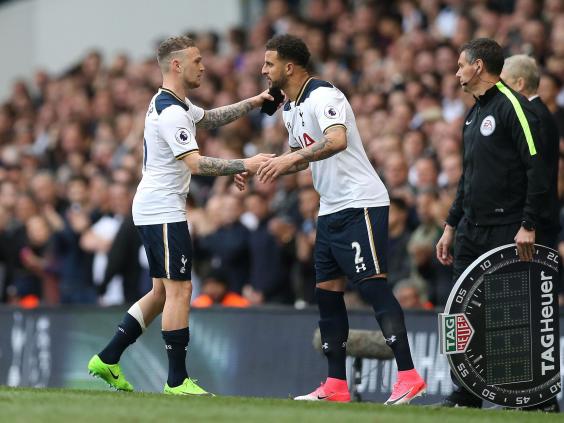 Manchester City are on the verge of making England international Kyle Walker the world's most expensive defender. The Citizens are giving final touches to their deal with Tottenham Hotspur that could exceed £50 million according to The Telegraph.
The report states that Pep Guardiola's City have agreed to pay £50 million plus add-ons for Walker that could take the final fee to £53 million. The previous world record fee for a defender belonged to David Luiz for whom Paris Saint-Germain paid £50 million to Chelsea in 2014.
It has been a frustrating transfer window for City although they started their business very early. They were frustrated in their discussions with Daniel Levy not budging a bit from his valuation of Walker. City were locked in talks for weeks but had to eventually rise their offer to match Levy.
This could be down to the frustration of losing Dani Alves to PSG in the recent weeks. Ever since the transfer window opened, it was believed that Alves – widely regarded as the best right-back in the world – would join his mentor Guardiola at City.
But PSG trumped City and beat them at their own game by offering more wages and landing Alves. Missing out on one of their prime targets has hastened City as they agreed to match Tottenham's price. The risk of losing another target is something that Guardiola can ill-afford now.
They may have paid a bit more than they would have ideally wanted but in Walker City have got a player who is perfect for their requirements. The 27-year-old was one of the most consistent performers in the entire league for the past couple of seasons.
It was only when his head was turned by Guardiola's interest that Walker fell out of favour with manager Mauricio Pochettino. The arrival of Kieran Trippier has meant that Pochettino never really missed Walker's performances and has a ready-made replacement.
All that will be history now as Walker will not return to Tottenham for pre-season training. He is scheduled to have his medical in time (Friday) to join his City team-mates for the United States tour.