Tottenham Could Lay Their Hands On Manchester City Attacker As Starlet Is Interested In A Move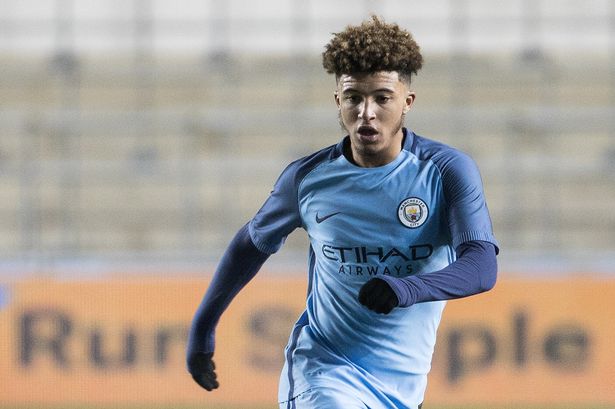 Manchester City are increasingly concerned that one of their best academy prospects Jadon Sancho could be on his way out.
The 17-year-old England Under-17 international is widely regarded as one of the most promising youngsters coming out of the club and in fact, in the entire nation. City were initially confident of tying the player down to a new three-year deal. The academy at the Etihad is one of the prime reasons why youngsters from across England and Europe get attracted to City.
That though, is only half the story. Every player wants to maximise his first-team action and the presence of so many stars at the club makes it tough for the local graduates to develop into first team regulars. This was the case with many bench warmers but the trend seems to have made its way to the academy players too.
This precisely is why Sancho is looking for a way out of the club. His route to the senior squad has many obstacles as Pep Guardiola has many attacking options at his disposal. Raheem Sterling, David Silva, Kevin De Bruyne, Leroy Sane and many more are ahead in the pecking order.
His numbers from last season indicate why Sancho is so highly regarded. In 35 games in City colours last year, he scored 20 goals and notched up 8 assists. His progress at City is on track but it is those doubts on his long-term future that are pushing Sancho to look elsewhere.
Tottenham Hotspur are ready to take advantage of the situation and are reportedly interested in the youngster (Daily Mail). With Mauricio Pochettino at the helm, developing young players has become the core premise at our club. Sancho fits perfectly in that spectrum.
Tottenham have had one of the key players, Kyle Walker, move to the Etihad in a £45million deal (BBC). Do not rule out Sancho's move in the opposite direction. However, City would not give up without a fight.
At just 17-years, Sancho is one for the future and will only improve with first-team chances. It is not that he would walk right into the first team at Tottenham. But with Pochettino's record of blooding youngsters that compares favourably to that of Guardiola at City, Sancho could be tempted by the move.