Not Dier – Another First Team Tottenham Star Targeted By European Giants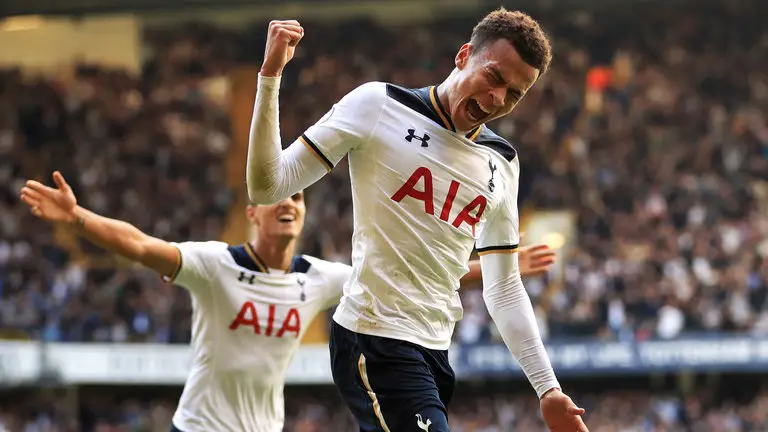 It is well known that Barcelona are in the market for a creative midfielder. All the attention was on Marco Verratti in whom the Spanish club were supposedly interested. However, almost as an undercurrent, the club is also reported to be looking at Tottenham star Dele Alli according to Spanish publication Don Balon.
The Catalan club are frustrated in their chase for Verratti and former Tottenham midfielder Paulinho – the latter being a surprise link-up. Andre Gomes and Denis Suarez have struggled to adapt to the challenges at Camp Nou. New Barcelona coach Ernesto Valverde wants a long-term solution and Alli would provide that.
After moving to White Hart Lane from MK Dons in 2015, Alli has become a vital player for Tottenham. He has shown enough maturity to adapt to the challenges of Premier League which gives hope that he could easily adapt to playing at Barca.
Across 96 games over two seasons for us, Alli has scored 32 goals and bagged 24 assists, making him one of the most coveted young players in England, if not the continent. Verratti would be a good addition for Barca but his signing is looking increasingly impossible. If Paulinho is their back-up, good luck with that! Because Alli is someone that would massively improve Barcelona.
Will This Transfer Happen?
Tottenham view Alli as an important player and under Mauricio Pochettino, he has improved particularly well. Having already been named in the PFA Team of the year and having won the PFA young player of the year twice in two seasons, Alli knows very well that he is the next big thing in English football.
There are a lot of expectations around Tottenham's next season and we would finally be able to win the Premier League title. All Pochettino wants is a couple of quality signings to give him that edge and not lose his star player.
It will be a massive coup if for any team will be able to snatch him away from us. Not even Barcelona may succeed in luring him from England, at least for now!