'Go out & show some intent' – Tottenham Fans React As Spurs Are Rumoured With Arsenal Target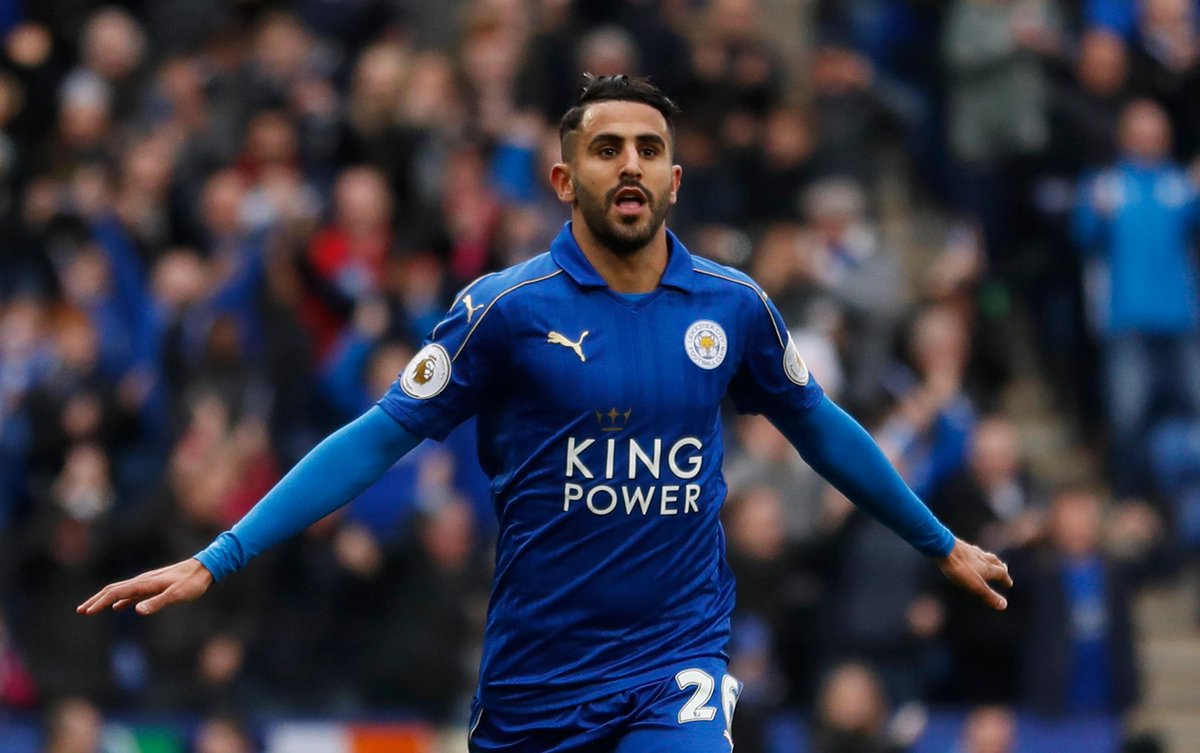 It is funny how the rumour mills work, especially if there is inactivity at the club. Tottenham Hotspur have not signed any player yet this transfer season but the list of linked players keeps increasing. The latest in the pipeline is Leicester City's Riyad Mahrez.
According to reports from the Evening Standard, Spurs are set to tussle with bitter rivals Arsenal for the signature of the Algerian who wants his way out of the club. The 26-year-old winger has been angling for a move away from the Foxes for quite some time with Arsenal and AS Roma heading the interest.
It has been a roller-coaster ride for the Algerian at the club for the past three seasons. After narrowly avoiding relegation in 2014-15, he led his club to Premier League title next year in which he was named PFA Player of the Year. But that was where his fairy tale ended as Mahrez kept looking at the exit door only for his club to reject his overtures.
It however seems that his Leicester career is coming to an end as it looks certain that he would leave in this window. But, where? If you ask the Spurs fans, they wouldn't want him at the White Hart Lane!
One fan was so ecstatic that he laid the rule out – sell Eric Lamela and get Mahrez.
NO BRAINER- Sell lamela for 20m, buy Mahrez for 30m we've spent 10m on a player in the exact same position with double the amount of ability https://t.co/5hUuWm46Qv

— Dan Cole (@dacl1177) July 15, 2017

But he looked to be in minority as pointed out by another fan – Mahrez is a one-season wonder as per this ardent fan.
No. Just no. I'd keep Lamela any day, Mahrez is a one season wonder with no work ethic nor work rate. #COYS #THFC

— Tom Spur (@tom_spur) July 16, 2017

There was another opinion that was almost bang with the observation – Mahrez is not Poch's type of player and the club would not want to buy him.
Under no circumstances are we buying Mahrez. It's not Poch's type of player #THFC

— Tom Spur (@tom_spur) July 20, 2017

Another crude opinion pointed to the fact that Mahrez was missing from action last season.
Went to sleep last season, thought he'd done enough and was too good for LCFC. Can't believe I'm saying this, but I prefer Lamela #THFC

— Simon Lipson (@Mottle12) July 20, 2017

It looks to be a figment of imagination from the rumour mills to link Mahrez with our club. Even if that is true, he would have a tough task in winning over the fans, most of whom feel he isn't suited to our style.
Here are some more reactions from Twitter, following the rumours:
Have our transfer expectations dropped that much that there's now people begging for mahrez? #THFC

— J (@jay_yidssss) July 20, 2017
Under no circumstances are we buying Mahrez. It's not Poch's type of player #THFC

— Tom Spur (@tom_spur) July 20, 2017
Might tweet this GIF of Mahrez everyday until we sign him! #COYS #THFC pic.twitter.com/glgPBaW05A

— Alex (@AlexKyri_) July 21, 2017
I find it hard to believe that Spurs are genuinely interested in Mahrez. That's high energy, high press, strong work ethic, PACY Spurs #THFC

— John Harrison (@Purfleetjohn) July 21, 2017
Our lack of activity is starting to grate. Go out & show some intent, stick 30m on the table for Mahrez ffs season starts in 4 weeks #THFC

— Costa Stylianou (@Costandiniho) July 16, 2017
Its amusing to see many spurs fans citing there is no one that can improve our 11?well how about mahrez for starters? #thfc #coys

— shyam (@shyam420) July 16, 2017