'The only Seri we're getting is from Levys iPhone' – Tottenham Fans Frustrated With Club's Latest Bid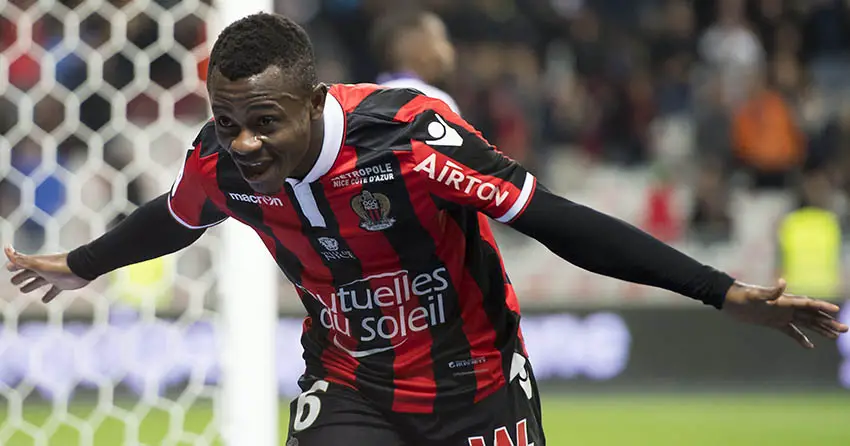 Reports from France indicate that Tottenham Hotspur have made a bid for Nice midfielder Jean-Michael Seri. Eurosport France linked Spurs with a €15million bid which was below what Nice were expecting.
He has a release clause of €40million (Metro) but we all know how these release clauses work. Ligue1 is still not on par with the outrageous amounts we see in Spanish La Liga for release clauses but this amount is still not in line with the actual value.
Having said that, the club is in a better position considering the run they had last season and the fact that Seri had a very good year. His 34 games for Nice fetched him 7 goals and 9 assists – that's almost one goal involvement in every two games.
Tottenham are yet to sign a player in this transfer window and the mood among the fans has been restless. Daniel Levy has been extremely prudent in bidding for players although he has extracted a fair deal for Kyle Walker.
Part of the blame should go to last year's deal for Moussa Sissoko. We paid £30million for the French midfielder and we all know where and how that ended up.
That should however not justify our bid for Seri because such outrageously low bids may antagonize the clubs. If Spurs are serious about the player, Nice can be persuaded to do business half-way down the release clause.
What do the fans think?
Twitter erupted in anger when they heard of this, as most fans were critical of the way our business has been done so far. One user was excited about the bid and was vocal that he should be brought to North London. A Ligue1 expert, perhaps!
Spurs linked with Jean Michael Seri of Nice, GET HIM IN THE PREM #COYS

— bird. (@BirdsTheWord__) July 19, 2017
Seri's name reminded one user of the iPhone application and he was quick to relate it to Levy's phone.
The only Seri we're getting for that price will be on Daniel Levys iPhone https://t.co/rqB9TtpYPV

— Spurs in GIFs (@SPURSinGIFs) July 20, 2017

Fans are obviously frustrated at seeing other big clubs make their moves while we are stuck with just reports linking us to players. I just hope the club doesn't go into the deadline day with desperation and sign someone we shouldn't be signing.
Here are some more reactions from the social media on the speculations;
You cannot be SERIous! Alleged Levy bid £13.3m for Nice midfielder Jean Michael Seri which is nearly 3rd of his release clause? #COYS #THFC

— Alf Love (@alf_love47) July 21, 2017
Suso, Seri, Isco – are the papers taking the piss?!?! #thfc are allowed to bid for players with more than 4 letters in their name!!! #coys

— M (@Spurs2380) July 20, 2017
Poch: get me #seri
Levy: sure thing. * bids half of wimmer's valuation #THFC

— Bryan Acker (@bryan_acker) July 19, 2017
https://twitter.com/gscoulter/status/886114505876545536
Remember a time when they said we agreed terms with Seri?!?!? Yes me too, calling BULLLLLLLSHIT!!!! #THFC #COYS

— M (@Spurs2380) June 26, 2017