Tottenham Set To Sign £80,000-a-week Portuguese Midfielder From La Liga Ahead Of West Ham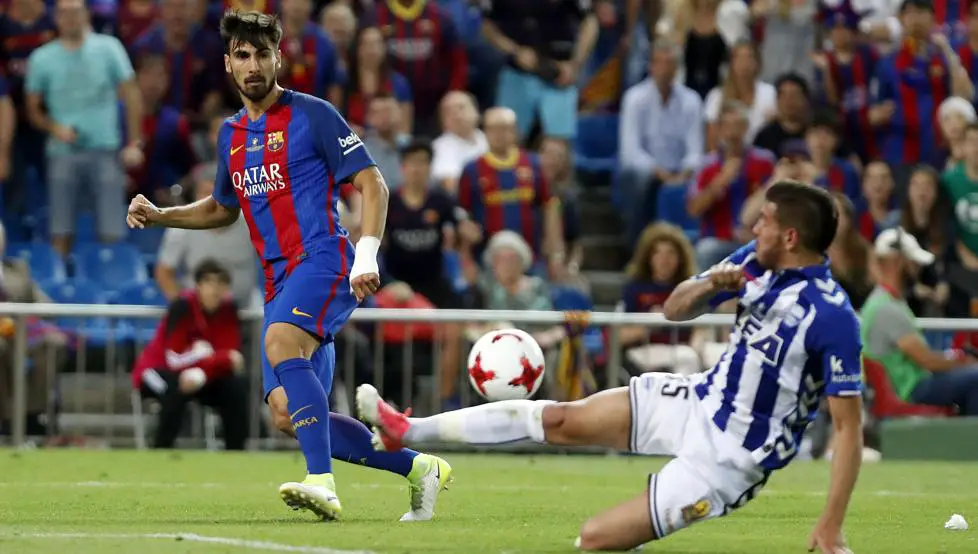 Tottenham are moving close to signing Andre Gomes from Barcelona on a season-long loan according to the Evening Standard.
The report claims that the 24-year-old Portuguese star was headed to London rivals West Ham United but it seems we have come in at the last minute and the Barcelona midfielder is expected to join us soon.
The midfielder, who earns £80,000 per week would not be playing regularly for Ernesto Valverde in a new look Barcelona and needs to feature on a regular basis if he is to take part in the World Cup with the Portugal side.
Gomes struggled to assert himself at the Camp Nou last season after making a move from Valencia for a fee of €35million, which seems like a steal now. The Portuguese was actually even voted by Marca as the worst signing of last season but there is a lot of talent in the former Valencia man and that is something that Mauricio Pochettino would be looking to tap into.
We are in need of extra attack-minded options in midfield and Gomes can fill in a number of roles for us. The 24-year-old has even played as a right-back, not that we would need him there, given that we have signed Serge Aurier from PSG.
Gomes scored just three goals for Barcelona last season and that is something which Pochettino and team would have to work on. Currently, we only have Mousa Dembele as the most attack-minded midfielder, but Gomes can take over that role with ease.
What will be pleasing is that we will have signed the player, albeit on a loan, without actually having to break the bank. Daniel Levy has pulled another rabbit out of the hat, though it is to be seen just how good Gomes could turn out to be in the season ahead.
He is in need of a career resurrection and if we can get him to play in the same vein of form as he was doing for Valencia, it would be a cracking deal to say the least. However, there are a lot of questions regarding the 24-year-old and hopefully, he can prove the doubters and naysayers wrong if he ends up playing for us.