Tottenham Star Calls Walker A Traitor, Player Deletes Instagram Video Before It Got Viral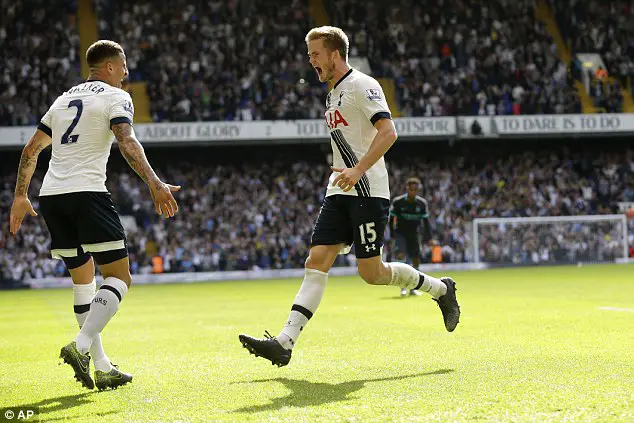 As a bunch of Premier League teams tried to finalise some of their signings on the final day of the window, we were also in the market, looking for a quality forward and we ended up signing Fernando Llorente.
The deal to bring in the Spaniard was a kick in the teeth for Chelsea as they were also vying for his signature but one major story in terms of transfers from our side has been the sale of Kyle Walker to Manchester City.
The Englishman moved for a fee of £50million and even though we signed Serge Aurier to deal with that loss, there is a bit of animosity stemming from the fans. Fortunately, the teams are on a break due to the international fixtures and that allowed Walker to meet Dele Alli and Eric Dier with the England national side.
As reported by ESPN FC, Alli posted a video on his Instagram account where Dier called Walker a "traitor" for leaving Spurs at the start of this season. Things took a nasty turn as Walker shot back at Dier and stated that there was no problem when the midfielder wanted a move to Manchester United.
Before things got a little out of hand, the pair were seen hugging it out and it now seems like the video has been deleted from Alli's account.
Walker was ready to douse the flames as he stated that it was all just a bit of banter between friends.
"It's just a bit of friendly banter," he said ahead of Friday's World Cup qualifier, as quoted by ESPN. "I think it's been took a bit too far, me, Del, Harry [Kane], Eric, we're all very close. I've know them for a good six, seven years now.

"It's all just a bit of friendly banter I wouldn't read too much into it."
He was even asked if Dier actually did call him a traitor, to which Walker replied:
"Yeah, it's just kind of one of them things that you just have a bit of fun about. You know, me and Eric have a good relationship on and off the field.

"We have banter together and I take it, he takes it. That's just about it, really."
It isn't a surprise that some players would have wanted to leave our side but now, Mauricio Pochettino has created one of the best Premier League teams in recent years, at least from our end.
Dier is an important member of the side and we all know that Manchester United were interested in him for a while but for now, he is our player and is not going anywhere.