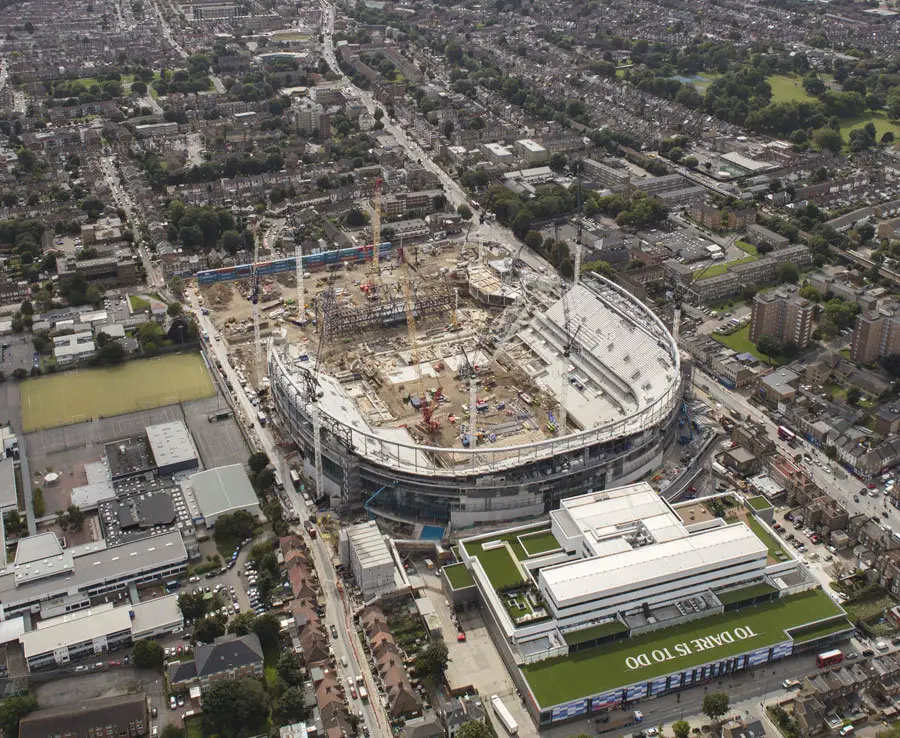 So, the new stadium is expected to get ready next year, but judging by the recently released photographs, it seems like there's a lot of work still to be done.
Tottenham are regularly updating the progress of their stadium which will reportedly cost them a whopping £800million. Furthermore, Chairman Daniel Levy has already confirmed that the new home will not be named as the White Hart Lane, and the board is working on acquiring sponsors for the naming rights. Nothing official has been announced till date but a recent computer generated image of a stadium sparked the rumours that the stadium will be called as the 'FedEx Stadium'.
The new 61,559  seater ground will be served by Hewlett-Packard Enterprise (HPE) as their official IT and Wireless Infrastructure Partner. Furthermore, Zumtobel Group will be taking care of the lighting solutions while Redston will be in charge of cabling infrastructure and its installment.
By the end of July, GKR Scaffolding removed the final pieces of the White Hart Lane, which served Tottenham for 118 years. A stadium, which will regularly host the NFL games as well, will be able to hold 17,000 fans in the single-tier south stand.
The stadium is going to be a complete revelation as its front row is just five meters away from the touchline. The club are expecting it to get completed well on time, but it remains to be seen whether it will be the case or not. Getty Images (via Daily Star) recently released images of the stadium which includes photographs from an aerial view and this suggests that a lot of work is still left. Here are some of the images: