"Both are the type of players you want in your team" – Pochettino Compares Tottenham Superstar With Ronaldo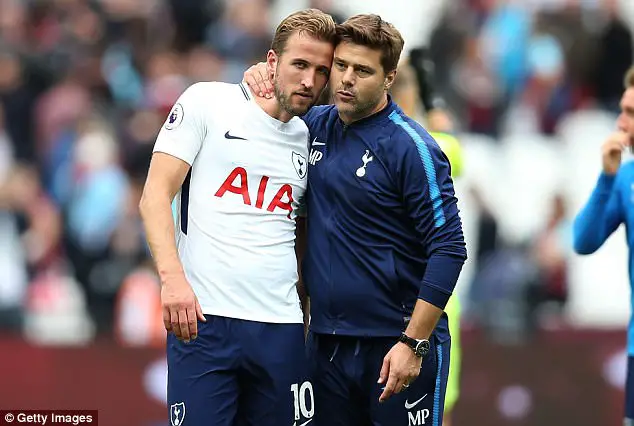 Mauricio Pochettino has jokingly admitted that he loves his striker Harry Kane so much that his wife has grown jealous of the Englishman.
Tottenham continued their fine run of form after defeating Apoel Nicosia by an easy 3-0 margin, courtesy of another hat-trick from Harry Kane. The 34-year-old bagged a perfect hat-trick after scoring with his left foot, right foot and a header and became only the seventh English player after Andy Cole, Mike Newell, Michael Owen, Wayne Rooney, Alan Shearer and Danny Welbeck to score a Champions League hat-trick.
This wasn't the only thing the venamous striker did. His hat-trick means he now has 6 hat-tricks in 2017 and has scored 34 goals in 30 club appearances. His first hat-trick of the year came way back in January when Tottenham welcomed a defensive West Brom side at the White Hart Lane. And it was Kane's first game following the birth of his first child and it couldn't have gone much better.
Kane, inarguably is one of the best players in Tottenham and Pochettino has now openly admitted that.
"Now my wife is so jealous – and his wife too," Pochettino was quoted by the Daily Mirror.

"No, I think it's unbelievable. You know, it's Harry Kane. He has unbelievable skills in front of goal. He has something special. That is why he is one of the best.

"All the strikers that have this type of level they have something special in front of goals. They are killers. Harry has this special skill."
Soon after completing his hat-trick, Kane explained
ESPN
how proud he felt and explained what went through his mind while scoring all of his three goals.
"It's a very proud night for myself and obviously the team as well.
"The first one was a close one, I'm not sure if it was offside or not but Toby's (Alderweireld) played a great ball in, I've touched it inside and I was always going to take it on with my left foot. The two in the second half, Moussa (Sissoko)'s cut back a great ball and in those kind of positions it's all about the touch and the touch was kind of perfect and that set me up and I stroked it home.

"The last one was an unbelievable delivery from Tripps (Kieran Trippier) and I made the run late into the box and I was happy to see it go in."
Tottenham will now travel to Spain and will go head to head against Real Madrid. Harry Kane's spledid run will obviously lead to him being compared to Cristiano Ronaldo, and for all right reasons. The Portuguese skipper scored a brace against Dortmund on the same night and addressing the comparision, Pochettino said,
"Cristiano is fantastic, one of the best. Harry is one of the best and will get better because he's so young. I cannot joke about that because both are fantastic.

"Both are the type of players you want in your team, in the same team. We are going to play against the best team in the world because I think Real Madrid are the best right now.

"This season they are showing they are the best. You never know. We will be very motivated to play them. We know very well the quality they have. It's a big challenge for us to try to see what is our level and if we can compete in this type of level."
The game against Tottenham will be a huge one and if we manage to beat the defending champions or even grab a draw at Santiago Bernabeau, it would be safe to say that we have become one of the best in Europe.