Tottenham Handed Major Injury Boost As Defender Returns To Training After Brief Absence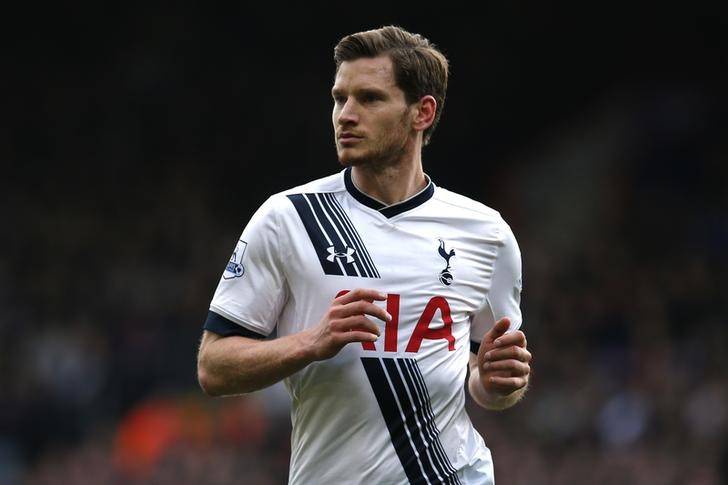 Tottenham received an injury scare during the international break when star defender Jan Vertonghen skipped Tuesday's Belgium training session with an ankle complaint. But, all is well with the player as he returned on Wednesday, to train normally with the rest of the group as reported by DH.
There was worry within the Belgian camp that Vertonghen may not be available for Saturday's game against Bosnia after his absence was noted yesterday. But, the Tottenham defender is now expected to take part in the weekend game which is a huge boost for manager Roberto Martinez.
Vertonghen has been a steady influence at both the club and country level. He is one of the first names on Mauricio Pochettino's team sheet and it is the same for Martinez as well.
The 30-year-old has an added advantage that his club compatriot Toby Alderweireld is an ever-presence even at the national level. Vertonghen's presence is so vital for Belgium that Martinez was sweating about his unavailability.
The defender is currently on 95 caps for his country and is one short of Jan Ceulemans' record of 96. Vertonghen is likely to break the record during the current international break, with Belgium scheduled to play Cyprus after Bosnia in their final World Cup qualifiers.
If all goes according to the plan, Vertonghen could reach hundred caps during the 2018 Russia World Cup. With the talent that is oozing in the squad, Belgium will hope to be title contenders and Vertonghen would be crucial for their hopes.
But, that's next year! What's in store now for the Belgian is a very crucial Premier League season with Tottenham. Pochettino is planning to keep his side in the title mix and for him, the partnership of Vertonghen and Alderweireld at the back is as vital as Dele Alli and Harry Kane up front.
It's easy for fans to be lost in the goals of Kane but let's not forget that it is the frugal defence that held Tottenham in good stead all through the last couple of seasons. The pillar of that has been Vertonghen and he should continue being so!
https://youtu.be/Asomm6f4Bys