Tottenham Deploy 'Trees' In New £850m Stadium To Take The Weight Of The South Stand Which Will Be The Largest In Europe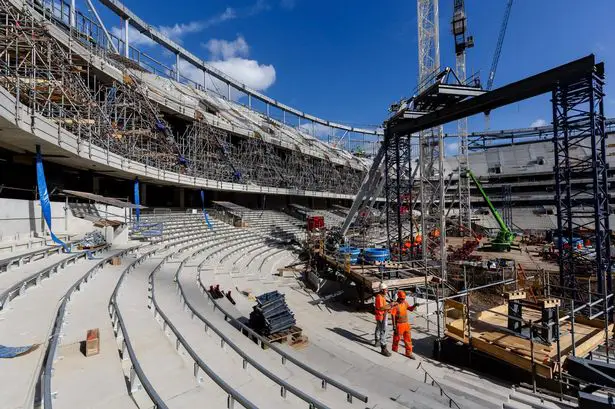 Tottenham have continued their construction work on the new £850m stadium and the latest images display the rise of the south stand. The massive structure is being made similar to some of the biggest single seater stands such as those present at Liverpool and Borussia Dortmund and will provide Spurs fans with another aspect to speak about once the stadium is built.
The stand will be home to 17,000 fans, which will make it the largest single tier stand in Europe and this just adds another feather into the caps of the management who are trying to build one of the best stadiums in the world for Tottenham fans.
The club revealed on their official website that 'trees' are set to take shape and are being deployed to help take the weight of the south stand. These are known as 'trees' due to their shape and how they branch out to support the structure. The trees will have a height of 49 metres and also has a special feature where they will help the sliding pitch to go underneath the south stand.
Our iconic single-tier South Stand continues to take shape, with the 262 tonne supporting 'trees' now being assembled on site. ️

Find out more – https://t.co/ExMBA5KtFr#SpursNewStadium pic.twitter.com/q0D7MV3s5w

— Tottenham Hotspur (@SpursOfficial) November 9, 2017
That is not all, the report also adds that the stadium will be featuring the same level of acoustics from our cherished White Hart Lane venue. The club have hired a professional who worked on U2 concerts to ensure we have the same atmosphere as we did at the Lane.
Tottenham will possibly have the best stadium in England once the construction is done and it is not a surprise seeing that most of the work being done is on time, at the moment.
We seem to have hit a sweet spot thanks to us moving to Wembley and now even the results at this stadium are working in our favour. Of course, relocating to the new stadium will take us some getting used to and the construction is done before pre-season starts so that we have enough time to gel and get used to the stadium.
For now, things look great for us and hopefully, we will have more good news of the stadium coming up in the future as well.