"We were awful and deserved nothing" – Tottenhan Fans Go Into Meltdown After 2-0 Loss vs Arsenal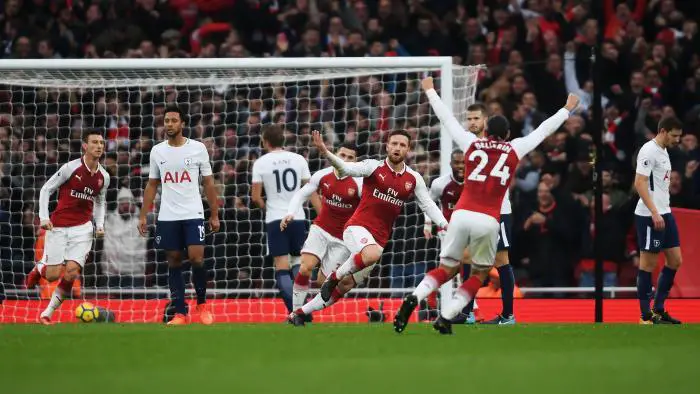 Tottenham could not close down the gap to leaders Manchester City as they were defeated 2-0 by a hungry Arsenal side in the North London derby. The Lilywhites had the better record in recent years but the Gunners were brilliant from the get-go and the pair of Alexis Sanchez and Mesut Ozil outshone our stars, Harry Kane and Dele Alli.
Kane and Alli did not play in the England games during the international break and we can consider ourselves a little unlucky for both goals which had a suspicion of offside. The first one also featured an almost non-existential foul on Sanchez, for which Mike Dean awarded a free-kick. Ozil crossed the free-kick in for Shkodran Mustafi to head into the net.
The second goal also came before half-time as Alexandre Lacazette just about stayed onside and drilled a low cross into the feet of Sanchez who just about smashed it past Hugo Lloris.
The win for the Gunners leaves them just one point behind us and the race for the top four certainly has become tighter after this loss.
We still have a bit of an advantage but this performance was not the best and it does seem like our players moving about in the international break affected the playing style.
It wasn't the best time to be a Spurs fan and here's how the fans reacted to the results.
We didn't deserve anything from that. Decisions went against us but still the performance wasn't good enough.

— Ant. (@AnthonyCOYS) November 18, 2017
Poor result @SpursOfficial even though 1st goal was offside performance not good enough need more from creative players #COYS

— Ray Clemence (@RayClem1) November 18, 2017
Tottenham's results away from home against the two Manchester clubs, Liverpool, Chelsea and Arsenal since Mauricio Pochettino arrived:
P: 17
W: 1
D: 6
L: 10

Can't win anything unless that horrible record addressed #ARSTOT #COYS pic.twitter.com/HjNDBjet0O

— Kevin Palmer (@RealKevinPalmer) November 18, 2017
I haven't felt this disappointed with a performance for a long time. That shows our progress at least! Onwards spurs #COYS

— Jim Howick (@JimHowick) November 18, 2017
Funny old game. One moment you beat europes best the next you lose to a mid table team. Onwards upwards #coys #spurs4life

— Confused a Glen! (blue tick pending) (@glenpk2) November 18, 2017
Poor performance. Davinson Sanchez was the only positive for Spurs. We move on… #COYS https://t.co/tC21L7GFry

— nadkhad (@RealSpurs73) November 18, 2017
https://twitter.com/soiledchamois/status/931890624529358848?ref_src=twsrc%5Etfw
Utterly pathetic. You can blame poor officiating all you want but we were awful and deserved nothing. And also to our "modern" fans: this is a lesson in why you don't EVER get cocky before the derby #COYS

— Emma Storey (@SpursStorey) November 18, 2017
https://twitter.com/RickSpur/status/931889604067778560?ref_src=twsrc%5Etfw
Two big calls from the linesman.

Guaranteed to divide opinion, but advantage given to the attacking side. #AFC #COYS pic.twitter.com/vLGllpoZR2

— Ben Dinnery (@BenDinnery) November 18, 2017