'How and why is Kane in that list, What a joke' Twitter Reacts To Nomination In Sports Personality Year Award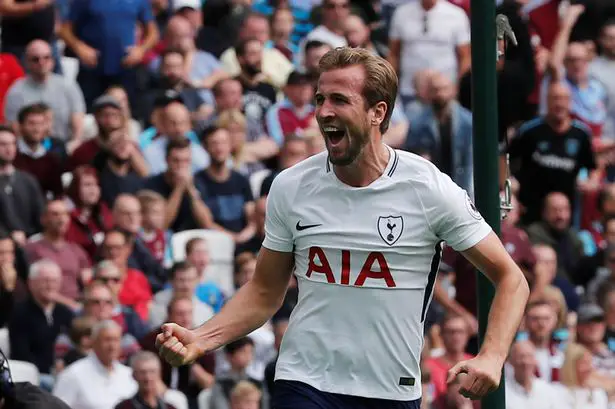 Tottenham striker Harry Kane has been nominated for the BBC's Sports Personality of the Year Award and their spectators have gone crazy over the nomination of the England striker. BBC recently announced their 12-person shortlist for the Sports Personality of the Year Award and Kane was the only football representative for the honour.
However, his nomination has not been digested well by the spectators as many were left wondering as to what he did in order to deserve a place on the list. Of course, Tottenham fans wouldn't argue much with his inclusion but the general audience has expressed their bitterness in public.
Just in, Harry Kane is a two time Golden Boot winner, having scored 25 and 29 goals in 2015/16 and 2016/17 season respectively. This season, as always, the striker started off a bit slowyl but picked up the pace since September and till date, he has bagged 9 league goals.
2017 has proved to be a massive year for the striker. In this calendar year, the 24-year-old has scored 47 goals in all competitions, including his international goals. Furthermore, talking about his Premier League exploits, Kane has bagged 30 goals in 2017, including 3 hat-tricks and a 4-goal haul against Leicester City in May.
The 12-man shortlist includes the likes of recently crowned Formula 1 champion Lewis Hamilton and distance runner Mo Farah amongst others, but Kane's inclusion has sparked a lot of reactions. Have a look at how the spectators reacted:
The nominees for @BBCSPOTY 2017 … #SPOTY @GabbyLogan #TheOneShow @BBCSport pic.twitter.com/ek8WIcRbrM

— BBC The One Show (@BBCTheOneShow) November 27, 2017
https://twitter.com/mathijssukel/status/935238624714678272?ref_src=twsrc%5Etfw
https://twitter.com/lken83/status/935249388439572480?ref_src=twsrc%5Etfw
https://twitter.com/econhedge/status/935254813755039744?ref_src=twsrc%5Etfw
How and why is Harry Kane in that list what the hell has he done!!!!!
What a joke

— Emma (@embergkamp) November 27, 2017
That window licker Kane is on and Defoe isn't. I'm refusing to pay my licence fee in December as protest.

— D W (@SirDanWilson) November 27, 2017
Completely confused at how Kane gets on this and Defoe doesn't

— Nathan (@nathblightning4) November 27, 2017
No Hannah Cockcroft, Sophie Hahn, Richard whitehead? Far more deserving than Harry Kane surely! No para athletes besides Johnnie peacock. Absolute joke!

— Ian Hodson (@Hodgy2505) November 27, 2017
Whoever put this list together should be ashamed! Harry Kane really???

— Dean Green (@deanSAFC76) November 27, 2017
https://twitter.com/NGymer1/status/935263911124832256?ref_src=twsrc%5Etfw
https://twitter.com/NGymer1/status/935263911124832256?ref_src=twsrc%5Etfw
https://twitter.com/JULES231068/status/935254321771532294?ref_src=twsrc%5Etfw
https://twitter.com/stevevid/status/935236505966178309?ref_src=twsrc%5Etfw