'Poch needs to be criticised', 'Retarded team selections' Fans Frustrated After Losing To Leicester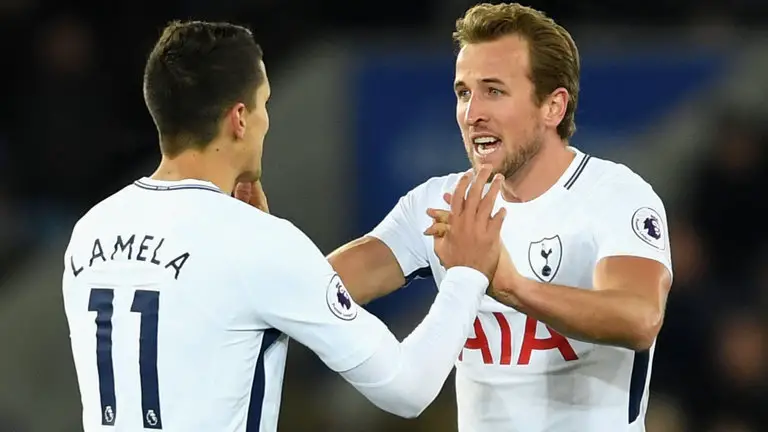 Tottenham were dealt a major blow as their hopes of winning a first ever Premier League title were dashed by a Leicester side that seems to be finding its feet under new manager Claude Puel.
Spurs had lost their last two away games and made it three in a row at the King Power Stadium. Goals from Jamie Vardy and Riyad Mahrez did the damage early on before Harry Kane pulled one back for the side that could fall 16 points behind Manchester City should the leaders win their game in hand.
Tottenham look far from the side that defeated Real Madrid a few weeks ago and Mauricio Pochettino was scathing in his assessment that the side just did not turn up for the clash against the Foxes.
It was yet another slow start for us as Vardy scored a wonderful volley in the 13th minute before Mahrez scored a Mahrez-esque goal on the cusp of half-time. Kane pulled one back in the 71st minute but there was a glaring miss from Fernando Llorente that should have won us one point at least.
There was some good news though with Erik Lamela coming back and providing the assist for Kane's goal but that was pretty much it for us.
What was more upsetting was the fact that a number of stars simply did not turn up and the hope of winning the title is long gone, even with nearly 6 months of the Premier League season left.
The only hope in the league for us is to continue fighting for a runners-up spot, once again, but with Liverpool and Chelsea getting some sort of form, that second position might be tough for us to achieve as well.
There were some brutal reactions from our fans and others on Twitter and here are just a few of them.
Players like Mahrez & Zaha are the kind of players we could do with in our squad. Need fresh attacking ideas as we look dead predictable at the moment with no jizz. #thfc

— Paddy (@Yid_Bhoy) November 29, 2017
I know it was only 15 mins but fuck me, Lamela was a huge breath of fresh air and looked so much better than everyone else

— Hamid (@HamidTHFC) November 28, 2017
Lets get one thing straight, I am 100% still in love with Pochettino but he also needs to take some heat. Dier has to play in midfield until Wanyama is back. 4 at the back and get Alli or Son or Eriksen closer to Kane #THFC

— Trevor Lloyd (@Trevorlloyd92) November 28, 2017
Oh Tottenham! I've missed you! Only positive for me… the worse we get, the more likely all those youtube bandwagon jumping cunts will fuck off. Up the Spurs!

— Bri (@BH_THFC) November 28, 2017
We need to keep expectations realistic.

City & United spent millions into making their teams stronger.

Chelsea, Liverpool & Arsenal also have the resources we don't have at this time.

Always going to be a top 4 race. I believe we'll be there but will be tough. #THFC #COYS

— Marc Benamram (@MarcBenamram) November 28, 2017
We have no plan B
Always bottle big games (cup final, fa cup semi, away games v top 6, draw too many games where we should win)
Didnt improve in key areas in the summer like depth and pace in the attack
Retarded team selections
Takes ages to make subs

Poch needs to be criticised

— camron (@thfcCam) November 28, 2017
Llorente should never wear our shirt again. Put Kaziah in the squad.

— Hamid (@HamidTHFC) November 28, 2017
Pochettino is a brilliant manager and has built a brilliant team. But this team has been found out. We need a superstar player who can surprise the opposition and we will only get them by spending money. #THFC

— Spurs News Today (@TodaySpurs) November 28, 2017
I mean if Eriksen & Dele had a bit of competition maybe they'd put a shift in every now and then. They're complacent, the manager will never drop them. Ever.

— Sophhh (@soph_thfc) November 28, 2017
Main positive tonight is that @ErikLamela is back, was bloody terrific and made an impact within minutes. Huge boost #COYS pic.twitter.com/V97O2fQL8R

— Talking THFC (@TalkingTHFC) November 28, 2017
Spurs should have taken a point out of that but some jaded individuals in the side right now. Oh, and if anyone has a spare hamstring to give to Alderweireld that would be great. #thfc

— Michael Bridge (@MichaelBridge_) November 28, 2017
24th October: "Tottenham are going for real trophies like the Premier League. Winning the League Cup doesn't change your life"

28th November: Spurs are 13 points behind Man City having played a game more

#THFC #LEITOT pic.twitter.com/Gg5YZTk5Ay

— bwin (@bwin) November 28, 2017
Lamela was our best player tonight and was only on for 15 minutes, Wanyama and Toby are also needed ASAP.

— PR (@thfc_pat) November 28, 2017
Lamela in the 2½ minutes he was on the field done more than the whole team put together in the 78 minutes before he entered the pitch, could be a pivotal player for us if we can keep him fit. #COYS#THFC

— Ricky Sacks (@RickSpur) November 28, 2017