'Love his passion and energy. We missed him', Tottenham Fans Proclaim On Twitter As Key First Team Star Returns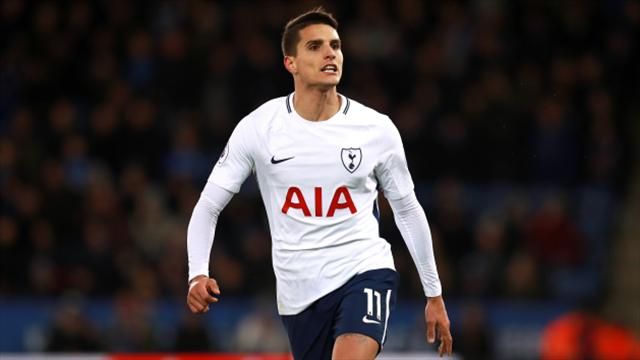 Tottenham Hotspur had a poor outing last night at the King Power Stadium. If you ask me, the loss to Leicester City was a tough blow to take. After starting the season with high hopes of challenging for the title, the title run of Spurs is fast unravelling into a non-existent one.
I do not subscribe to the view that the title is already won by Manchester City but I believe that it is theirs to lose. For Tottenham or for that matter any side to win the title, it would need a monumental collapse from the table-toppers. There are no signs from Pep Guardiola's side, yet, that this could happen. However, if ever there is someone I want to wage a fiver on coming back from the most difficult situation, it would be Mauricio Pochettino.
The Argentine must be smarting from the loss but he would have been elated with the return of his countryman Erik Lamela. The forgotten man of Tottenham went through some very difficult period last year and returned to first-team action after 13 months.
That's a long time, isn't it? In 13 months timeframe, I have seen careers built; careers ruined, and stars born. So, what Lamela has achieved by coming back to show his determination and passion for the game is extraordinary.
The midfielder is never far from the fans on the social media and always elicits opinions ranging at both extremes. After the loss, the fans took to Twitter to discuss the return of Lamela. We captured some of the best reactions:
How can you not love Erik, so much emotion there? Great to see him back, just hope he can get back to playing regularly. We need him. #COYS

— Jill Lewis (@jilllewis33) November 29, 2017
Teach sissoko how to play passionately, teach eriksen how to make a through pass, teach dele how to dictate tempo from midfield. Your 15 minutes play worthy more than the team did in past 20min in epl

— Suryo (@jippooo) November 29, 2017
what brilliant English better than Poch!!
You could feel the emotion in his voice. We need his energy back in our side his creativity he's never scared to want the ball even if he gives it away at times, but he's been out a long time, has to be careful

— Lionel Curie (@currybags) November 29, 2017
Great to have you back – you will make a positive difference

— WHOTUNES (@whotunes) November 29, 2017
Welcome back Erik shame we couldn't get anything last night but glad to see you back & playing again, hopefully we can all move forward together #COYS

— David Blayney (@blayneyblanet) November 29, 2017
You played really well last night. But sadly @SpursOfficial lost.whole world know that you always give 100% In the field.

— horrid Henry (@moustache155) November 29, 2017
I love this kid on a football pitch, he has so much talent& has had such a tough time with injuries& high expectations relating to price tag,but it's clear in the last few games we have lacked a spark &a talent to create for Eriksen,Dele and Kane. @VictorWanyama ,we need you back

— Des Bennett (@DesBennett5) November 29, 2017