'I felt sad' For The Fans – Lamela Sends Heartfelt Message To Fans And His Teammates About His 13-month Injury Lay-off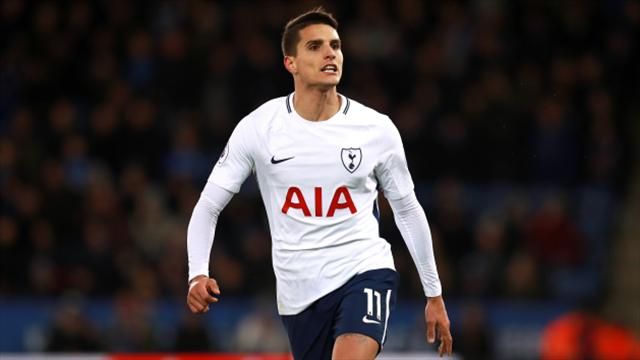 Tottenham star Erik Lamela has finally opened up about his 13-month long injury lay-off by admitting that his teammates, as well as the fans, supported him a lot during this hard time.
Lamela, 25, sustained a major hip injury last season and required two surgeries for the same. His last appearance, prior to his recent comeback, was in an EFL Cup loss to Liverpool last October. He finally returned to action as a 77th-minute substitute in Tottenham's 2-1 defeat at hands of Leicester City last week before playing another 13 minutes against Watford. His recent appearance for the Lilywhites came in the 5-1 thrashing of Stoke, where he was given a 23-minute cameo appearance.
Lamela is coming on the back of a threatening injury, hence Pochettino has rightly decided to ease him into the action and even though he's not back to his top level, Lamela has admitted that he is just happy to get involved with the first-team.
"Finally I'm playing some minutes after a very long time – still I don't feel 100 per cent fit, but in time I will find my form. I think time will help. After a very long period of injury, you need time to be like before and find your best level," he said in Spurs' match day programme, as quoted by Football.London.

"It's been a very long time fighting to get back. Unfortunately I didn't get well soon, but now I'm much better and very happy to be back.

"There were some very hard times but in life you need to keep going, always looking forward. I fought every day to be good, to train, to help my team-mates. I did my best always and that's why, today, I'm here again."
Explaining further, the 25-year-old admitted that all of his teammates were in touch with him and the fans, on their part, supported him during his 13-month layoff.
"There has been a lot of support from my team-mates, also the fans and everyone who works for the club. Every day, every week they asked how I felt and I felt sad for them because I wanted to play. I wanted to bring energy and good play to the team," he said. 

"I was playing every game without physical problems. Now it's another challenge that I have, to come back and be ready and fully fit again. I believe that I can reach the level that I was at, I only have to keep working and see how it goes with time, playing game by game and building up more confidence in myself."
It was heartbreaking to see someone as promising as Lamela undergo a 13-month long injury layoff, but now that he is back, everyone will hope that he gets into his old groove once again.