Everything You Need To know About Tottenham's New Stadium Progress: 24 Hours Work With 1,000 Workers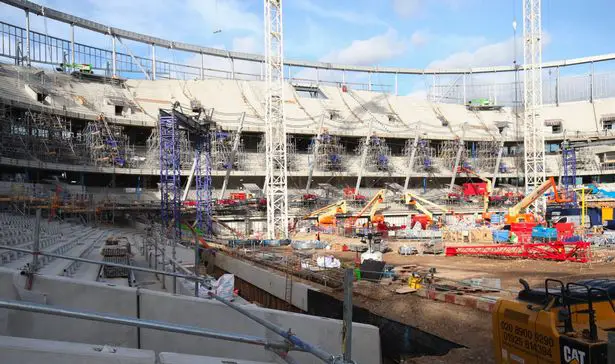 Spurs are battling to complete building work of their new home at White Hart Lane in time to move in before the 2018-2019 campaign begins. Chairman Daniel Levy and manager Mauricio Pochettino were updated on progress during a tour of the 61,559-capacity arena in October.
But the club was earlier unable to say if it would be ready to host the opening games of next season. Spurs are also believed to have spoken to the Premier League about rearranging some early fixtures but have been told there is only limited scope for home matches to be pushed back.
However, the Daily Mail reports Tottenham are working day and night to ensure their new White Hart Lane stadium is ready for next season.
Spurs have over a thousand labourers working seven days a week on the construction site at the old White Hart Lane, and a small team is working through the nights. The main bowl is complete and the stands are taking shape.
The club can resort to increasing the full-time work to 24 hours a day if necessary, to ensure the construction is finished ahead of next season. Spurs expect the roof to be prepared, which should see the £800million development accelerate to completion. The corporate-box showrooms are now open and work has started on the internal facilities.
Tottenham's executive director Donna-Maria Cullen said this week that the 61,559-capacity stadium remains on schedule, although the London club could ask to play the first two or three matches of the 2018-19 season away from home, should the work not be completed on time.
At the moment, it is on track to open on time, as Cullen was quoted in a report by Evening Standard,
"There is nothing to tell us otherwise though I don't have a crystal ball."
Spurs are still yet to announce a naming rights partner for the new stadium and Cullen added:
"If you look at most schemes, naming rights deals tend to come when the stadium is at an advanced stage of construction."
More significant delays, although not expected, may see manager Mauricio Pochettino and his team play another year at Wembley. If there is a bad spell of weather, the works may be delayed by a week or two and could affect their ability to play there next August.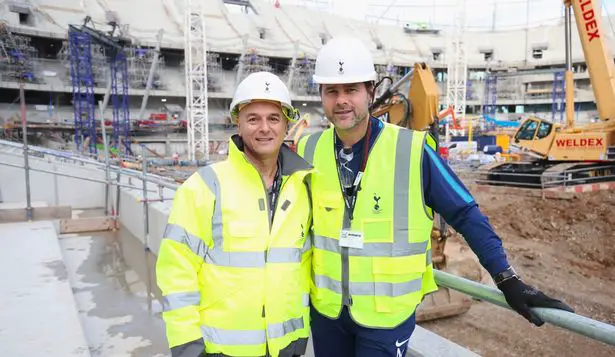 During the stadium tour, Pochettino called the progress of the new residence as "amazing".
"I think it's amazing, beautiful, so difficult to find the words," Poch said in a video posted by the club after his first visit with Levy.

"I can say thank you to Daniel, because that dream is amazing. It's difficult to imagine but I'm sure it will be fantastic.

"I don't want to think to much because it's still a long way away, and a lot of jobs to do, a lot of work, but I think it will be a dream come true," our gaffer added.
Let's hope the construction gets completed on time and we begin the 2017/18 season on a bright note.