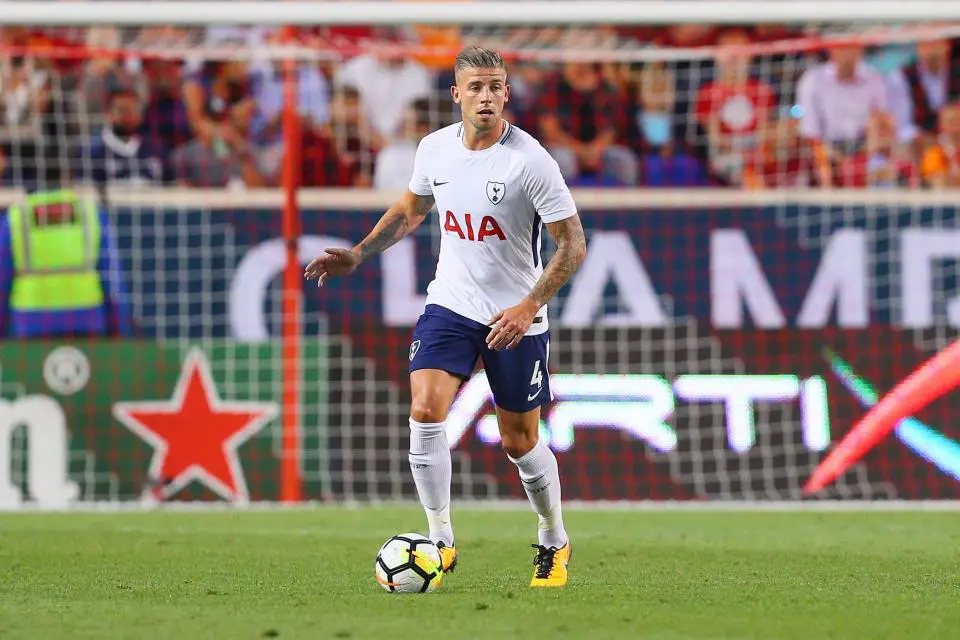 Mauricio Pochettino has urged Tottenham fans to be patient over Toby Alderweireld's contract situation because the Belgian still has two and a half years left on his current deal with the club. The Argentine has further requested his fans to trust chairman Daniel Levy as he believes that Levy will sort everything out on time.
Practically, Alderweireld only has a year-and-a-half left on his current Tottenham contract, but the Lilywhites have the option of extending his stay by another year, which would technically see him at the club until 2020. However, things aren't as straight as they seem they are as Alderweireld's advisor Stijn Francis, back in September, urged Tottenham to hand his client a new and improved contract or else allow the defender to leave the club.
The 28-year-old is currently paid £50,000-a-week, which is extremely low compared to what his fellow Premier League players are earning at their club right now. Although he has indicated that he will sign an extension if his wages are increased to match Tottenham's top earners, there hasn't been any progress in the negotiations.
As things stand right now, the defender is currently out with a hamstring injury, which he sustained in Tottenham's historic win over Real Madrid back in November, and is expected to be back in February. Meanwhile, as far as his future is concerned, reports are doing the rounds that a host of clubs are interested in securing his services next summer.
Pochettino, however, has urged the fans to be patient over the entire saga as he is hopeful that the Belgian will indeed sign a new contract.
"This is a message for our fans and for everyone: Toby still has two-and-a-half years of contract," said Pochettino, as quoted by Sky Sports, going on to referencee Lionel Messi signing a new Barcelona contract in November which was due to expire in the summer of 2018.

"Messi was six months left on his contract. Messi! If something happens [on Alderweireld], the club is going to communicate.
Furthermore, the likes of Christian Eriksen, Dele Alli and Harry Kane have all committed their futures over the last 18 months, but Alderweireld is yet to put a pen to the paper.
"But I don't understand all these things when the players are all under contract. Players have signed contracts. But for different reasons. Players like Eric Lamela still haven't signed. Or another player signs with two years left. But still Alderweireld has two-and-a-half years. And then it's different contexts, different reasons. It's not only to say the club needs to do this and this.

"Hey, calm, calm, our fans because Daniel is very good. He has managed the club 17 or 18 years. Look at how Tottenham was 18 years ago and how it is today. I think full credit to Daniel Levy and let Daniel work. It is important the fans trust in Daniel."
Words of assurance from the manager is nice to see, as he's trying to put the speculations to bed. However, let's see if the negotiations do take place peacefully.