"Please don't play like that Thursday" Tottenham Fans React To Spurs' Win vs Swansea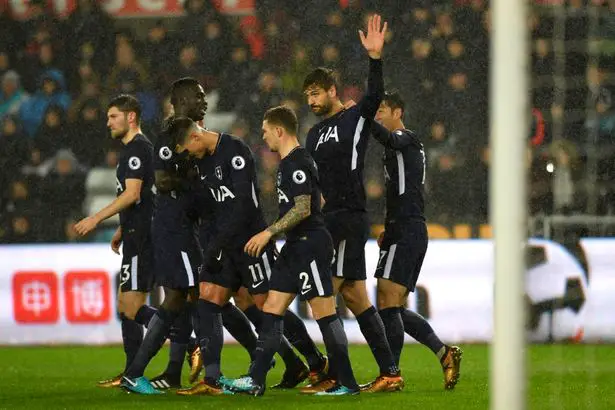 Fernando Llorente scored his first Premier League goal for Tottenham and he scored that against his former club Swansea City. Coupled with that, a rebound goal from Dele Alli handed Tottenham a well-deserved win at the Liberty Stadium and the victory saw us surpass Arsenal into 5th spot in the Premier League table.
Tottenham's marksman Harry Kane was named on the bench, hence his deputy Fernando Llorente was given the nod and the Spaniard, after a disappointing first-half of the season, made a mark. It all started for Tottenham as early as the 12th minute when Llorente capitalised on Christian Eriksen's cross. The Spaniard appeared to be in an offside position, but the referee allowed the goal.
By the stroke of the second-half, Swansea grew in confidence and almost scored the equaliser, only to be denied by the frame of the post. Centre-half Mike van der Hoorn rose the highest to connect with a header, but the 25-year-old's effort hit the woodwork. Swansea continued building the pressure, but Dele Alli's 89th-minute goal sealed their fate.
In what can be described as a brilliant counter-attack, Kane found Alli and after missing his initial effort, the 21-year-old hit the back of the net from the rebound.
"When you don't kill games sometimes you pay and one thing can change everything so we were anxious to score the second, said Pochettino after the game.

"It was late in the game but we felt the happiness and the three points are massive. Now we rest and work in the video room because we have another game so soon."
With the defeat, Swansea now see themselves sitting at the bottom of the table, level on points with West Brom. Tottenham, on the other hand, have eclipsed Arsenal to occupy the 5th place; 4 points behind 4th-placed Liverpool. And with that being done, here's how the fans reacted to the win:
Coincidence or not?
Two of our players who scored the goals wear shirts with numbers 20 and 18, in the very first match of the 2018.

— nightMARE (@Niko11cM) January 2, 2018
Good away win & impt 3 points in race for Top 4. @ChrisEriksen8 impressive w/ some quality deliveries & what a ball from @HKane to @dele_official !! #THFC #COYS #PL

— Rocky Gill (@CllrRockyGill) January 2, 2018
Well done Spurs!!! Just want to give a quick shout out to lamela, he never stopped running and was fantastic in that 1st half. Getting back to fitness. What an asset for us. COYS!!!!!

— Nick (@SinisterSmilez) January 2, 2018
Rough night for sure. Def not the quality of the last few games but all that matters is 3 points. Need a big game Thursday. Sanchez needs a talking too. Can't be stupid forever. Start Foyth.

— jerry (@INDsoulman41) January 2, 2018
Lucky as hell jheez

— RA (@MrA367) January 2, 2018
Phew. Bit nervewrecking but we should be used to that. Please don't play like that Thursday!

— Matt Walsh (@MattW28999) January 2, 2018
Great win! Now destroy spammers Thursday. #COYS #FOYI

— MODE (@mode992) January 2, 2018
https://twitter.com/weyboy/status/948307234626441217?ref_src=twsrc%5Etfw
https://twitter.com/salemalmatrod/status/948348066012303361?ref_src=twsrc%5Etfw
Haters gonna hate. #COYS

— Spurs (@Spurzinho) January 2, 2018
https://twitter.com/Lamela_11_/status/948343632679129088?ref_src=twsrc%5Etfw