Tottenham manager Mauricio Pochettino has recalled the day he first saw Ryan Mason sitting all gloomy in the gym and went on to quote that the doors are always open for him to take up a role at the club after he was forced to retire from the sport.
The Enfield-born midfielder was forced to retire from football on medical advice after he suffered a severe head injury in Hull City's Premier League game against Chelsea back in January 2017. While defending a Chelsea corner, Mason clashed with defender Gary Cahill and suffered a fracture in his skull. The midfielder received treatment for around nine minutes on the Stamford Bridge pitch before being taken off on a stretcher for further treatment.
He was soon admitted to the St. Mary's Hospital in London for a surgery and was released some eight days after. However, he has struggled on his way to recovery. Mason returned to the club training back in May 2017, but no official return date was released by Hull. On the last day of the previous year, the midfielder went on to post a photograph of his head injury and quoted, "it's hard to put into words the year I have had."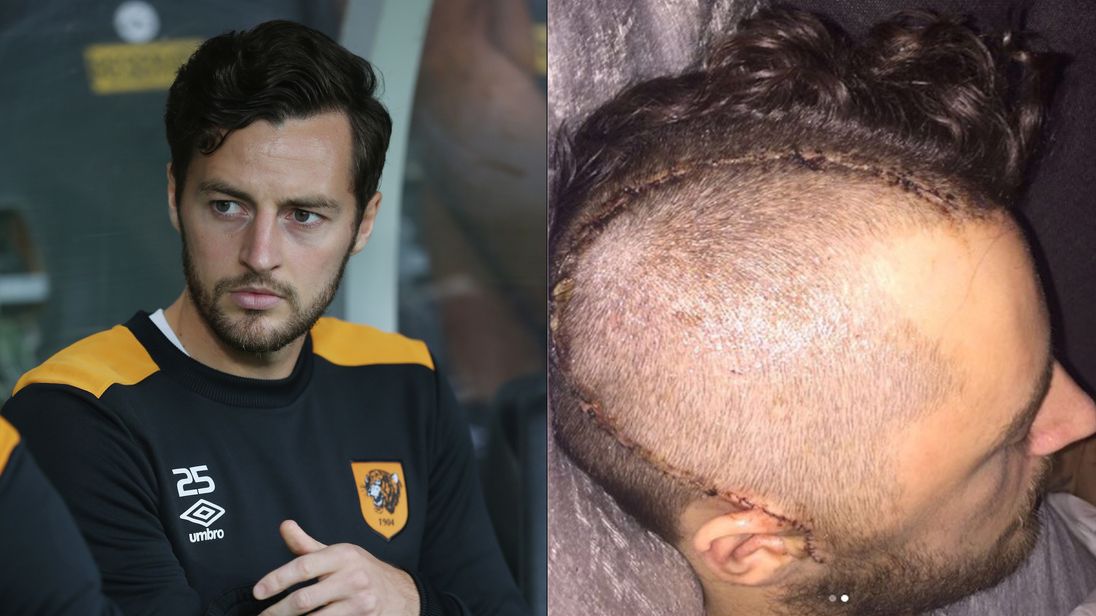 Mason started his career with Tottenham, joining the club's academy at the tender age of eight. But with him being unable to get into the first-team action right away, he went on to spend as much as six loan tenures before establishing himself at Tottenham in 2014, the same year Pochettino was appointed as Spurs' manager.
Recalling the incident where he first met Ryan, Pochettino, after Tottenham's draw 2-2 at Juventus in their Champions League last-16 first leg, said that he first interacted with the midfielder at the airport and he absolutely started loving him soon after.
"I remember very well how we found him the first day; sitting in the gym, head down and so sad," Pochettino said. "I asked Jesus [Perez] 'who is this guy?' And he said 'Ryan Mason, who in the last five seasons has always been on loan and never played because he suffered a lot of injuries'.

"It was difficult for him in the beginning because he struggled to cope with the training sessions, because it was very tough. But then we travelled to the USA and I met him in the airport and, during 30 minutes, we shared, and I said after to Jesus 'wow, I love Ryan'. I didn't know if he played well or not but I loved him like a man."
Speaking of Mason's first performance under him, the Argentine said that he was technically perfect as he understood everything after only a few tactical training sessions.
"Then, in the first game we played against Seattle, he understood everything. After only a few tactical training sessions he was quick and he understood everything – the movement and the timing and the concept – that maybe for another player it takes a whole season, and I said 'we have in front of us a very good player'.

"Always he is and will be a special player for me because he represent a little bit this change in all the processes when we arrived at Tottenham."
Expressing his grief over Mason's retirement, Pochettino hailed Mason for his amazing 'football brain' and went on to conclude that gates are always open for him because the club loves him and his family.
"Sure he was a very successful player, and sure he will be a very successful person in football, and everything that he is going to do. It is very sad news but it opens up a massive future (for him). He is 26 but he is an amazing person and has an amazing football brain.

"Of course the door is open to help him; myself, the coaching staff and the club, because we love him and all his family. In the last few days he was at the training ground. He was talking a lot with us, the coaching staff and (academy boss) John McDermott.

"Don't worry Ryan because you are going to be a successful person in football outside of the pitch, no doubt about that."
What a beautiful gesture by the gaffer.