"Stunning", "Amazing place" Tottenham fans in awe of club's latest pictures of £1billion new stadium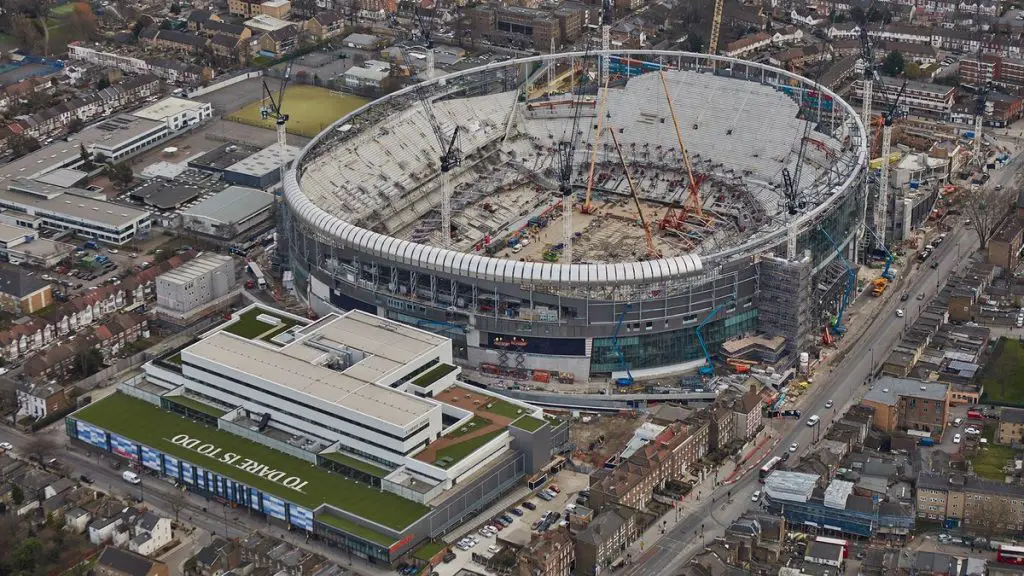 Tottenham Hotspur's new home in north London is starting to look like a proper stadium now. The recent images released by the club on Twitter came as a valentine gift to all the Spurs fans across the globe. The compression ring around the top of the stands is fully complete and the stadium should start the roof lift very quickly as Daniel Levy wants the new stadium ready ahead of the next season.
Apart from hosting Spurs' games from next season, the new stadium will host the Seattle Seahawks and the Oakland Raiders later this year. The Unique selling point (USP) of the stadium is its retractable pitch.
The fast progress of the new stadium has excited NFL star Jason Bell, who just can't wait to see American football played in October.
"Wow man, I'm so excited to get there and check that [the new stadium] out, this is going to be so good for the NFL," Bell was quoted by the Evening Standard.

"What a stadium. What a design. What three great games. I love that they're all back to back. It's going to be a great month for the NFL and the UK."

He added: "Look if you ask me, that's always the game plan. I would totally love it."

"People would get behind and have their own team, and I think the infrastructures being put in place for that would work."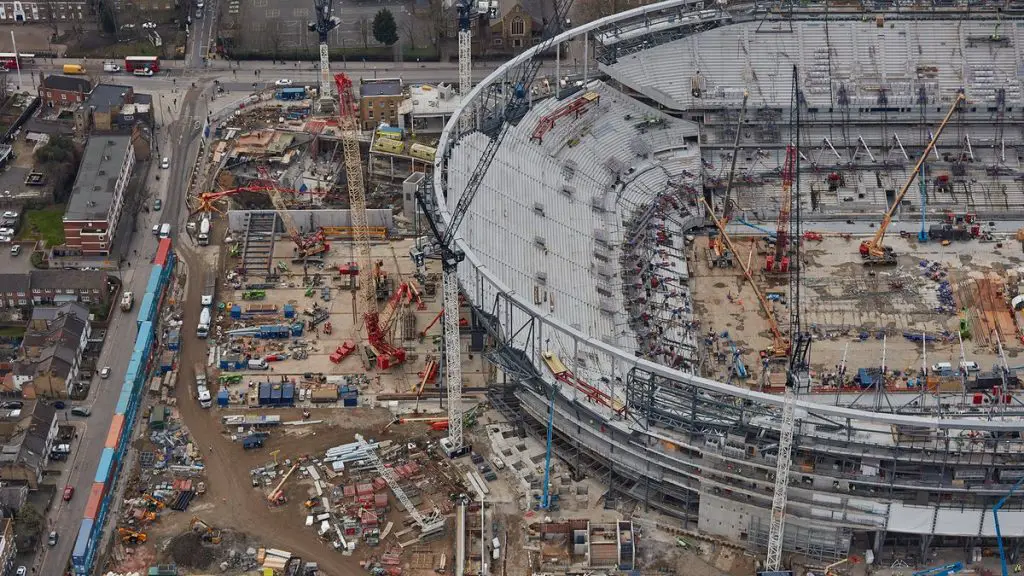 There is a strong belief among the fans that the brand new £1billion stadium will be ready ahead of the new season in August. Despite our team settling well at Wembley, there is always an eye over the development of the colossal sports ground.
It looks pretty cool after coming across the latest photographs. Let us take a look at how our fanbase reacted to watching these beautiful snaps of our new home from next season.
"One compression ring to rule them all."

— Spurs News Today (@TodaySpurs) February 14, 2018
Looks like a modern day Colosseum. Over 2/3 of Wembley's capacity, but in a much tighter footprint, and with that massive South single tier. It should be electrifying in there!! #COYS

— SalopianCOYS (@kanagawaben) February 15, 2018
Look at that Kop! 😍

— AtourT (@AT_Spurs) February 14, 2018
Can't wait to get into that monster Park Lane! #COYS

— TottenhamJohn (@Johnofspurs) February 14, 2018
Was supposed to up by end of this month. Not even ready to start the lift yet and will take a minimum of 3 weeks to lift. Quite a bit behind now

— ToDareIsToPaul (@paulyboym1) February 14, 2018
What about stop

— biglikevic (@biglikevic) February 14, 2018
Stunning

— Sam Preston Baker (@baker_preston) February 15, 2018
Looking absolutely stunning cant wait for it to be finished.

— Moboy (@Moboy_02) February 15, 2018
😍

— Rach ⚓ (@SkatingPhysio) February 14, 2018
Wow 😮

— Sruffy (@Sruffy) February 14, 2018
😍😍😍

— Michael Gardner 🗽⚽ (@mgardner76) February 14, 2018
It is a ground rather than a stadium & all the better for it. Amazing place. #bytheriver

— Mally (@Mallyspur) February 14, 2018
looking forward to go to new lane COYS⚽️😍🏆😀

— alex john (@JohnUltra82) February 14, 2018