"We do things the hard way", "Sell Llorente and Sissoko please" Tottenham fans vent out anger after shock 2-2 draw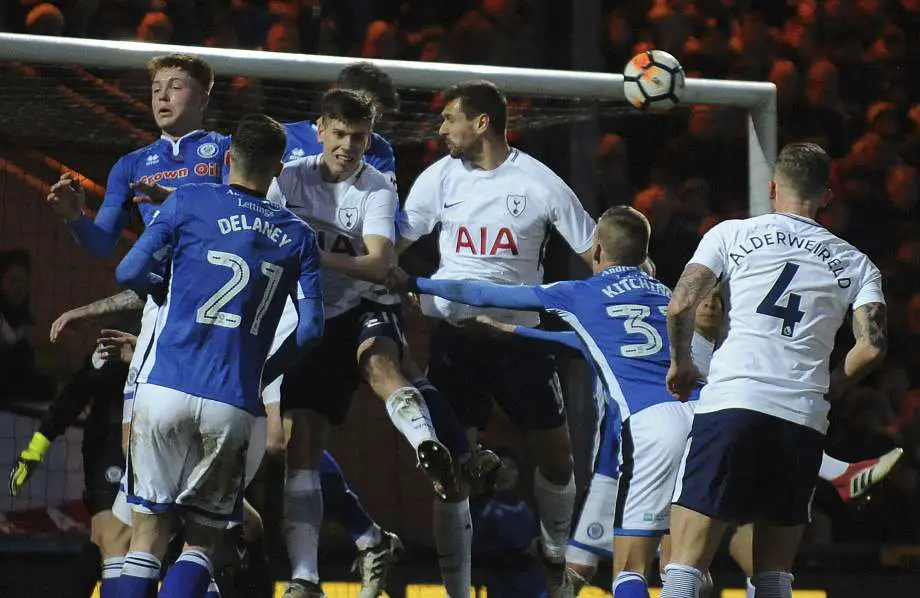 Rochdale scored an extra-time equaliser as they earned an FA Cup fifth-round replay against Tottenham Hotspur at Wembley following a 2-2 draw at Spotland.
Tottenham thought they had won the game when Dele Alli had controversially earned a penalty and Harry Kane made no mistake, stepping up and firing past the goalkeeper. But 30-year-old Steve Davies sent the home crowd into ecstasy by netting the leveller two minutes into stoppage time.
The game didn't start in our favour as Rochdale made the most of the relaid pitch to score a fantastically worked opener through Ian Henderson. It was Henderson's 6th FA Cup goal of the season and interestingly, no player has scored more.
Fernando Llorente had Spurs' best chance of the opening 45 minutes but spurned it from inside the area when he should have at least hit the target.
However, Lucas Moura, starting his first game for Spurs since making a winter transfer deadline day move from Paris Saint-Germain, equalised after the break. Moussa Sissoko found Moura in space and the Brazilian took a touch before hammering home his first goal for the club.
In the 88th minute, Alli was fouled in the box by Harrison McGahey and Kane stepped up to smash home to give Spurs the lead. But minutes later, Davies set Spotland bouncing again when he calmly found the bottom corner in the injury time to send Dale to Wembley for the replay.
After a fantastic 2-2 draw at Juventus in the Champions League, this wasn't exactly the performance Spurs fans had hoped for.
Hugely disappointed with the performance when we could have won at Rochdale and moved into the quarterfinals. Here is how our fans reacted after the blow of the final whistle.
POCH GET THE FUCK OUT OF OUR CLUB YOU ARE RUINING TOTTENHAM YOU FUCKWIT! TAKE SON, SISSOKO, FOYTH, VORM AND LLORENTE WITH YOU! #POCHOUT #NOW

— POCH OUT (@GETPOCHOUT) February 18, 2018
— E❄️ (@KaneFlair) February 18, 2018
Son was absolutely shocking. Needs a few weeks on the bench in place of Moura.

— Tom Cheeseman (@TomCheese8) February 18, 2018
One week ago we bossed Juventus and today can't even team beat a team sitting 24th in the League 1 wtf we do things the hard way

— Devansh (@DevanshTHFC) February 18, 2018
Sell Llorente and Sissoko please

— 🅿️AUL (@PaulChippy01) February 18, 2018
— Dan (@ElCapitain82) February 18, 2018
Rochdales combined starting 11 today dont make as much as Llorente makes in a week!

Thats how embarrasing a performance today was!

Shameful!

Half that starting 11 for us need binning.Not good enough to beat a bottom of League 1 side shows just how good they really are

— C (@SpursArtist) February 18, 2018
Oh well… We'll smashed them at Wembley #COYS #THFC #ROCTOT #FACup

— Gaby Braca (@GabbyBraca) February 18, 2018
— Harry C (@HazSpur92) February 18, 2018
Worrying to see Toby play that poor. Stupid subs. Sonny was poor. Should have left moura on. Ohh well, credit to Rochdale. Still in it. #COYS

— shane (@ShaneeUK) February 18, 2018
Ugh. An extra fixture is the last thing this squad needs right now.

— Chris Dunham Jr. (@ChrisDunhamJr) February 18, 2018
Good 2nd half performance vs good @officiallydale team & then fell asleep! @LucasMoura7 a big positive #MOTM & @SpursOfficial need to find a decent back-up striker to @HKane as @R9Soldado @vincentjanssen @llorentefer19 have not worked. #THFC #COYS #EmiratesFACup

— Rocky Gill (@CllrRockyGill) February 18, 2018
Fair play to @officiallydale, they did play Really Well 👏👏👏
How are they Bottom of League One, I do not know.. Least they get to play at Wembley.. Onwards and Upwards! #COYS #FACup

— Smiley ッ (@DazSmiles91) February 18, 2018