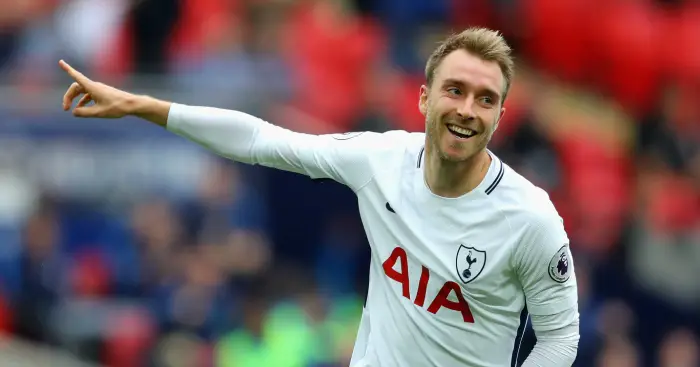 As per a report from BleacherReport, Christian Eriksen has made an enquiry about the procedure to move to a different club. The talented playmaker has been enjoying fine form in a recent couple of weeks and he is undoubtedly an indispensable member of Mauricio Pochettino's squad.
His creativity and goalscoring instincts shone to the fore this season and now, he is being widely regarded as one Europe's best.
He has contributed a total of 14 goals and 10 assists across competitions for the club this season. In addition to that, Eriksen has created a whopping 82 chances in 33 Premier League appearances for Spurs, according to Squawka.
These numbers are absolutely incredible but they do little to showcase the kind of impact Eriksen truly has on the field. Calm and collective, he is often viewed as a visionary for his influential moves in the final third. It is not uncommon for such players to attract attention from bigger clubs and Bleacher Report have claimed that there are rumours of Barcelona harbouring an interest in him.
Football agent Bayram Tutumlu has claimed that Eriksen is also open to a move away from North London. The agent claimed that this conversation took place when the two met earlier this season.
Speaking to Danish newspaper BT (h/t Daily Mail), Tutumlu said:
"Christian Eriksen invited me to his house in London in September and asked me what he needs to do to get to a bigger club,"

"I told him that a really big club wanted him."
The agent went on to add,
"When I visited Barcelona with my adviser Evren Sahin and Brondby's owner Jan Bech Andersen, the Barcelona president Josep Maria Bartomeu told us that Eriksen was going to become the next big player in Denmark after Michael Laudrup."
Well, this could be a remarkable opportunity for Eriksen to progress and develop his career further but can we survive without him?
I think we all know the answer to that and let's hope Tottenham takes precautionary measures to ensure he stays with us beyond the end of the season.