"Kane > Ronaldo" , "A Spurs win against Arsenal in Moscow" – Twitter goes crazy as Tottenham stars fire England past Colombia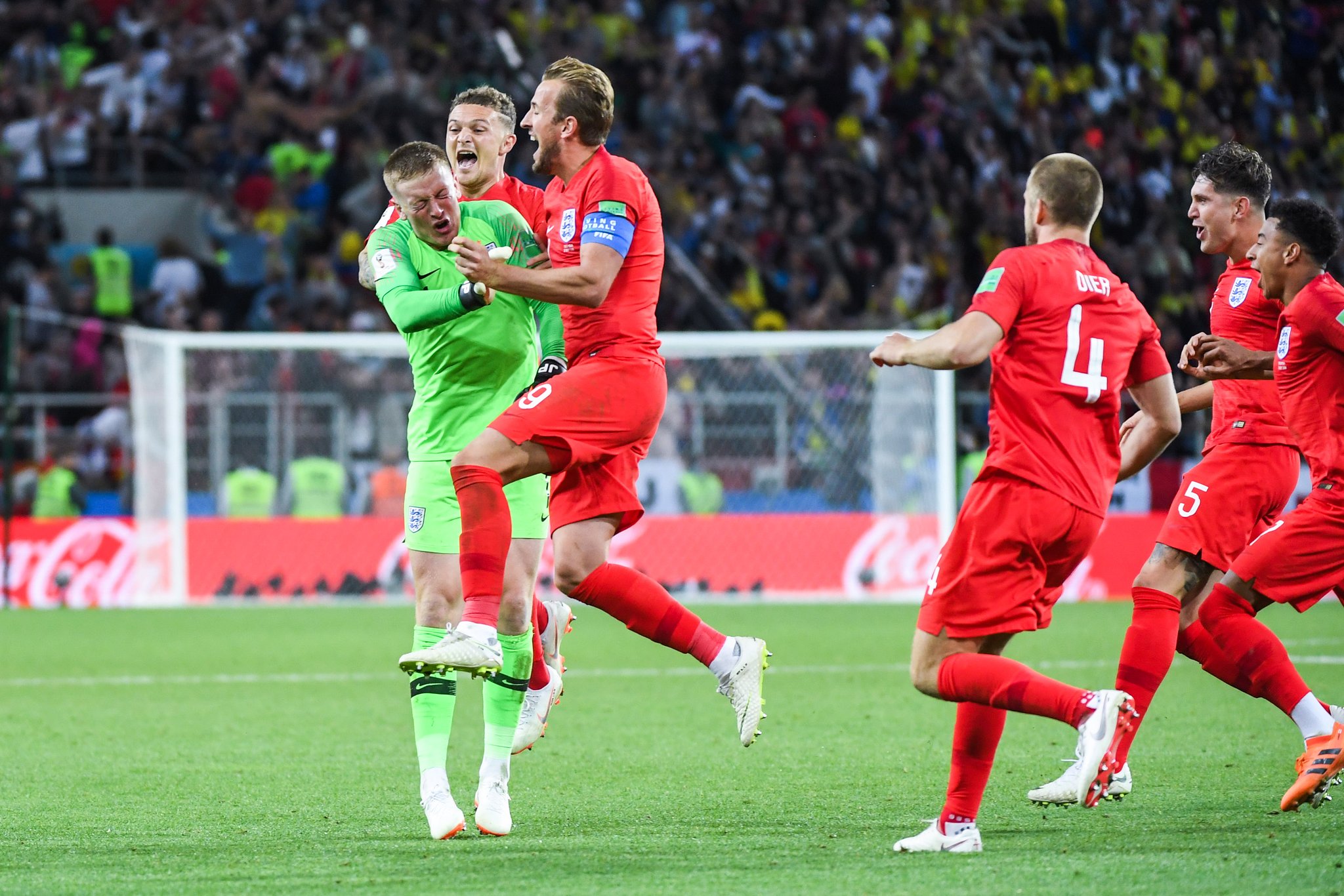 England have finally won a penalty shootout in a major tournament! England have finally won a knock-out game for the first time in 12 years!
There was jubilation all across the country as England knocked out Colombia on penalties after a tense 1-1 draw after 120 minutes.
Dele Alli was thrown into the mix as he started for the first time after the first game of the tournament but it was Harry Kane who got the ball rolling as he opened the scoring from the penalty spot in the 57th minute.
Nothing was going the Colombian side's way but they got an unexpected lifeline when they scored with virtually the last touch of the game.
Yerry Mina rose up for a corner and headed past Jordan Pickford and above Kieran Trippier who was standing on the line.
The next 30 minutes could not separate the teams and we went to penalties. The first one to crack was Jordan Henderson but Mateus Uribe hit the post and Pickford was the saviour for England as he saved from Carlos Bacca.
There still was pressure on another Tottenham star in Eric Dier but the midfielder made no mistake as he slotted past David Ospina and led England into the quarterfinals.
It was pandemonium on Twitter too as the fans celebrated and raved about Kane and company and here are some of the best reactions to the game.
Harry Kane.. World Class.

— Fact (@Fact) July 3, 2018
Goals at World Cups:
6️⃣ Harry Kane
5️⃣ Egypt, Greece
4️⃣ Wales, New Zealand
3️⃣ Jamaica, Czech Republic
2️⃣ Panama, Iceland
1️⃣ Bolivia, Israel
0️⃣ Canada, Trinidad & Tobago pic.twitter.com/jaFQhaPhuh

— Goal (@goal) July 3, 2018
Its's the year 2022. England have just won their 2nd World Cup under Sir Gareth Southgate. Harry Kane has scored his 100th world cup goal and 3 lions has been number 1 in the charts for 4 years

— Adam Taylor-Christensen (@AdamTaylorC) July 3, 2018
Kane > Ronaldo

— LEBRON IN LA (@Toto_KingJames) July 3, 2018
ABSOLUTE LEGEND!

— Smithy / FrankyFryer (@SmithySoccerAM) July 3, 2018
I predict a sudden flurry of baby boys called 'Kane' over the next few months #ballfoot

— Kate Bottley (@revkatebottley) July 3, 2018
Columbian player preparing the penalty spot for Harry Kane. pic.twitter.com/dQdTA1oqPT

— Colin Hilton (@ColHilton) July 3, 2018
Amidst all the excitement, let's not forget Harry Kane now has six goals in this tournament. Six. Only @GaryLineker has done that before at a World Cup in an England shirt.

— Oliver Holt (@OllieHolt22) July 3, 2018
Find someone that looks at you the way Gareth Southgate looks at Harry Kane #ENGCOL #truelove #ENG pic.twitter.com/LlBvAsgddV

— Katie Kurilecz (@KatieKurilecz) July 3, 2018
Kane, Trippier and Dier scoring penalties against Ospina – a Spurs win against Arsenal in Moscow

— Rob Harris (@RobHarris) July 3, 2018
Passion. Leadership. Bloody love Harry Kane. Give the man a knighthood. #ThreeLions pic.twitter.com/AMZeuB2qwV

— Matt Lynch (@mattlyynch) July 3, 2018
KANE. TRIPPIER. DIER.

Thank you Spurs! pic.twitter.com/kJH71qwzet

— BetVictor (@BetVictor) July 3, 2018
Tony Adams:

'Spurs players will let us down. They can't cope with the pressure'

Dier, Trippier, Harry Kane all step up to the mark and score their penalties in the shootout.

Pipe down Tony.

Come on England!!!!! #COLENG #ENG #Worldcup2018Russia #worldcup #threelions

— Marc Benamram (@MarcBenamram) July 3, 2018
Read more: England hero Harry Kane admits he is addicted to hit video game Fortnite