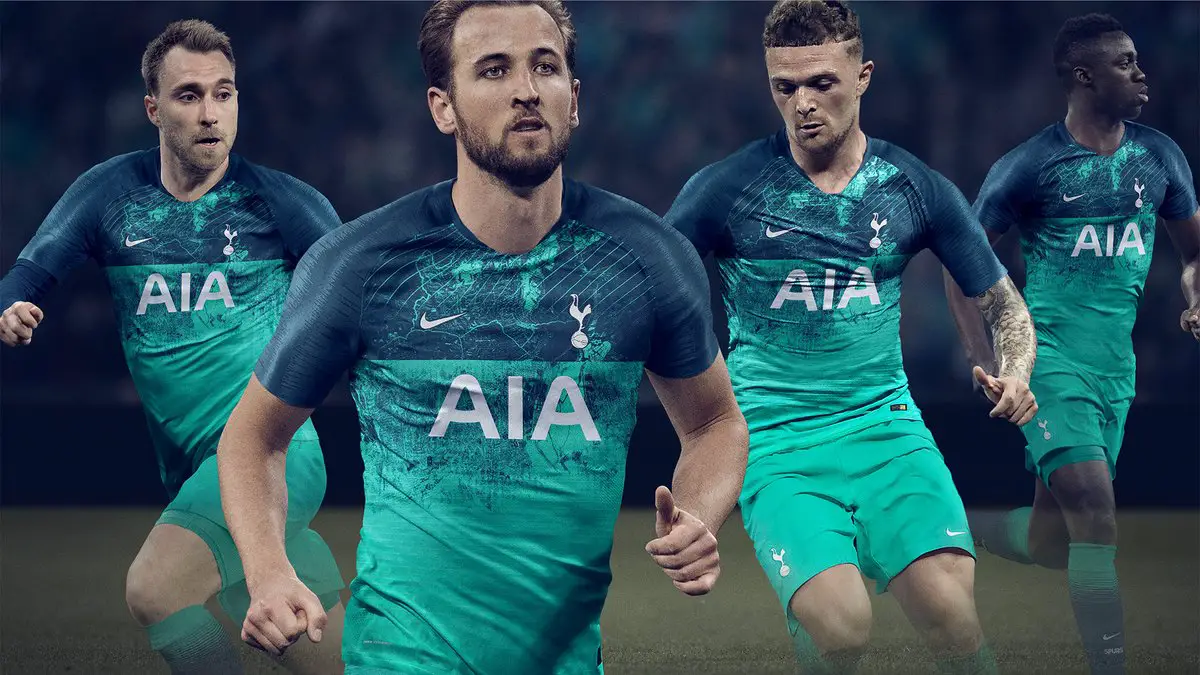 Tottenham released their third kit of the season and this one is very different to the normal third kits we have seen in recent years.
😍 Presenting our 2018/19 @NikeUK third kit!

Get yours here – https://t.co/0qgDXlKFPE
#BuiltToRise #COYS pic.twitter.com/SeXG2PuqoK

— Tottenham Hotspur (@SpursOfficial) August 11, 2018
While Spurs have a traditional white and navy blue home kit and a dark and light blue combination for the away kit, the third kit features a lot of green, which the club calls as "Neptune Green".
The release from the club also mentions that Spurs would be wearing this kit in our European games and the same was used in the first match of the season against Newcastle United.
The release also spoke about what the design aspects of the kit from Nike convey and there has been a lot of thought into this.
"At a macro level, the print on the shirt appears as a modern, asymmetrical pattern, blurring the lines between football culture and youth-inspired street culture. Looking closely, the pattern transforms into an aerial depiction of the Club's locality in Haringey."
While Spurs prepare for the season ahead, a number of fans were not pleased with the third kit and here are some reactions from Twitter.
— Daniel Godden (@Punkdude1981) August 11, 2018
How anybody doesnt like this is beyond me.

At least it's not a template kit. I love it.

— Jonny Evans (@JontyEvans) August 11, 2018
Live action from the @SkySportsPL green screen room pic.twitter.com/FhgYdoAV0S

— graham kinns (@kinnsyg) August 11, 2018
Very bad season in terms of kits this year

— Rawhide (@Rawhide1882) August 11, 2018
All three kids are utterly terrible. I used to hanker for Nike to become Spurs kit maker years ago, and now I just wish they'd go away…just another 3 years of this tripe 🙄

— Dan Norton (@Dlnorton150879) August 11, 2018
Lovely pic.twitter.com/ZW5f6BTDXS

— jim (@jimbo_1882) August 11, 2018
— Mark Carter (@markcarter1986) August 11, 2018
Shocking photoshop on Eriksen. He looks about 5 stone overweight. 🤣🤣 #COYS

— Dean Shannon (@Stuff_I_Type) August 11, 2018
Feel like pure shit, just want Under Armour back

— MagicalMoura (@ashleythezulu) August 11, 2018
Think that the designers at @Nike must be gooners.

— Wayne Bennett (@minervasupreme) August 11, 2018
— Harry C (@HazSpur92) August 11, 2018
Horrible! And still no worse than the home or away kit, which says a lot.. Worst set of kits I have seen

— Tommy (@elTommyo) August 11, 2018
Read more: Pochettino wants Tottenham star to share World Cup experience with the team