"Saved my life from a broken heart", "Bald god" – Some Tottenham fans praise star for performance against Barcelona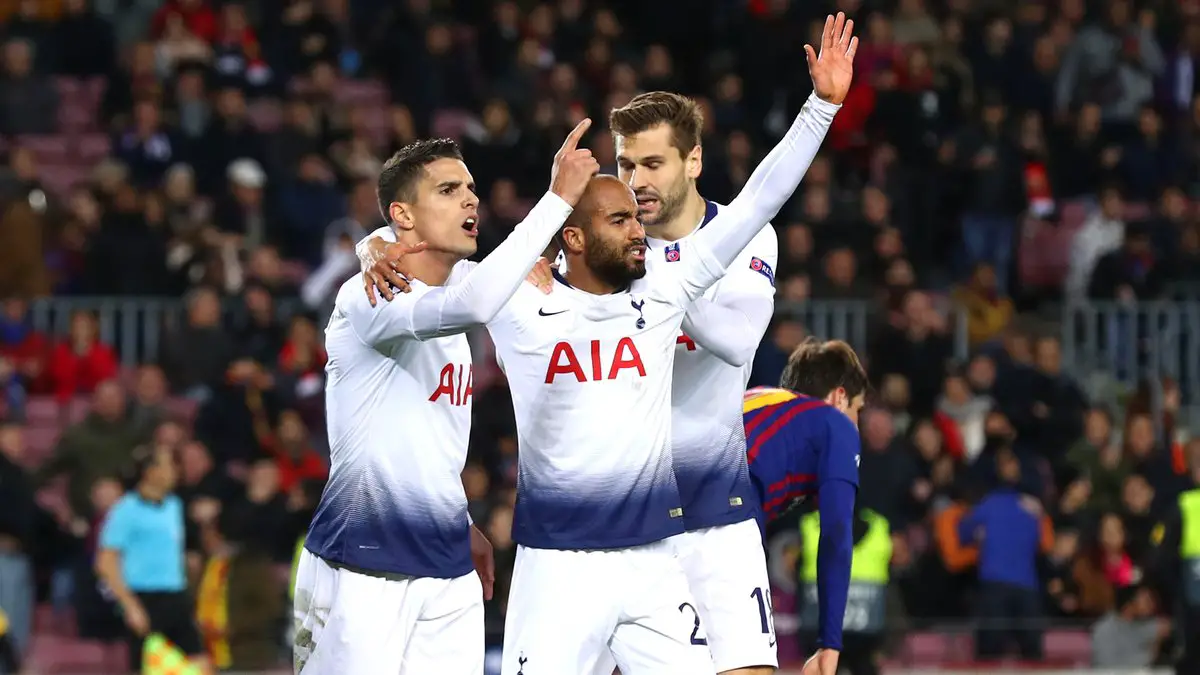 Lucas Moura seems to be coming into his own this season at Tottenham. The Brazilian struggled a bit since joining from Paris Saint-Germain but has scored five goals in the Premier League this term.
The 26-year-old was our saviour in the match against Barcelona as he scored a late equaliser at the Nou Camp.
That was enough for us to make it into the knockout stage of the Champions League, thanks to Inter Milan's 1-1 draw with PSV Eindhoven.
Tottenham had their chances to score more against a changed Barcelona XI, but the Catalans were a whisker away from getting more goals too.
Philippe Coutinho hit the post twice, and that could have killed our chances of qualifying for the next stage.
Moura could have scored his most important goal for Tottenham to date, and several fans were quick to thank the player for his performance and saving our Champions League campaign.
What a result, COYS!!
Tonight, Lucas Moura saved my life from a broken heart!!! #coys #audereestfacere

— darryl hughes (@darrylhughes88) December 11, 2018
Lucas Moura thank you for not letting me travel to Barcelona for nothing. I love you #COYS

— Luke Williams (@LukeADWilliams) December 11, 2018
Spurs legend Lucas Moura 💯⚽️✡️ pic.twitter.com/Id9kuvRzAW

— TAS🔵⚪️ (@coys100) December 11, 2018
If these results stand, we might be changing Lilywhite IPA to Lucas Pour me Moura IPA. #COYS

— Columbus Spurs (@ColumbusSpurs) December 11, 2018
Great goal, Lucas! 🇧🇷

— PL Brasil (@plbrasil1) December 11, 2018
— Christopher🎄 (@ChrisWrighteous) December 11, 2018
the best brazilian player right now

— spursy (@spursy8) December 11, 2018
Bald god

— Mead (@oiMead) December 11, 2018
I love you…I was going mental!!! Waaaah!! Xx

— Heather Jordan (@HeatherJordan3) December 11, 2018
Thanks for sending us through today! Always happy to see you in the starting XI!

— Jason Geissler (@jageiss) December 11, 2018
Fantastic goal and unlucky to have not come away with a hat trick in the end. Hope to see at Wembley on Saturday

— Delightful Dele (@del_boy_alli) December 12, 2018
Exactly! pic.twitter.com/x3OBqDyPi6

— David (@Eriksen23COYS) December 12, 2018
Read more: Tottenham on the verge of losing race to sign £20m-rated MLS superstar