Tottenham chances to go far in the Champions League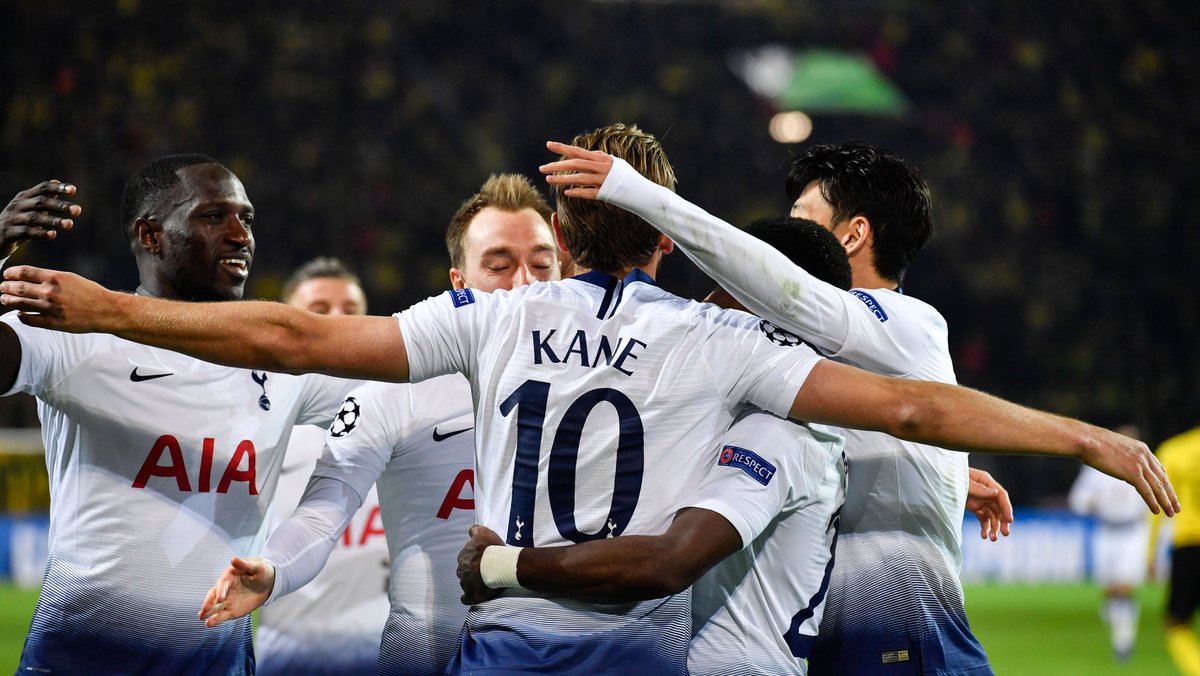 Bookmakers seem to agree, Tottenham is 7th most likely team to end up winning the Champions League. While they are only 7th in line, trailing Manchester City, Barcelona, Atl. Madrid, Manchester United, Liverpool and Bayern Munich, the Spurs are still a strong team that is capable of upsetting any team they are faced with. But where will their campaign end? Will Tottenham manage to reach for the stars and win it all or get sent home in the next round?
Tottenham have shocked the world with their exceptional performance against Borussia Dortmund in the second leg on February 13th, when they won 3:0. That win means they advanced into the next stage with an impressive 4:0 aggregate score despite being paired with currently the strongest team in Germany. Looking back at how Tottenham performed in the group stages of the Champions League, they just barely managed to advance out of Group B.
In the mentioned group, Tottenham were paired with Barcelona, Inter Milan and PSV Eindhoven, so it would be hard to justify they had an easy road to the 1/8 finals. Out of 6 games played, Tottenham ended with a record of 2-2-2, which was enough to end ahead of Inter and get a ticket to the next stage of the tournament.
As mentioned, the Spurs managed to humiliate Dortmund, winning both legs; 0:1 and 3:0, thus advancing into the next stage where they await the new opponent. However, with a mediocre performance in the group stage and then a superb performance in the knockout stage, we need to ask ourselves; how far can Tottenham go in this year's Champions League?
Tottenham Hotspur are not having a "jolly time" in the Premier League, where they sit at the 3rd place, behind Manchester City and Liverpool, who are racing against each other to finish at the top. As it stands now Tottenham are trailing Liverpool by 9 points, which is solely a result of their subpar performances in the last 3 league matches, when they failed to defeat Burnley (2:1), Chelsea (2:0) and Arsenal (1:1), thus losing out on 8 points.
The sudden turn of form resulted in Tottenham losing their chance to join in the race for the Premier League title, however, the Champions League dream is still very much alive.
Mauricio Pochettino insists Tottenham can defeat any team in the CL after an impressive win against Borussia Dortmund, which surely gave the Spurs a huge morale boost. I do believe they can put up a good fight against any team, but their main focus should not be the Champions League but rather staying in the top 4 in their domestic league. As of now, Manchester United, Arsenal and Chelsea are only 3,4 and 5 points behind the Spurs in EPL, and with the performances they have shown, losing 2 out of their last 3 matches, they are not guaranteed to finish high this season.
In the end, it will all come down to what will Spurs prioritize; staying in the top 4 in the Premier League or focus on winning the Champions League. While winning the Champions League is a huge achievement, I do not believe Tottenham are ready for it just yet. If the rumours are true and Bale decided to re-join them, I will not be surprised, if Tottenham manages to impress us next year, but as far as this season goes… they will have to be extremely lucky to advance against teams like Manchester City, Barcelona, Atletico Madrid and other European heavyweights.
In the best-case scenario Spurs het paired with Porto or Ajax and get a good chance to advance even further into the Champions League, however lifting the trophy should be delayed for future seasons. I expect them to continue fighting, but as mentioned, their focus will most likely be to bounce back in the Premier League, where they are on the edge to lose their ticket for 2019/20 Champions League.
Former PL rival manager backs Tottenham to pick up several trophies if they beat Liverpool
Latest Spurs news: Jose Mourinho claims Tottenham could win more trophies if they lift Champions League title
Former Manchester United and Chelsea manager Jose Mourinho has claimed that winning the Champions League could lead to more success for Tottenham.
Spurs face Liverpool in an all-English Champions League final on June 1. Tottenham are yet to win a trophy under Mauricio Pochettino.
However, Mourinho believes winning this crown can lead to several trophies (h/t Independent):
"Of course, Spurs is not winning titles and to win the first one, the biggest one of all, would be, of course, fantastic and would mean to win other domestic trophies (is easier) because the Champions League is the biggest one of all."
Pochettino has done a fine job at Tottenham but Jurgen Klopp will also be looking to win his first trophy with Liverpool. The last trophy we won was the League Cup back in 2008.
Tottenham looking to get some players fit for final

Mourinho could be right in suggesting that getting one trophy in the bag can lead to others too.
Spurs were great against Manchester City over the two legs in the quarterfinals and we should have one of the stars from that game back for the clash against the Reds.
Harry Kane suffered an ankle injury in the 1-0 win over City but should play a part in the final.
Read more Tottenham news, click here – Latest Spurs news
Harry Winks, Jan Vertonghen and Davinson Sanchez are also in a race to regain fitness and hopefully, we play with the strongest possible team at the Wanda Metropolitano.