Fernandes: The Definitive Eriksen Replacement?
Christian Eriksen is the subject of constant rumours of a move away from the Tottenham Hotspur Stadium. Usually so influential, the Danish midfielder has uncharacteristically struggled to get going this season and has often sat on the bench. The current signs suggest that Eriksen will be gone sooner rather than later – but who is the ideal replacement?
Candidate #1: Bruno Fernandes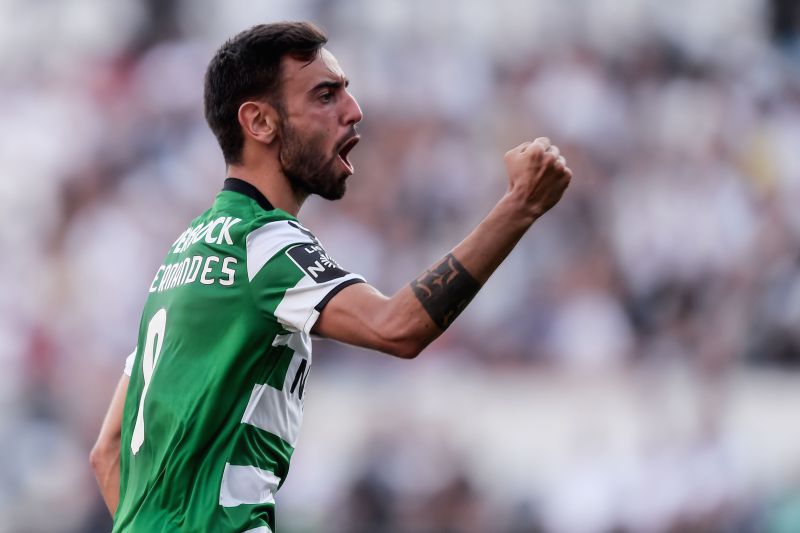 Fernandes' popularity is well-documented, with most of Europe's greatest clubs being linked in some way to the Sporting Lisbon midfielder. After joining the Leões in 2017, Fernandes has been an exceptionally dynamic agent of destruction, shooting from deep to stun opponents and providing killer layoffs for the front men. While links to Manchester United never came to fruition, a potential move to Spurs is currently doing the rounds, apparently justifying beliefs that he could fit seamlessly into Mauricio Pochettino's plans.
The key to immediate success at any club is versatility. Making the leap up from the Primeira Liga to the Premier League is not so easily done, but former Sporting Lisbon alumni Cristiano Ronaldo proved that this need not be so. He showed an equal ability to provide key passes and shots on target, which aided his transition to the highest level – and the same can be said of Fernandes, with his generally balanced average quantities of key passes vs shots.
Fernandes' ability to find passing space between opposing defensive lines is also a huge asset to any side with the ability to accommodate him. Never intimidated by pressing, the Portuguese midfielder's composure on the ball could also address whatever mental block exists within the Tottenham ranks, acting as a bar to some much-needed silverware.
#2: Kai Havertz
Noted mostly for his intelligence on and off the ball, Havertz is a player who can augment Pochettino's options. His blend of short and long passing to suit the situation indicates an appreciation for forward momentum, but momentum which does not put undue pressure on the defence, and allows him to move into new space for overlapping.
That ability to blend different passes will also speed up Tottenham's build-up play, and he also offers positional versatility, having previously played as a DLF or a winger for Leverkusen during times of shortage. Unlike Fernandes, Havertz is not a habitual player of key passes, but still has an excellent eye for the through-ball. This is not something that can necessarily be coached.
While his first touch is inconsistent, one of Havertz' most unique traits is the ability to amend personal mistakes, and any inaccuracies from teammates. Even when receiving the ball in a less-than-optimal position, there is still a fair chance that Havertz will find a channel of opportunity, and his awareness and anticipation of an opposition defender's reactions make him a worthy candidate to replace Eriksen.
#3: James Maddison
Maddison has gone from strength to strength since joining Leicester from Norwich in 2018, and with healthy measures of creativity and positional intelligence, the future England regular is moving unstoppably towards signing for a Champions League mainstay. Manchester United are said to hold some interest in Maddison, but with a competitive top-four finish price in the latest football betting odds markets, Tottenham have the capacity to usurp any rival pursuers.
His for-now theoretical move to Tottenham is made even more interesting by the potential sight of him playing alongside Dele Alli. Yet, rather than being a positional rival to Alli, Maddison would be a vital foil. In this scenario, Alli would be the man making the run into the box, and becoming an impromptu attacker, while Maddison would be far more rigid, and provide a nucleus of stability between the lines.
Ultimately, Maddison's preference for playing higher up the field eases the transition between defence and attack, and with Tottenham being outsmarted by inferior defences at times this season, the presence of a player with the ability to force mistakes will remedy most of the Lilywhites' shortcomings seen in early 2019/20.
#4: Hakim Ziyech
Doing much to drive Ajax to the Champions League semi finals, Ziyech remains one of the most sought-after players in Europe. Though he is still with Ajax at this moment in time, there is still an undying belief that his days there are numbered.
As a club, Tottenham owe it to themselves and their silver-starved fans to pursue Ziyech with intent. He is a relentless force who has averaged almost a goal every other game since the start of 2018/19, doing so by developing near-telepathic relationships with his peers at the Johan Cruyff ArenA.
While Ziyech tailed off during the spring of 2019, Ajax's dominance of the title race may be a mitigating factor, and it should by no means be used as a fair measure of his human limitations. While most of the other realistic candidates to replace Eriksen like to balance on and off-ball duties, Ziyech is a livewire, focusing much more on what he does off the ball.
This pressurises defenders and forces mistakes, in turn creating more opportunities to switch play and unlock the defence, while giving himself enough time to make his ball control less of an issue. Playing behind Kasper Dolberg is decent enough preparation for being Harry Kane's main enabler, and with nearly five through-balls on average per-game last season, Ziyech is approaching his playing prime in some style.
#5: Yari Verschaeren
Like many Belgian wonderkids emerging from the golden revolution of FIFA's #1-ranked nation, Verschaeren has already drawn comparisons to Eden Hazard. However, these comparisons appear to be fully warranted, with the teenager already boasting an ability to turn even the most hopeless ball into a deadly one-on-one. His mental strength has also been a standout factor in his early performances with RSC Anderlecht, implying that the stratosphere is the limit for Verschaeren.
Physically, he would currently fall short in the Premier League. The idea of him going toe-to-toe with Virgil Van Dijk is laughable, but his accuracy and perfectionist approach more than compensates, and with several top clubs already linked to Verschaeren, Tottenham would be well-advised to act quickly and acquire his signature.