"We got this", "The draw we wanted": Some Tottenham fans react to UEFA Champions League draw in last 16
Twitter reacts as Tottenham Hotspur draw RB Leipzig in UEFA Champions League
It could have been Barcelona but Tottenham Hotspur lucked out and drew RB Leipzig instead in the UEFA Champions League draw for the round of 16.
Jose Mourinho's side finished runners-up to Bayern Munich in Group B and could have potentially faced the likes of Real Madrid, Barcelona, Paris Saint-Germain or Juventus.
Leipzig finished first in Group G ahead of the likes of Lyon, Benfica and Zenit St Petersburg. They are also flying high in the Bundesliga and are 2 points clear at the top.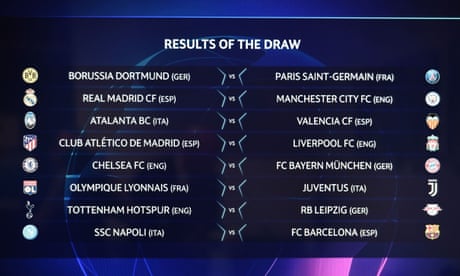 Although one of the better draws, we cannot afford to be complacent as Leipzig are managed by the bright and upcoming Julian Nagelsmann, who will relish competing against Jose Mourinho.
With players of the calibre of Timo Werner, Patrick Schick and Emil Forsberg, Leipzig can cause the Tottenham defence serious problems if they slack off.
Twitter reacts to the draw
More Tottenham News
Although a favourable draw, the tie could be deceptively tough with Leipzig being an extremely dangerous team. If history has taught us anything, its Jose Mourinho and his penchant for spoiling a party but this time, let's hope he can get us through.
Tottenham accept Serie A club's £16.7m offer for this first-team man
Christian Eriksen to join Inter Milan for £16.7 million
Tottenham Hotspur midfielder Christian Eriksen looks all set to move to Inter Milan after the club accepted the Italian giants' £16.7 million offer for the player. (h/t Guardian)
Eriksen's future had been uncertain for the longest time but the report adds that he will fly to Milan for his medical early next week.
Although losing him does leave a bitter taste, it is great that we have managed to acquire a considerable fee. Eriksen has been a mainstay in our midfield since 2013 and will leave behind a legacy as one of the club's best players in the Premier League era.
According to the report, the Danish international has accepted a four-and-a-half-year contract worth a basic £260,000-a-week wage structure that could potentially rise to £320,000 with add-ons.
The End and the Beginning
Eriksen was part of what was arguably Tottenham's best Premier League team. He played a crucial role in the midfield and in many ways, the Champions League final loss to Liverpool was the last hurrah. Jose Mourinho now has an opportunity to rebuild a side that seems to have run out of inspiration.
However, Tottenham have done well to orchestrate a deal now instead of losing the player for free in the summer. The 27-year-old's departure will provide the likes of Giovani Lo Celso and Gedson Fernandes with more opportunities to express.
More Tottenham News
Eriksen has made 304 appearances and scored 69 goals in six-and-a-half seasons at Tottenham. He was part of the squads that finished second in the Football League Cup in 2015 and UEFA Champions League in 2019.
He is a two-time Tottenham Hotspur Player of the Year winner, having won the awards in 2013-14 and 2016-17. He was also nominated to the PFA Team of the Year for 2017-18.