"Happy to stay"- Conte addresses future of Tottenham forward after heroics vs Leicester
Tottenham Hotspur manager Antonio Conte showers praise on forward Steven Bergwijn after heroics against Leicester City
Spurs boss Antonio Conte has showered praise on forward Steven Bergwijn in his post-match conference, after the winger's quickfire double at the death saw Tottenham Hotspur beat Leicester City at the King Power Stadium last night (h/t football.london).
The Lilywhites saw themselves pegged back twice by Leicester City, and with the game heading into injury time at 2-1 in favour of the Foxes, Spurs' super-sub Bergwijn came up with two goals in as many minutes to snatch a narrow victory at the death for his team.
Conte had said earlier that he saw the 24-year-old as a forward who could play in striker Harry Kane's position and provide cover for the Englishman, and the Italian coach once again pointed out Bergwijn's versatility after his match-winning performance against Leicester.
"In the past when someone asks me about Steven Bergwijn I was very clear. I said that for me he is an important player because he has characteristics that in our squad we don't have many creative players. He is very good in one vs one, good to beat the man. He can play striker, he can play number 10 and for us, for me, he is an important player."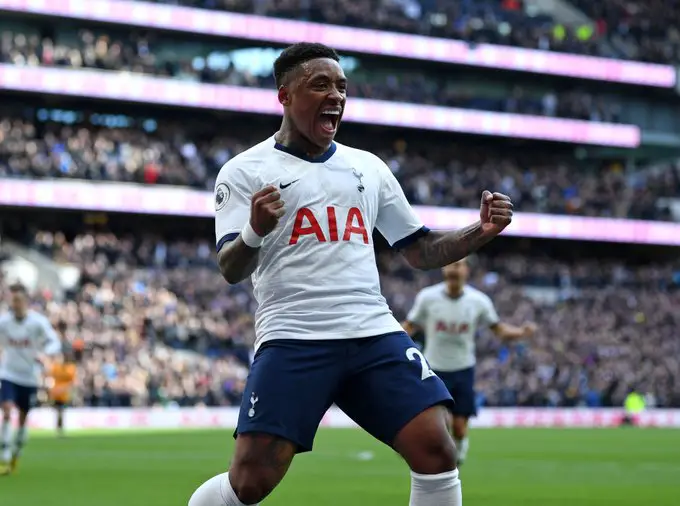 The Spurs boss was also full of praise for his players' attitude and resilience last night, saying that his team's philosophy now needs to be focused on not giving up and fighting till the end. This is a refreshing change in the mentality of the club but the pattern of trailing before kicking into action is surely something we can work upon in the near future.
A statement victory
The former Chelsea man was quick to acknowledge his opponent's credentials after narrowly edging them right at the death, saying it was very important for his side to get three points eventually against a side with a fantastic manager, who led them to FA Cup and Community Shield wins in the past couple of seasons. In the end, it had to take an incredible cameo from Conte's Dutch winger to nick a win for Spurs on the road.
The Netherlands international himself has been a topic of transfer speculation this month, with a return to his homeland on the cards during the current transfer window. However, Conte shut down any rumours of a move away for the 24-year-old and said that Bergwijn is an important part of his team and was happy in North London.
Steven is a player that if he's in good physical condition and he has good fitness he can start the games or he can come in and change the game. For me I think he's an important player and you know very well the player has to be happy and I think the player is happy to stay with us and play for Tottenham.
Bergwijn made an instant impact amongst the Spurs faithful, scoring on his debut in a 2-0 win against rivals Manchester City and putting in a brilliant display in his very first game for the Lilywhites. Since then, the winger has found it hard to nail down a regular spot at Tottenham, with his performances being inconsistent through the season.
With rumours of a move away from Spurs after failing to establish himself under Conte, the Dutchman reminded everyone of his qualities last night with an incredible cameo at the end, scoring two quickfire goals to help us come away from the King Power Stadium with all three points.
More Tottenham Hotspur News
Conte is clearly keen to keep the forward in our squad till the end of the season after identifying Bergwijn as a potential attacker in the side due to his qualities. If anything, last night's performance from the Dutchman has only validated the boss' thoughts. His first goal showed the precision he has in his finishing, while the second hit highlighted his pace, power and instincts.
Bergwijn will hope that his heroics last night makes him deserving of a starting spot in our next few games. The former PSV man's stock is sure to have risen after the game against Leicester City, and will look to kick on from here and continue with his attacking impact at the club. Whether we now see him playing more centrally remains to be seen, but his versatility is certainly something that makes us appreciate even more now.