"I don't care"- Spurs' Conte lashes out at Arteta for constantly complaining after red card decision
Tottenham Hotspur boss Antonio Conte hits out at Mikel Arteta for Rob Holding red card complaints
Tottenham Hotspur boss Antonio Conte has lashed out at Mikel Arteta for his complaints regarding the red card to Rob Holding. The defender was given a second yellow for a foul on Son Heung-Min after receiving the first one just minutes before for another offence on the South Korean attacker himself.
Holding's sending off was a crucial point in the North London derby as Tottenham took control following the red card. That saw them add two more goals to the scoreline after Harry Kane had already converted his penalty to put them in the lead. Arteta was agitated by Paul Tierney's decision to issue the second yellow and openly criticised the ref.
Speaking in the pre-match presser (h/t Football.London), Conte has advised the Arsenal boss to be calmer and stop complaining about every single contentious decision. The Tottenham coach admits that Arteta is a good manager, but he believes the Spaniard could be more composed from here on out.
"He's [Arteta] just started to do this job and I think that I hear him complain a lot. I think that he needs to be focused more on his team and not to complain. Because he has just started his work and I think he has to be calm and to try to continue to work. Because he's very good but to listen to a coach complain a lot of time is not good."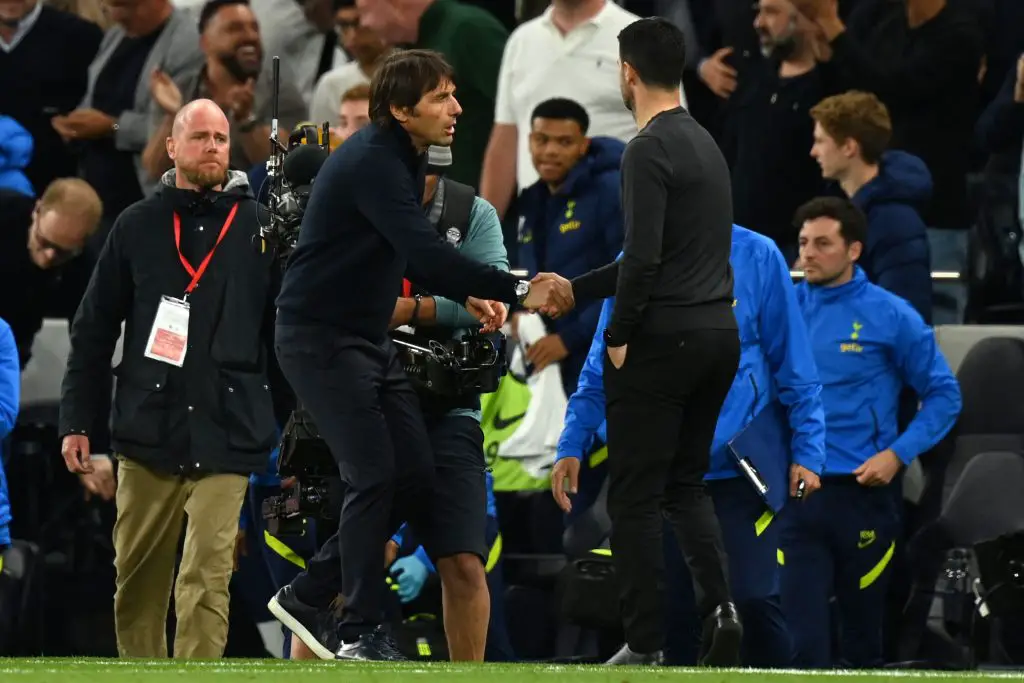 Arteta should take notes
Conte also gave his opinion on the red card incident itself, and he is adamant that the referee was right to take that particular decision. There is no denying that Arsenal being reduced to 10 men helped us but we were already 1-0 up by the time Holding was sent off for an early shower. The Italian also used the Liverpool draw as an example to emphasise his advice to Arteta regarding his complaints.
"But it's ok, the red card for me it was clear. Don't forget against Liverpool I said nothing what happened with Fabinho, a lot of time because if we want to complain we have the possibility every game to speak about the referee, about the decision, about the postponed game, I think that this is the advice if you want to accept the advice. If you don't I don't care."
It is pretty clear how the two yellow cards issued to Holding were the right call. The centre-back pulled back Son, who was in line to set up a counterattack, and the first yellow was a deserving one indeed. For the second one, it was noticeable how the Gunners star had a go at the Tottenham forward, which in and of itself is a bookable offence.
As such, the referee was right in his decision to give marching orders to Holding in the league fixture. That is why Arteta's complaints are puzzling to see when both actions from the English central defender deserve to be given a yellow card.
If anything, Spurs should be the ones who should be complaining about their bitter rivals and the advantages they enjoy in the race to finish in the top four places in the league table. Yesterday's match should not have been postponed in the first place as Arteta's side just had one player with Covid-19 when it was initially rescheduled.
Not to mention, Arsenal also enjoy more resting period as compared to us following the derby. After all, they only have a late kickoff against Newcastle United on 16th May, while we have to face Burnley on 15th quite early in the day. The league officials have not been fair when it comes to scheduling matches, even at such a crucial point in the end.
More Tottenham Hotspur News
So it would be best if Arteta stopped complaining about every decision that goes against them. As Conte said, he is just getting started and perhaps being a little more humble and open minded when it comes to decisions that rightly go against his team won't hurt his reputation, especially amongst non-Arsenal fans.