In what has already been a spectacularly unpredictable summer transfer window, all of a sudden it looks like Man Utd's chances of luring Italian international have taken a radical upturn. Just a couple of days ago it was looking as if the wantaway midfielder was about to swap Paris for long term suitors Barcelona. But now it looks increasingly possible that he'll be playing alongside Paul Pogba next season rather than Andres Iniesta.
This sudden shift in direction stems from Verratti having just disposed of his former agent, Donato Di Campli, and instead becoming the latest star to join super agent Mino Raiola's stable. Di Campli was dismissed for supposedly spreading rumors that Verratti was desperate to leave PSG – which, curiously enough, may actually appear have been the case.
However, the appointment of Raiola as his new agent is extremely significant. Raiola has a long held association with being the (astonishingly well rewarded) middle man for conducting the Red Devil's superstar transfer dealings. Over just the past couple of years, he has brokered deals for Zlatan Ibrahimovic, Paul Pogba and Henrikh Mkhitaryan and this season played a key role in negotiating the transfer of Romelu Lukaku for Everton for an eye-watering £75m that may eventually rise to £90m with add-ons.
It's no secret that Jose Mourinho has long been an admired of the 21 times capped, 24-year-old Italian who cost PSG a relatively modest £12m by today's standards when he transferred from Pescara back in 2012. The Portuguese boss will have to pay a fair amount more than that to secure the player this summer though, with Verratti valued at around £50/60m – a figure that is small change though to the world's most profitable club. Wages are also unlikely to be an issue. Verratti currently receives an estimated 6m Euros per season, a sum he can expect to add to considerably should he move to Manchester.
Manchester United most certainly could use a player of Verrattis quality to help support Pogba in the middle of the pitch. Even though he is only five foot five inches, the player has a well-earned reputation for being a tenacious operator and would serve as an ideal long term replacement for Michael Carrick who is likely entering his last season at Old Trafford.
So where does this leave Barcelona? The Catalans aren't used to playing second fiddle in the transfer market but with the increasing possibility that Brazilian forward Neymar may – coincidentally be moving to PSG in a huge world record transfer – they also aren't short of the funds to sign the player. Coincidentally it's worth noting that Raiola has also been involved in plenty of transfers involving Barca too.
So at the moment, it all seems to be a bit of a Mexican standoff. How long will it take until the player makes up his decision? It's anyone's guess but chances are this won't be another saga and a move will occur pretty soon. Both clubs are already busy with their pre-season training and will want to wrap up any significant business sooner rather than later. So don't get too engrossed in your football online slot machines at Red Flush casino – you may miss the big announcement!
How Football Stars Influence Success of Their Teams
Football and marketing are closely intertwined, that's why so many stars are tidbits not only because of their sports skills, but also thanks to their popularity among fans.It is enough to have a look at how the transfer of Cristiano Ronaldo changed the position of Turin Juventus in social media. The number of subscribers and views increased by several million. It is obvious that the Portuguese's personal fans continue to follow him now, when he is the member of the Old Lady. It is also confirmed by the fact that the first home game of Madrid Real set an anti-record in terms of attendance — the stadium was packed with less than 50% audience.
Juventus has received notable profits not only due to the increase in the number of subscribers, but also thanks to selling T-shirts with Ronaldo name on them. They were sold out in a blink of an eye. However, this is a good example of how the team won from such a transfer. We are not taking into consideration that during the first games Cristiano did not realize his full potential. However, it can be clearly seen that he is doing his best, and results will definitely follow.
Soccer stars have become a real goal for the giants who aspire not only to add a strong player to their lineup, but also to get a media person whose T-shirts are well sold. Such situation in the team sport is unlikely to lead to anything good, because it is not tennis or any other individual discipline. In football, mutual understanding on the field is important, not the number of stars playing on it.
Marketing Success of Clubs
When it comes to the marketing success of clubs, Manchester United comes to mind instantly. Here, we can give an example of Angel Di Maria, who was introduced to much fanfare, and fans had high hopes for him. On the field, the Argentinean showed himself extremely unconvincingly, but quickly redeemed his transfer thanks to T-shirts selling. MU had the similar situation with Alexis Sanchez, who can not find his game yet, but his merchandise is very popular.
It seems that the management of the Red Devils is quite satisfied with this development of events, while the results on the football field leave much to be desired. However, there are a lot of examples of how the player's transfer was successful for both the media and the sport. Among the latter we can name the following transfers:
They fully justified the money spent and helped their teams to make profit on the related merchandise. However, the destructive influence of the market is becoming more and more noticeable, therefore we run the risk of facing a situation where clubs will not buy players, but stars for the media.
"Shocker", "Bin Vorm" – Some Tottenham fans want goalkeeper to be sacked after Liverpool loss
Tottenham lost their second match of the season as Liverpool ran out 2-1 winners at Wembley. The Reds were the better side as goals from Georginio Wijnaldum and Roberto Firmino gave them a conformable lead.
Spur barely got an attack going but Erik Lamela scored in time added on. Michel Vorm could be blamed for both goals and Son Heung-min should have had a penalty in the last minute of the game.
Tottenham were flat throughout the tie and it is a bit of a concern that we are losing our steam at such an early stage of the season.
Mauricio Pochettino has to work on the side as our next game is a Champions League clash against Inter Milan on Tuesday.
Vorm wasn't the only poor player in the team and some of our fans were really upset with the result.
Cheers Vorm

— Kezzy (@HonkMyHonda) September 15, 2018
Vorms needs to go

— Anthony Plesmer (@Plesmer_) September 15, 2018
Stop lying to the fans! pic.twitter.com/VTMdCPALC9

— Harvey🏴󠁧󠁢󠁥󠁮󠁧󠁿 (@RocheHarvey) September 15, 2018
Why are you the way you are

— Salomon Olembé (@szechuancereal1) September 15, 2018
League title contender they said pic.twitter.com/SUaYQsYLNL

— Aga (@gal_akbar) September 15, 2018
Sell vorm now

— Cal (@thfccal) September 15, 2018
Bin Vorm

— Ř (@ClintonNJiesus) September 15, 2018
Yeah, that wasn't pk..my ass pic.twitter.com/ZQM3wPquld

— YoojinJung (@3POR2D2) September 15, 2018
Spurs always play two styles of football. Beautiful and shit. Today was shit's turn.

— yusuf khalil (@cn_yk) September 15, 2018
Disappointing? I would say a pathetic performance from the whole team is more accurate.

— Timmy Helley (@timhelley) September 15, 2018
— UFC Frenzy🔥 (@UFC_Frenzy) September 15, 2018
Harry Kane has lost his Vorm in front of Goal.

— Aaron Flynn (@Flynnzer89) September 15, 2018
Shocker.

— Brian Ellison (@brian_ellison) September 15, 2018
Read more: Tottenham lead race for Fulham star as club prepares new deal to retain him
Tottenham could inaugurate new stadium with high-voltage match against Chelsea in November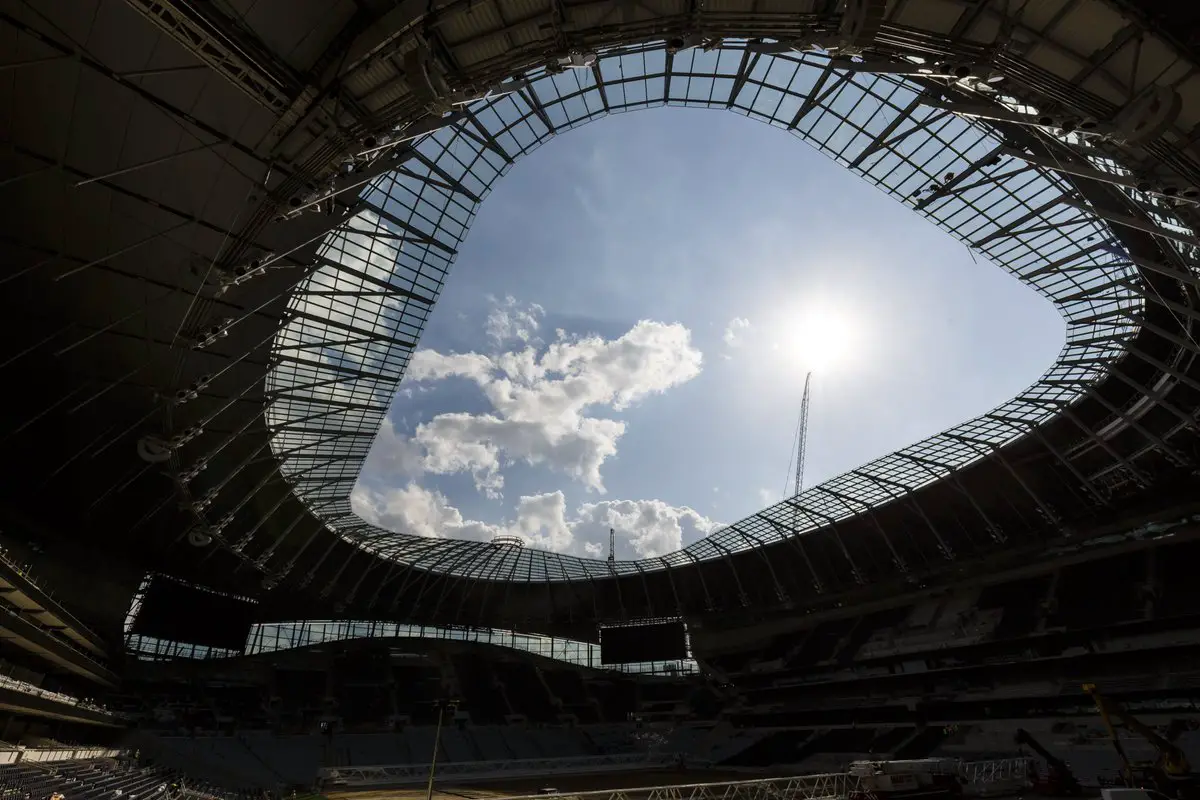 The Sun reports that Tottenham's new stadium could be ready for the clash against Chelsea on 24th November.
Tottenham released a statement confirming that the game against Manchester City would be pushed to 29th October but added that the stadium could be ready in time.
However, the match against the Cityzens will take place at Wembley while the home matches in the Champions League would also be played at the same stadium.
The report from the Sun further claims that even if our stadium is ready for the knockout phase of the competition, we might have to stick to playing at Wembley due to an article in the competition rules which states:
"In principle, a club must play all its matches in the competition at one and the same venue."
Chelsea clash would be difficult for the police and clubs
The Sun claims that Tottenham are set to inaugurate their new home with an explosive tie against London rivals Chelsea.
Tottenham expected to host Liverpool at their new ground on 15th September but issues with safety systems shelved those plans.
The clash against City had to be moved by a day too as Wembley will host an NFL game on 28th October, as per the Sun.
The report adds that opening the stadium with a clash against the Blues would not be ideal for the police or the clubs.
Read more: "You need to compete much, much better" – Pochettino unhappy with Tottenham side after 2-1 defeat to Watford
There have been clashes between the fans in previous encounters and the report adds that it would have been better to open the stadium against either Southampton or Burnley in December, as those are seen as "low-key" affairs.